Students, faculty and staff at UCF Downtown and Valencia College Downtown will now be able to ride SunRail for free in August and September 2019 thanks to a new partnership with the commuter rail system.
With 16 stations that run through Orange, Osceola, Seminole and Volusia counties, the rail service will provide an additional transportation option for the 8,000 students, faculty and staff who are expected to study and work at the shared downtown campus opening in August 2019.
Faculty and staff will be able to utilize the promotional offer beginning August 1 and students can begin using their passes on August 26 – the first day of classes at the new campus.
To sign up for a free pass, visit the SunRail website and complete the downtown campus pass request form. Passes will be available for pick up from the UCF Parking Services office on the downtown campus in late July.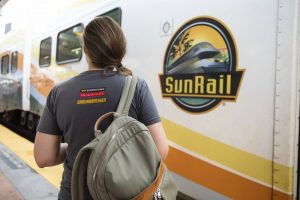 "One of the benefits of our new downtown Orlando location is connecting to our region's transportation options," says Mike Kilbride, assistant vice president for UCF Downtown. "We're excited to partner with SunRail to provide this special offer to our campus community because our proximity to LYNX Central Station makes it so easy for our students, faculty and staff to get to the campus if they don't want to drive or park at the campus."
In addition to bypassing traffic, riding SunRail also grants commuters a free transfer ticket on LYNX, the local bus system that serves 2,500 square miles in Orange, Osceola and Seminole counties.
"SunRail and the Florida Department of Transportation look forward to welcoming UCF and Valencia onboard SunRail," says Nicola Liquori, FDOT/SunRail CEO.  "Mass transportation, particularly for a metropolitan campus, helps to create opportunities beyond the classroom by connecting riders to valuable jobs and future opportunities."
Since 2014, SunRail has connected communities throughout the region by providing work and leisure travel opportunities on a fast, commuter rail line spanning over 49 miles across Central Florida.
The downtown campus is a short, easy walk from LYNX Central Station; the LYMMO ORANGE and LIME lines are also available to drop students, faculty and staff directly on campus­. Other transportation options at the campus include car parking and bike racks.
Please be careful around trains, railroad crossings, and while at station platforms. Be Smart. Be Safe. #SunRailSafety