Posted Oct. 15, 2021.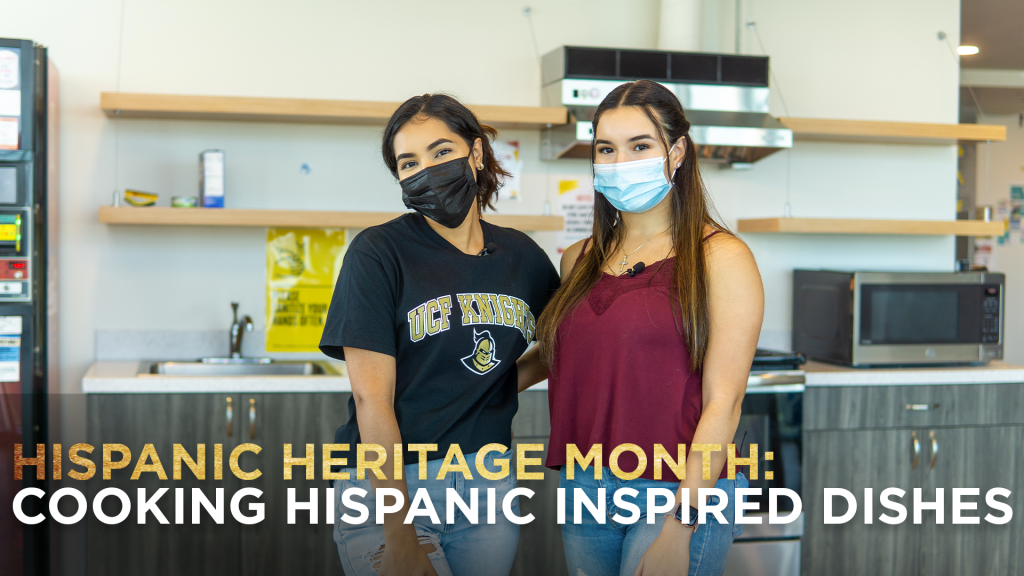 UCF Downtown Student Ambassadors Alondra and Genesis cook three Hispanic inspired dishes – tostones, tacos, and flan – influenced by their own Hispanic heritage. Try it out and tell us how you prepare your Hispanic meals.
Alondra is from Manati, Puerto Rico, and she moved to Orlando, Florida when she was 16 years old. Alondra still goes to visit family in Puerto Rico. One of the things she likes about Hispanic dishes is the flavor and the traditions behind them! Genesis is from Adjuntas, Puerto Rico, and has all of her family still living on the island. Genesis moved from Puerto Rico with her parents and brother when she was 11 years old. One of her favorite dishes growing up is Flan because her dad always makes them for holidays.
Tostones
Ingredients: 
3

 green plantains

1

–

2

 cups vegetable oil
Salt and pepper or Adobo to taste
Mayoketchup for dipping
Instructions:
Peel the plantains by making a vertical cut through the skin and peeling it back with your hands.
Cut the plantains into pieces. Heat a layer of oil in a pan.
Fry the plantains. When the plantains are starting to turn light golden brown, remove from the oil and transfer to a plate lined with paper towels. Smash each piece – this gives you a flatter shape with rougher edges. Return to the frying pan and fry until golden brown and crispy. Transfer back to a paper towel lined plate to drain excess oil.
Sprinkle with salt and pepper or adobo and serve immediately, dipped with your sauce of choice.
Tacos
Ingredients: 
Ground beef
Taco shells/kit
Water
Adobo and taco seasoning
Taco toppings per preference
Instructions:
Put the ground beef to large bowl, add in seasonings and stir until well mixed.
Add the beef to a large skillet over medium-high heat. Break the meat apart, add water and stir to combine.
Cook the beef, stirring occasionally, for 7-8 minutes, until some of the liquid evaporates but the meat mixture is still a little saucy. Remove from the heat.
Prep the shells, add the taco toppings, and enjoy.
This recipe was inspired by "The Wholesome Dish". 


Flan
Ingredients:
White sugar

3 eggs

1 can sweetened condensed milk

1 can evaporated milk

Vanilla extract
Instructions:
Preheat oven to 350 degrees
In a medium saucepan pour sugar and water, until it becomes light brown and melts completely. Then pour into your baking pan and set aside.
In a large bowl, beat eggs. Beat in condensed milk, evaporated milk and vanilla until smooth. Pour egg mixture into baking dish.
Bake in preheated oven 60 minutes. Let cool completely before eating.