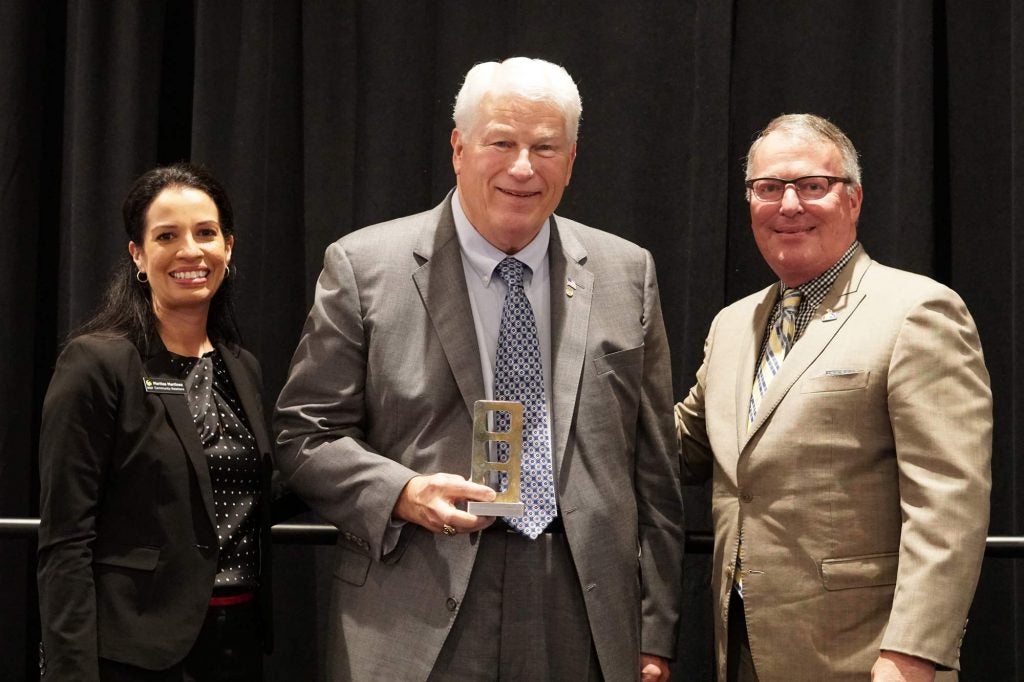 On Friday, March 30, UCF President John C. Hitt was honored as the Downtowner of the Year at the Golden Bricks Awards. Hosted by the Downtown Orlando Partnership, this prestigious award is presented annually to an individual who significantly contributes to the betterment of downtown Orlando through their professional leadership, public service and community engagement. In addition, UCF Downtown and Valencia College were recognized with an Award of Excellence for the Groundbreaking event in May 2017.
Since Hitt became UCF's president in 1992, enrollment has tripled to more than 66,000 students and the quality of academic programs, faculty and students have increased dramatically. Meanwhile, UCF has become synonymous with the progress of Central Florida and is recognized as a major metropolitan research university of global impact and a national leader in providing a high-quality education that is accessible, affordable and life changing.
As part of his partnership approach, the university has undertaken more than $1 billion in new construction, including more than 100 new buildings, and UCF founded its own College of Medicine that anchors the Medical City at Lake Nona. In fall 2019, UCF Downtown, in partnership with Valencia College, will open in downtown Orlando serving 7,700 students.
At UCF, Dr. Hitt has awarded more degrees with the State University System of Florida than any other university president in Sunshine State history. His many awards and honors include being recognized as one of America's 10 most innovative college presidents by Washington Monthly magazine and twice being ranked No. 1 on Orlando Magazine's list of Orlando's 50 Most Powerful People.
President Hitt's public service in higher education includes membership on the board of directors of the National Merit Scholarship Corporation and on the Council of Presidents of the Association of Governing Boards of Universities and Colleges. He is also a founder of the University Innovation Alliance, a coalition of 11 public research universities that seeks to boost student success and eliminate barriers to obtaining a college degree.
In July, Dr. Hitt will transition into a new role at UCF as president emeritus, concluding 26 years of transformational leadership.
President Hitt grew up in Texas, and he was the first in his family to graduate from college. He has been married to the former Martha Halsted for 56 years; they have two children and two grandchildren.