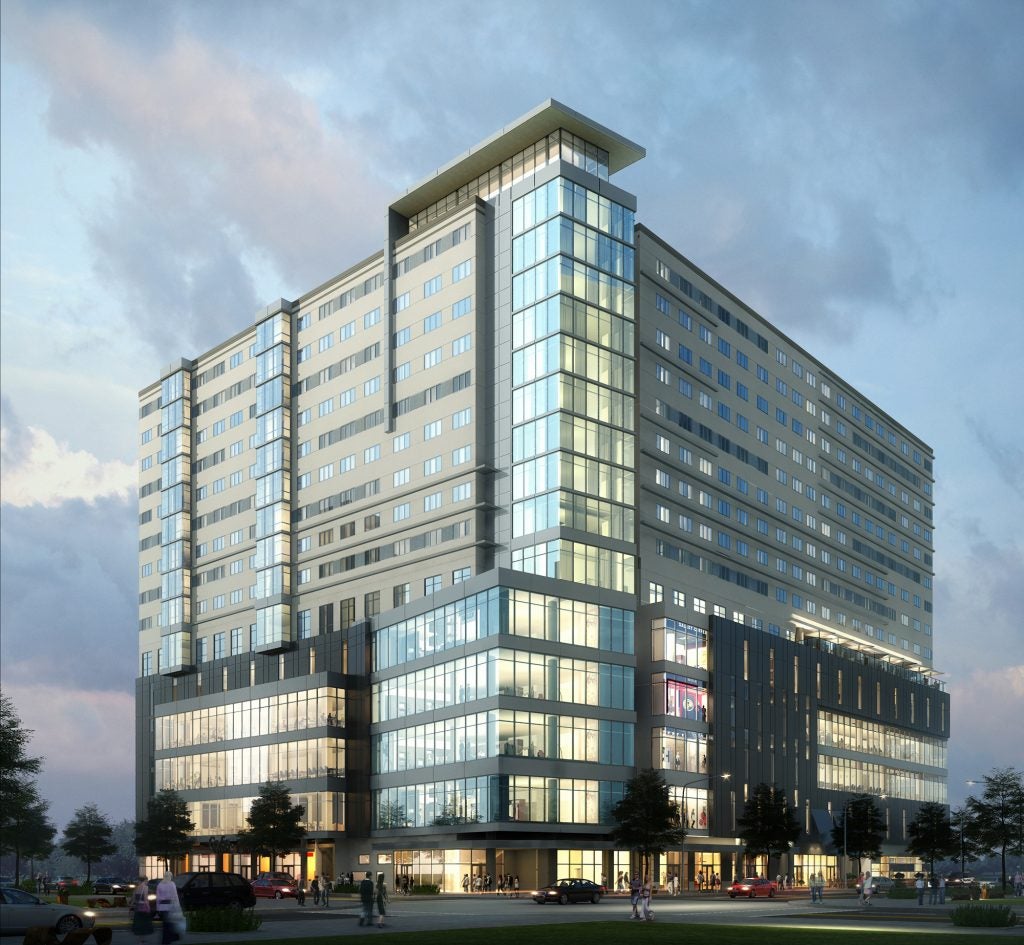 In August 2019, students, faculty and staff living, learning and working at the UCF Downtown and Valencia College Downtown campus and residents of Creative Village will enjoy a variety of food service options and convenient banking. Dunkin', Qdoba Mexican Eats, Subway and CFE Federal Credit Union have leased space on the first floor of UnionWest at Creative Village, the mixed-use student housing building, according to Ustler Development, Inc. and Development Ventures Group, Inc. Scheduled to open in fall 2019 along with the downtown campus, the leases represent four of the six retail spaces available in UnionWest.
"We are excited to bring these well-known brands to Creative Village," says Craig Ustler, owner and president of Ustler Development. "The addition of these retailers offers good variety and promotes a true live, work, play lifestyle for Creative Village and the residents of UnionWest. In the spirit of innovation, Dunkin', Qdoba and Subway have committed to bringing their latest concepts, with contemporary décor, updated technology, and new menus and ingredients to these locations, making them some of the first of their kind in Central Florida."
Dunkin' will provide a modern atmosphere with new and innovative technologies and design, including mobile ordering. Subway's Fresh Forward restaurant will also incorporate new décor including USB charging stations, digital menu boards and a remote order pick-up area. In addition to its classic favorites, Subway will offer new menu items including homemade pickles, pico de gallo and paninis.
The Qdoba Mexican Eats at Creative Village will be its 7th store in Orlando featuring fresh menu choices including made to order burritos, salads, quesadillas and more. This location will continue the long history of serving UCF students, faculty and alumni.
CFE Federal Credit Union's downtown branch will offer specialized student checking accounts, debit cards and an on-site ATM for added convenience. With a longstanding heritage of commitment to education, CFE will provide financial literacy workshops to support the campus and surrounding community. With a full range of products and services, CFE serves as the Official Financial Institution of the UCF Knights and the Preferred Credit Union of Valencia College.
"We are focused on creating a vibrant urban campus for our students, faculty and staff when we open our doors in August," says Mike Kilbride, assistant vice president for UCF Downtown. "We are excited that the private developer has been able to bring national brands and a leading local credit union to help support the downtown campus and build an energetic community within the Creative Village."
The new brands join a growing list of retailers at the campus. Barnes & Noble will operate the campus store at UCF Downtown.
UnionWest at Creative Village is a mixed-use building featuring more than 600 beds of student housing, 105,000 square feet of academic space leased to UCF and Valencia, 600 integrated parking spaces and 12,000 square feet of ground floor commercial space. The building will serve more than 8,000 students, faculty and staff at UCF Downtown and Valencia College Downtown. Applications are now open for UCF and Valencia students who wish to live at UnionWest.
For more information about retail leasing opportunities at UnionWest, please contact JLL.
To view renderings or learn more about the UnionWest building, visit www.unionwestcreativevillage.com.