UCF, city and community leaders discussed partnerships and increased educational access for students in the area surrounding UCF's new downtown campus this week with Florida Board of Governors members, including Chancellor Marshall Criser III.
The Thursday workshop was a "fact-finding" trip for the board to learn more about UCF's plans for the downtown campus that would be built within Creative Village – the largest public-private development in Orlando – and hear from project supporters about the impact the campus would have on Orlando's downtown community, the region and the state.
"Today, we present a bold effort to offer enhanced educational opportunities for our students and to further energize the future for one of the fastest-rising cities in America," UCF President John C. Hitt told Board of Governors members.
UCF is partnering with Valencia College on the downtown campus – which would be located across the street from UCF's Center for Emerging Media – and is working with the City of Orlando, Creative Village and Orange County Public Schools on the project.
"You will not find a community that works better together than right here in Orlando," said City of Orlando Mayor Buddy Dyer.
Through its DirectConnect to UCF partnership with Valencia College (and three other state college partners), UCF and Valencia see the downtown campus as an opportunity to provide greater access to post-secondary education in west downtown Orlando and Parramore, the historic home of Orlando's African-American community. Orange County Public Schools also plans to open a new K-8 community school adjacent to the UCF downtown campus.
"We're not just talking about transforming a city, we're talking about transforming lives," said City Commissioner Regina Hill, who attended Thursday's workshop and represents west downtown Orlando.
UCF and Valencia leaders also talked about the significance of having a campus downtown near local businesses where students could gain valuable experience and preparation for the workforce. Both institutions are looking to bring academic programs to the downtown campus that would provide students with valuable opportunities to work within downtown industries.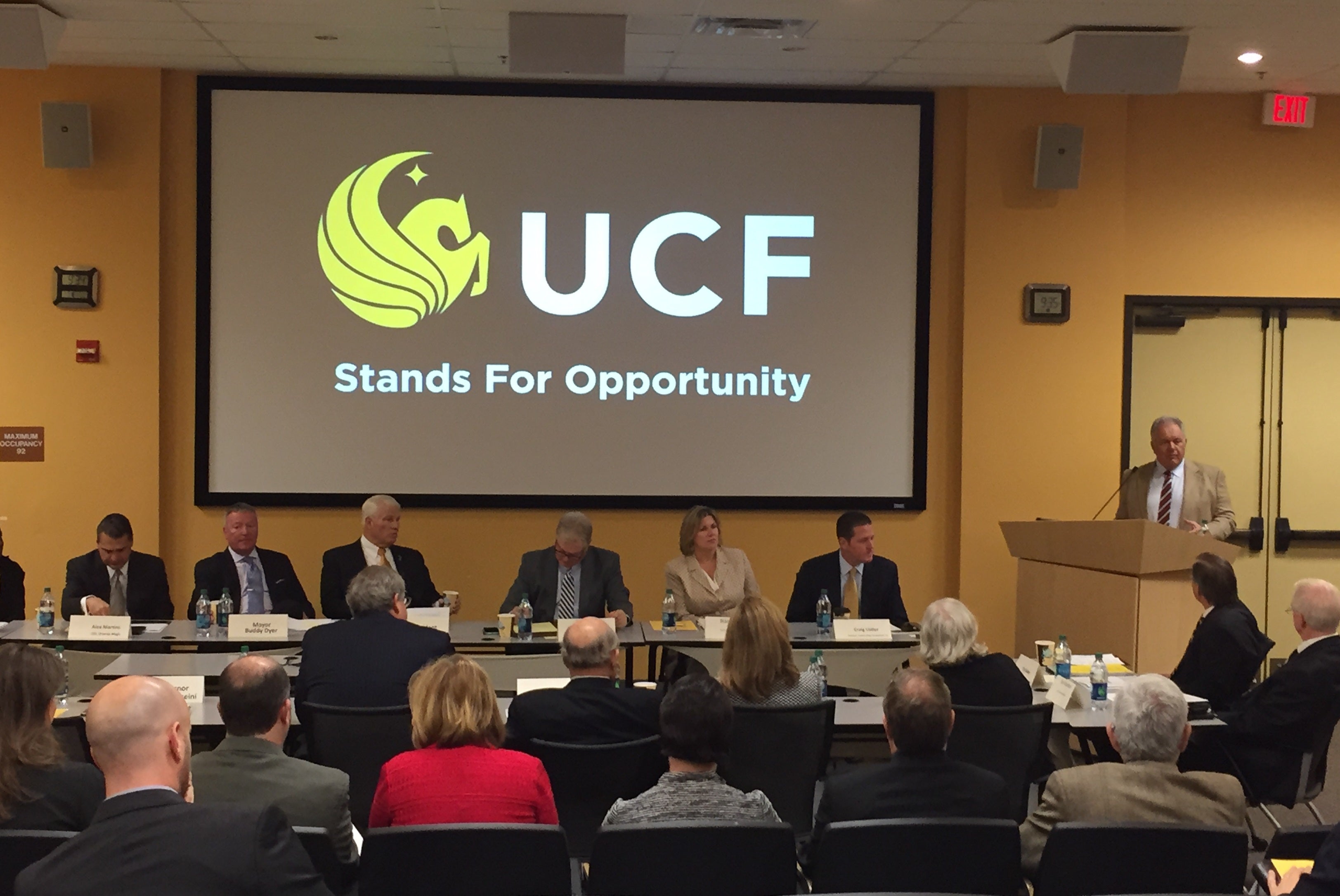 Board of Governors members also heard from UCF Provost Dale Whittaker; Valencia College leaders President Sandy Shugart and West Campus President Falecia Williams; the Creative Village Development team represented by Craig Ustler and Tim Baker; Orange County Public Schools Superintendent Barbara Jenkins; Orlando Magic CEO and UCF Board of Trustee Member Alex Martins; Orlando Sentinel Publisher and CEO Nancy Meyer; and Central Florida Partnership President Jacob Stuart.
You can read the Orlando Sentinel's coverage of Thursday's workshop.