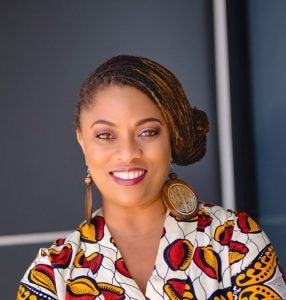 We are proud to introduce Elizabeth Thompson as the director of downtown community engagement for UCF Downtown and Valencia College Downtown.
In this role, Elizabeth will help foster relationships with community leaders in Parramore and surrounding neighborhoods, plan community events for the Downtown Campus and coordinate the work of the Parramore Community Engagement Council. The council was established in 2016 by Valencia, UCF, the City of Orlando and local residents and businesses to improve the quality of life in Parramore with a focus on five key pillars: jobs, health, education, safety and affordable housing.
Prior to joining the UCF-Valencia Downtown Campus, Elizabeth served as executive director for the Association to Preserve African American Society, History and Tradition, Incorporated (PAST, Inc.), a non-profit organization.
As executive director, Elizabeth led the organization's development and funding, strategic planning and marketing efforts. Leading PAST, Inc. also allowed Elizabeth to play an important role in advancing an organization whose mission she is passionate about.
The cornerstone of PAST, Inc. efforts lie in the operation of the Wells'Built Museum of African American History & Culture, an educational and fun tourist destination as well as a unique historical resource for Orlando residents. The museum is a destination that allows PAST, Inc. to celebrate the important contributions African Americans have made to the Central Florida community.
In a previous chapter of her career, Elizabeth worked in pharmaceutical sales and served as a marketing manager at a charter school company.
She said a common thread running through her past experiences has been "my enjoyment of working with clients, visitors, or community partners to attain mutually beneficial business objectives. I believe collaboration and partnership have always been the best way to exceed all goals and objectives."
In regards to being selected for her current position, she said: "One of the foundational elements of a healthy community is a sense of belonging. I am excited to help the downtown community understand how the Valencia/UCF Downtown Campus belongs to them. In the creation of an educational ecosystem, there is also increased access to resources and I am excited to help facilitate resource utilization for the strengthening and growth of the downtown community."
Elizabeth holds a bachelor's degree in journalism with a concentration in public relations from Florida Agricultural and Mechanical University.