Steven Glener won't be able to walk across a stage to get his medical school diploma from UCF. But he walked anyway — across the family pool deck — with his mother, physician father and two physician siblings singing "Pomp and Circumstance" in their Florida backyard.
COVID-19 has changed commencement ceremonies across UCF, the nation and the world. As 117 College of Medicine students graduate Friday, they, like so many others, will have a virtual ceremony.
To make the long-distance commencement more personal, the medical school asked each student to send a video or photo that will play when their name is read. Some students sent family portraits, including newborn babies. Others posed with their pets. Some took pictures and video in front of the Medical Education Building in Lake Nona. Others did mini-home videos featuring digital animation.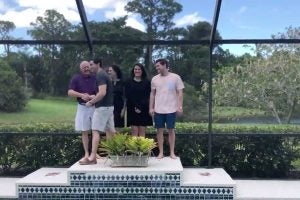 "When I was asked to make a video to celebrate graduation, the first thing that came to my mind was to include my family," said Glener, who will do his neurosurgery residency at Thomas Jefferson University in Philadelphia. "Without their support and advice, I would not have been able to accomplish the things that I did throughout medical school."
Glener's father is an anesthesiologist, his brother is a plastic surgery resident at Duke and his sister, Julie, who graduated from the UCF College of Medicine in 2017, is an orthopedic surgery resident at West Virginia University.
"It was important to me that they were involved with the metaphorical passing of the torch to the newest M.D. member of the Glener family," he says.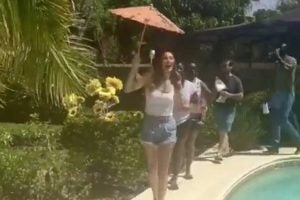 Jacklyn Locklear infused her poolside graduation with New Orleans flair to celebrate her upcoming OB/GYN residency at LSU. Because COVID-19 also canceled traditional Match Day festivities in March, students had to create their own events for the day they learn where they will do residency training. Locklear orchestrated a "second line" parade around her pool.
Such parades are a New Orleans tradition. The person celebrating forms the first parade line with a live brass band. As the parade travels through town, it picks up the second line – people who follow along, dance and enjoy the music. Locklear didn't have a band but played brass music. Friends followed behind her waving napkins – instead of the handkerchiefs used in traditional parades.
The Second Line match celebration was such a virtual hit that Locklear decided it was perfect for her commencement video and more fun than shaking her boyfriend's hand instead of the dean's. "As they say in New Orleans," Locklear says, "'Laissez le bon temps rouler. Let the good times roll.'"
Sonia Dela Cruz used virtual fireworks for her commencement video after her mother, who sings karaoke online, suggested using a green screen. Dela Cruz attended the medical school's 10th anniversary celebration in 2016 that ended with Disney fireworks over the Health Sciences Campus.
"The fireworks were a way to pay homage to that memory and to celebrate all the moments since our first year until now," she says. "Also, I am somewhat of a pack rat and luckily I was able to find my undergraduate cap to decorate and use for the video."
After commencement, Dela Cruz will provide mental health care for Central Floridians. She matched into UCF's psychiatry residency in partnership with HCA Healthcare, the Orlando VA Medical Center and Nemours Children's Hospital.
"I am very excited to serve the local community, work with my mentors who made me love the specialty in the first place and be able to stay near my family and close friends," she says. "My best friend actually works in the VA so I'm also thrilled to have the chance of working alongside her as professional colleagues."
The UCF College of Medicine will stream its commencement at 10 a.m. May 15 through YouTube.