Whether you've been a UCF fan for decades or you're new to Knight Nation, there's never been a more exciting time to be a Knight as UCF enters a new era as a member of the Big 12 Conference.
This elevated caliber of competition and notoriety will be a major asset for the athletics department and university as a whole.
Across nearly all of UCF's 16 teams — basketball (men's and women's), cheer/dance, cross country, football, golf (men's and women's), rowing, soccer (women's), softball, tennis (men's and women's), track and field, and volleyball — joining the Big 12 offers a major opportunity for our student-athletes to showcase their continued commitment to excellence on and off the field.
The Big 12 Conference — one of the premiere NCAA Division I intercollegiate athletics conferences in the nation — began competition in 1996-97, the same year UCF football moved up to Division I-A (now the Football Bowl Subdivision). The Big 12 now comprises 14 institutions after welcoming UCF, BYU, Cincinnati and Houston on July 1 — joining Baylor, Iowa State, Kansas, Kansas State, Oklahoma, Oklahoma State, TCU, Texas, Texas Tech and West Virginia.
Entering its 28th year, the conference has produced more than 800 Academic All-America selections and earned nationalchampionship team titles in 20 of its 23 sponsored sports. Its student-athletes and teams have combined for 742 individual NCAA titles under the Big 12 banner.
With a Big 12 state of mind, UCF aims to add to these accolades and win national championships that will accelerate the trajectory of the university.
Knights' athletic teams begin Big 12 competition on Sept. 14, 2023, at home when the women's soccer team hosts West Virginia. One week later UCF volleyball will compete at Cincinnati, and on Sept. 23, 2023, UCF football takes on Kansas State.
Here are some other fun facts and key points to know about UCF Athletics' history and culture.
1. Among the Power 5 Conferences, UCF is the Youngest University
Founded in 1963, UCF takes the cake for youngest university among the current Power 5 conferences — highlighting the university's tremendous growth in just 60 years of existence. UCF made its first conference debut in 1975 with the Sunshine State Conference and went on to join seven other conferences while earning impressive victories on state and national stages along the way.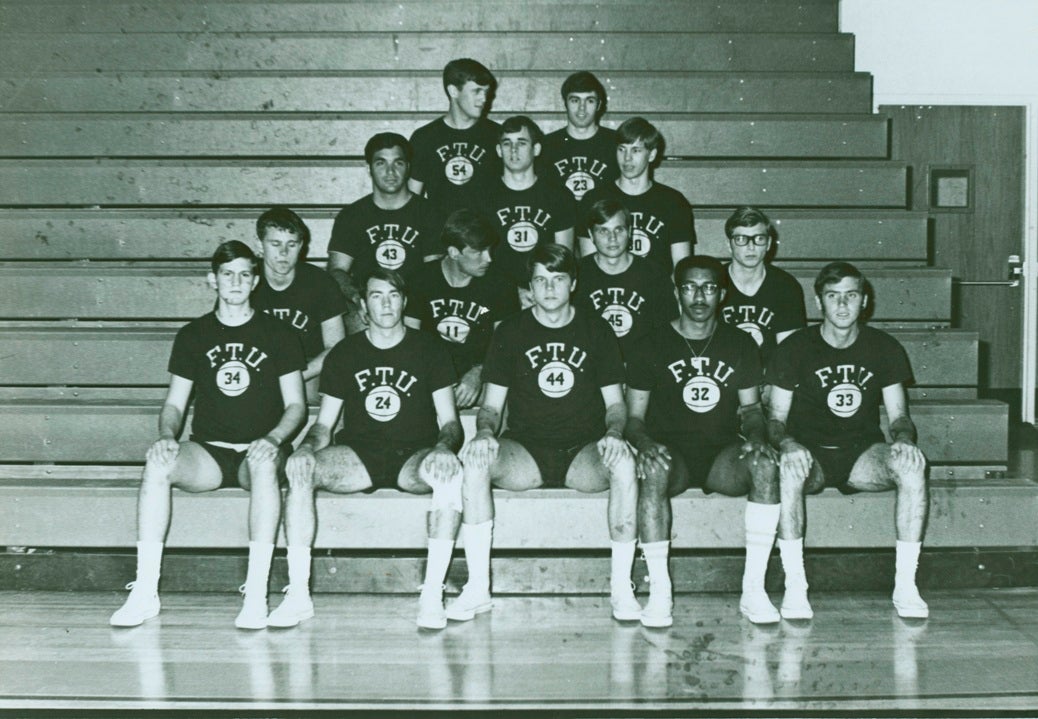 2. What Started it All: Men's Basketball
UCF Athletics' journey began with a team of ambitious men with hoop dreams. Kudos to Frank Rohter, the original athletics director for Florida Technological University — now known as UCF — who first formed a men's basketball team to play in Orlando's recreational league. In 1969, the first varsity athletic event was held — a men's basketball game at Massey Institute in Jacksonville, Florida. Several other Knights teams were formed and competed in the 1970s.
With the Big 12's reputation as the strongest conference in collegiate basketball, UCF's men's and women's teams will compete regularly against the toughest teams in the nation. UCF women's basketball head coach Sytia Messer knows what it takes to excel in the Big 12. As an assistant coach at Baylor from 2013-21, Messer helped lead the Bears to a combined record of 260-23 in eight seasons, winning eight Big 12 Conference regular-season championships, six conference tournament titles, an NCAA title in 2019 and six NCAA Elite Eight appearances. On the men's side, Big 12 teams (Kansas and Baylor) have won two of the last three NCAA titles.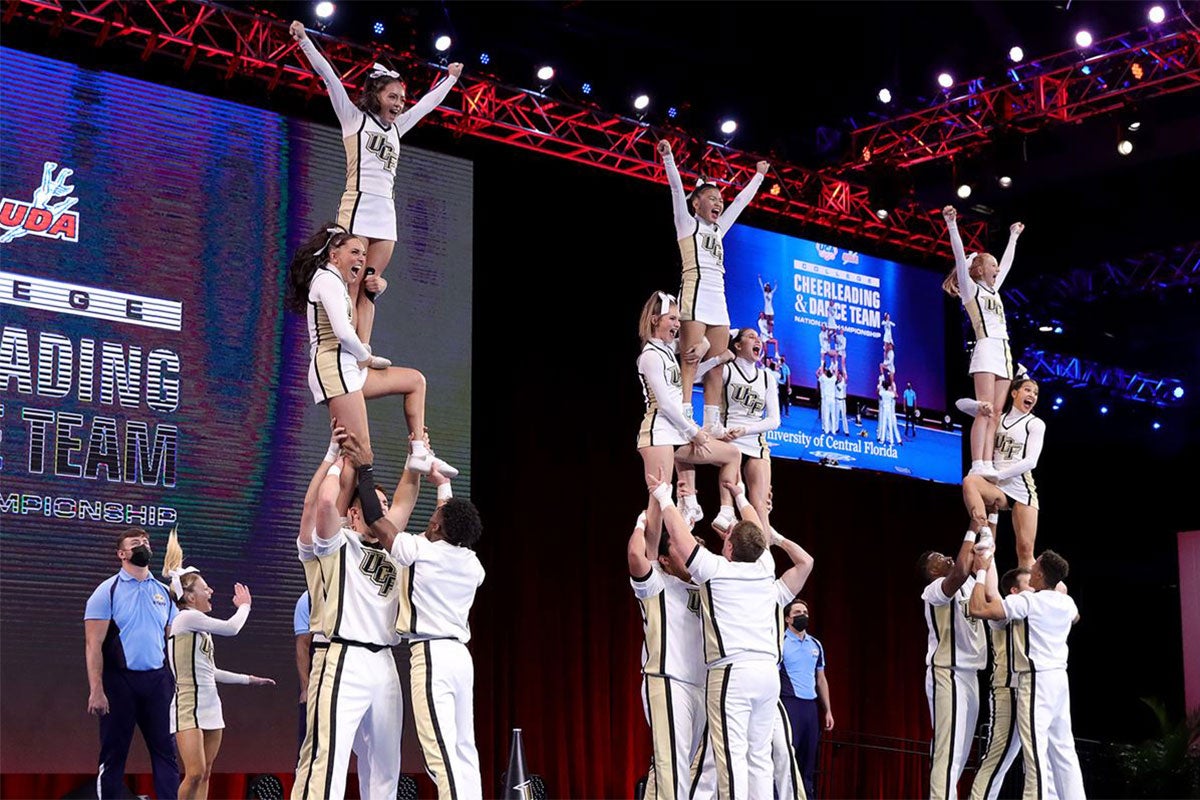 3. UCF Cheer is at the Top of the Pyramid
When it comes to competing at the highest level on the national stage, few have done it better than the UCF cheer team. Led by head coach and former UCF cheerleader Linda Gooch '85, the cheerleading team has placed among the top 10 in the country at UCA Nationals in 28 of the last 30 years. They've won three UCA national championships in 2003, 2007 and 2020, and a gameday national championship in 2019. That success is largely credited to Gooch, who has coached UCF's team for 39 years and was inducted into the UCF Athletics Hall of Fame in 2022.

4. The UCF Fight Song is the Soundtrack of Game Day
The official UCF fight song was first played by the Marching Knights, the university's marching band, in 1998. The 29-word song that embodies all that the university's athletic teams stand for — perseverance, unity and triumph — was composed by Richard Greenwood and Ron Ellis, two former UCF professors and former directors of the Marching Knights.
It wasn't until 2009 during a marching band rehearsal that our school's rallying cry got its official name "Charge On." Former graduate assistant and announcer Jason Millhouse '10MA '15 suggested naming the fight song from its iconic lyrics. Ellis, former director of athletics bands, started singing the fight song, quickly stopped after the words "Charge On," and the rest was history.
UCF Fight Song: Charge On
UCF charge onto the field.
With our spirit, we'll never yield.
Black and gold,
Charge right through the line.
Victory is our cry, V-I-C-T-O-R-Y.
Tonight our Knights will shine!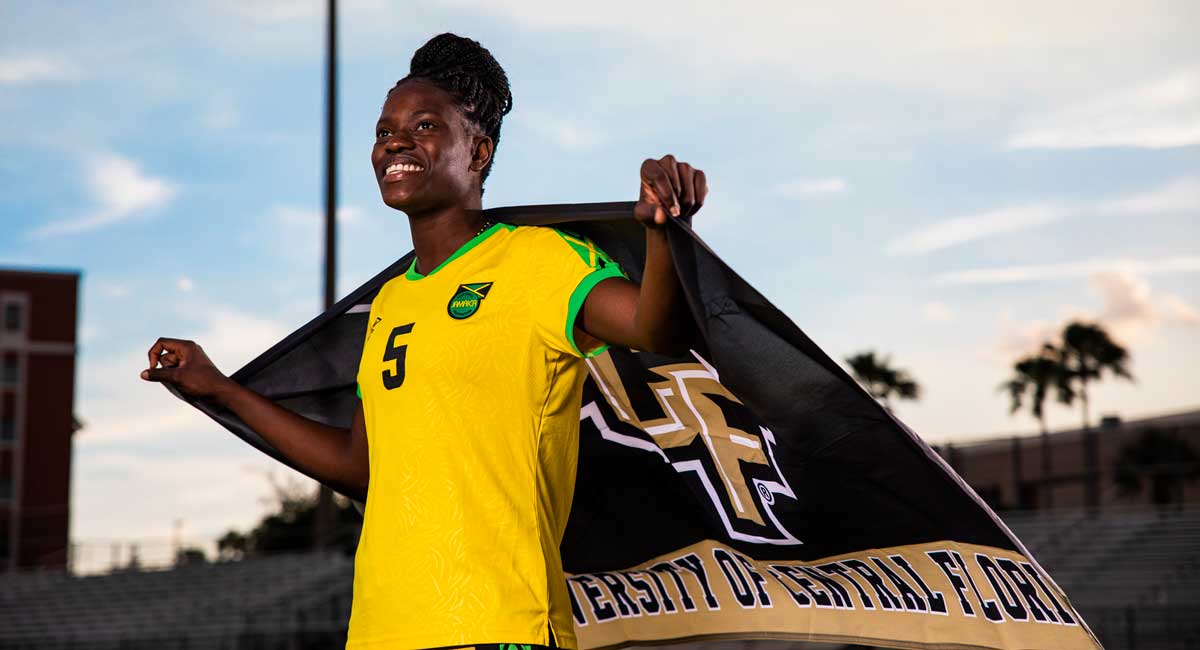 5. Our Knights Are Next Level
While countless Knights have pursued paths of excellence in a wide variety of careers, there are several who have shined as athletes at the next level. From Olympians to FIFA Women's World Cup champions to MLB World Series champions to Super Bowl champions, top draft picks and more, get to know a few of these remarkable athletes:
Afia Charles-Wilson '14 '17MHA — UCF's first track and field Olympian who competed in the London 2012 Summer Olympics. She is Antigua and Barbuda's national record holder for 400 meters.
Drew Butera (2003-05) — Former MLB baseball catcher who won a World Championship with the Kansas City Royals in 2015.
Jess Baker — Current UCF women's golfer who won the 2022 British Amateur. She recently competed at the 2023 U.S. Women's Open golf championship.
Jordan Franks — Former football tight end and 2022 NFL Super Bowl Champion with the Kansas City Chiefs.
Konya Plummer '20 — As co-captain of the Jamaica women's national team, she led her country to become the first Caribbean nation to qualify for the 2019 FIFA Women's World Cup. She will compete again at the 2023 FIFA Women's World Cup later this summer.
Michelle Akers '89 — Regarded as one of the women's soccer players in history, she's an Olympic gold medalist, FIFA Women's World Cup champion and FIFA Women's Player of the Century.
Sean Johnson — Goalkeeper for the U.S. Men's National Soccer team and the first Knight to play for the U.S. men's national team at the 2022 FIFA World Cup.
Shaquem Griffin '16 and Shaquill Griffin '16 — Twin brothers who have both played for the same team in the NFL. Shaquem is a former football linebacker who was drafted by the Seattle Seahawks in 2018. Shaquill was drafted by the Seattle Seahawks in 2017 and is now a cornerback for the Houston Texans.
Tacko Fall '19 — One of the tallest NBA players of all time (towering at 7-feet-six-inches), the former Boston Celtics player is among the top NCAA leaders for career field goal percentage.
6. UCF's Women Head Coaches (and Student-Athletes) Break Records
Men hold 57% of head coaching roles for NCAA women's sports teams, according to a 2020 Equity in Athletics report from the U.S. Department of Education — emphasizing the gender disparity among college sports coaching staff. This is not the case at UCF, where 90% of the women's teams are led by women head coaches. UCF Athletics continues to lead the charge in gender equity in coaching by being recognized in 2017 as the only school in the country to earn an A grade for racial and gender hiring practices of head coaches across women's teams.
The Knight women's teams have collectively won 115 conference regular-season and tournament titles while transitioning through four conferences over the last three decades. They are also responsible for 38 of UCF's league-best 52 AAC championships. Not by chance — these wonder women of UCF have been put in a position to succeed thanks in part to the empowering women who lead them.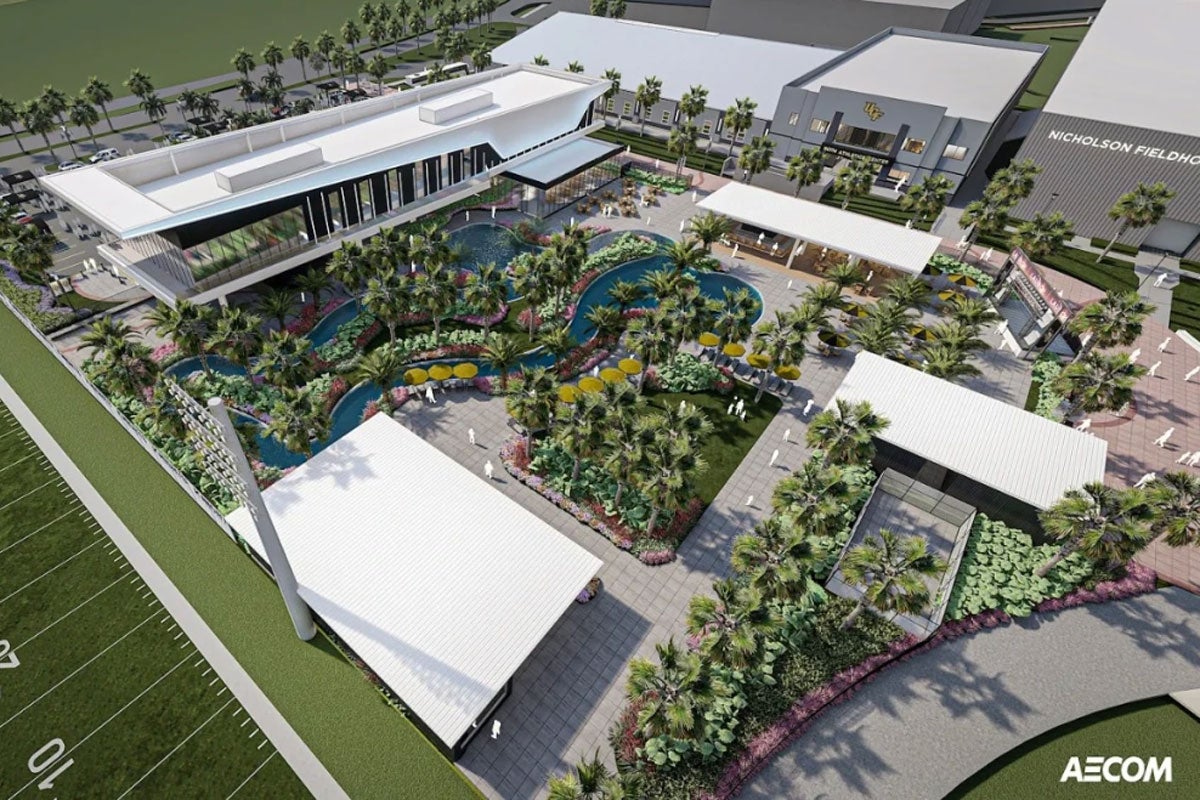 7. UCF Athletics is Invested
When fans fill the stands at UCF's various facilities in the Kenneth G. Dixon Athletic Village, they're going to notice some HGTV-level magic occurred in the offseason. The renovations are part of a larger initiative launched in March 2022 called Mission XII. This commitment to excellence promises to:

Support student-athletes in their NIL endeavors.
Provide championship-caliber services to our student-athletes in their educational and career pursuits
Increase the UCF Athletics operating budget to be in the top half upon entry into the Big 12, then target top third.
Maximize self-generated revenue through ticket sales/premium seating, ChargeOn Fund support, corporate partnerships, licensing and other avenues.
Deliver unique, indigenous athletics facilities for all student-athletes and fans, starting with the UCF Football Campus.
8. Our Student-Athletes Also Excel in the Classroom
In addition to big wins on the playing field, our UCF Knights student-athletes' most important triumphs have also been in the classroom. For 31 consecutive semesters as of Spring 2023, the student-athletes have collectively earned a grade point average (GPA) of 3.0 or better — extending their streak and setting a new record. In the Fall 2022 semester, the Knights compiled a combined 3.34 GPA, the third-highest semester GPA in program history.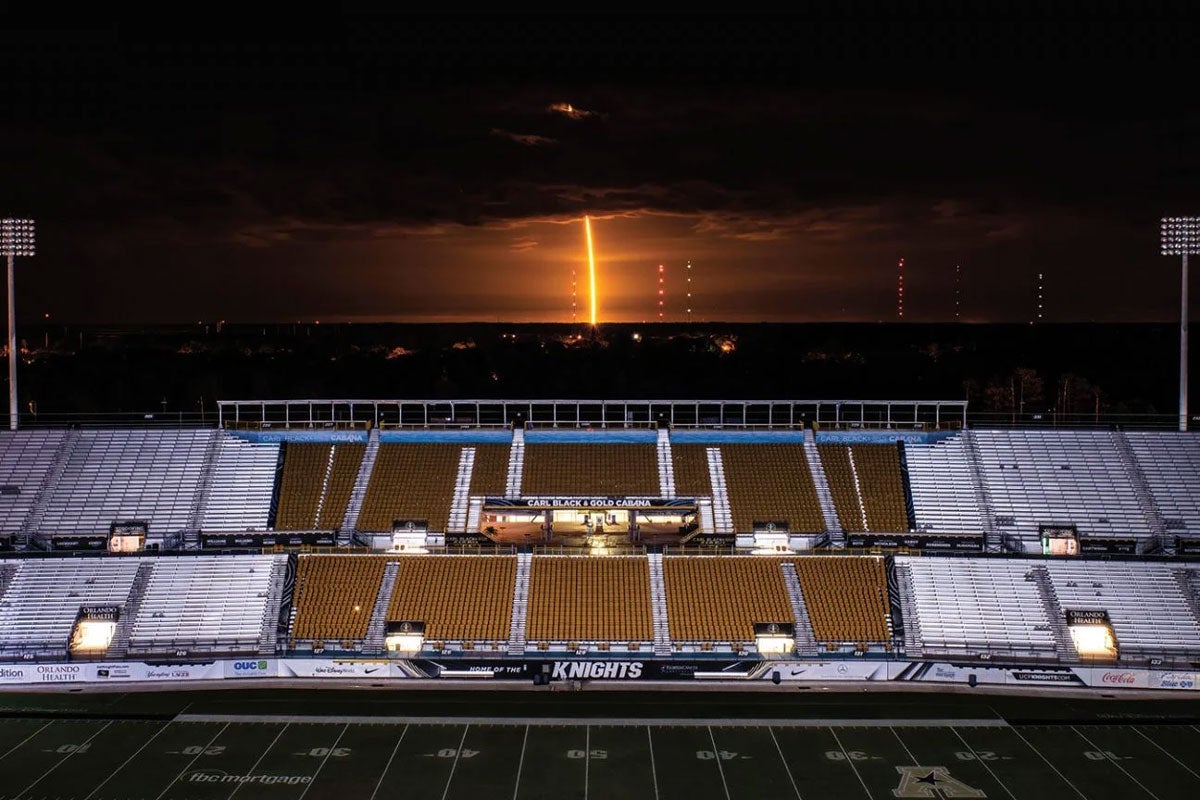 9. NASA and UCF's Football Stadium Have Something in Common
With UCF's proximity to the Space Coast, anyone can see a rocket soar into space from just about anywhere on campus, but the football stadium provides an especially great view. Intentionally designed, the 50-yard line sits on the same latitude as the historical Launch Complex 39A at NASA's Kennedy Space Center. This unique landmark became the perfect backdrop for UCF Knights lead photographer Conor Kvatek to capture his first rocket launch on camera which landed among Time magazine's top 100 photos of 2020 and helped amplify the university's reputation as SpaceU.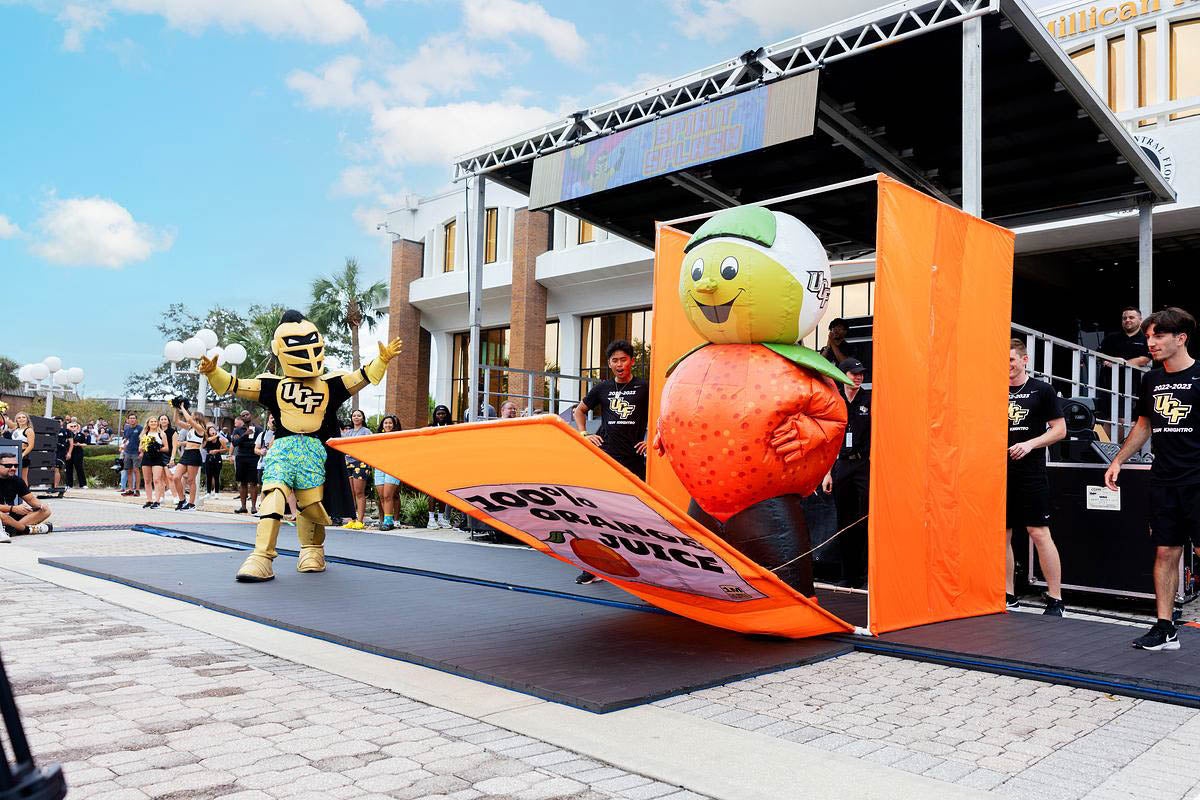 10. Our Fandom is Too Big For Just One Mascot
Knightro is hard to miss — a towering knight clad in golden armor that's charged up with infectious school spirit. Ready to take the campus by storm, Knightro debuted at UCF's first Spirit Splash pep rally in 1994. Since then, the golden mascot has served as the university's main ambassador.
It's no secret that Knightro is the GOAT, but a few other UCF-affiliated characters also tie into our identity as Knights. Take Citronaut for example — a beloved character that's half orange, half astronaut. Gracing the cover of the 1969 student handbook, Citronaut was an unofficial official mascot designed with Central Florida's two main industries in mind: citrus and space. He was brought back in 2014 and has since lived on to honor the university's long-time ties to NASA's space program and space research with annual Space Games that have spanned across multiple sports. This year's spring football game featured the Knights versus the 'Nauts for the first time.
You'll also likely see Knightro on game day with two other special guests: Pegasus and Knugget. Since 2001, a masked rider has ridden Pegasus, a winged horse that serves as the university's official seal, at home football games. In 2018, Knugget the mini horse became the newest addition to athletics and campus events, hyping up the students and fans of Knight Nation. Knugget has even had his own theme nights at basketball games.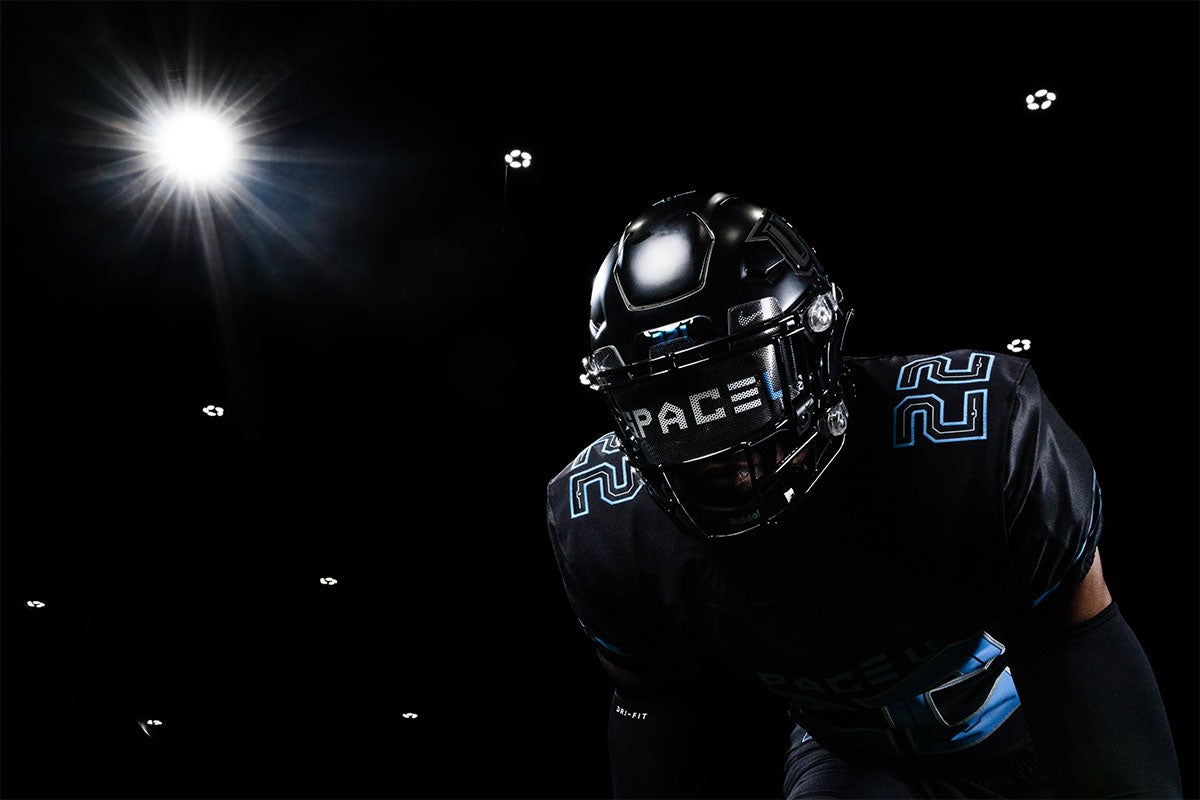 11. Best DripU?: Our Stellar Style Speaks for Itself
UCF is anything but basic. Our Knights' shining game day performances are hard to miss and they look good while wearing some of the most unique uniforms that have gone on to win awards — including 2018 Football Uniform of the Year, 2019 Football Helmet of the Year and more. Here are some one-of-a-kind UCF Athletics uniforms that deserve an honorable mention.
UCF Football's 'Dark Mode' and 'Light Mode' Uniforms: When it comes to uniform reveals, few have more creative debuts than UCF. When the Knights unveiled their "Dark Mode" uniforms ahead of their Halloween-weekend Homecoming matchup against nationally ranked Cincinnati last season, the Knights partnered with Universal Studios' Halloween Horror Nights for a frighteningly awesome reveal. The unveiling of UCF Football's latest uniform named 'Light Mode' captured national attention. This fresh look combines an all-white helmet, jersey and pants ensemble with accents of gold on the numbers and helmet decals to create a visually stunning combination that represents a new chapter in the team's history entering the Big 12.
2023 UCF 'Nauts Basketball Uniform: Citronaut is the center of attention for the 2023 UCF men's and women's basketball teams' Space Game uniforms. Keeping the connection to the university's space origin, the Canaveral Blue colored streak on the front represents the sky and ocean off Cape Canaveral near the Kennedy Space Center. The white jerseys feature the word 'Nauts across the chest and the Citronaut logo can be seen on the hem of each pair of shorts for a nostalgic yet fresh look.
2022 UCF Football 'Space Game' Uniform: Fans say they "might actually be the best uniforms yet," taking nearly a year to design with the help of several different departments. The UCF football team's 2022 Space Game uniforms were inspired by deep space and exoplanets — a nod to the university's origin to support the U.S. space program in the 1960s. Black jerseys, black pants and unique stitching around the Canaveral Blue-colored numbers make for an eye-catching uniform.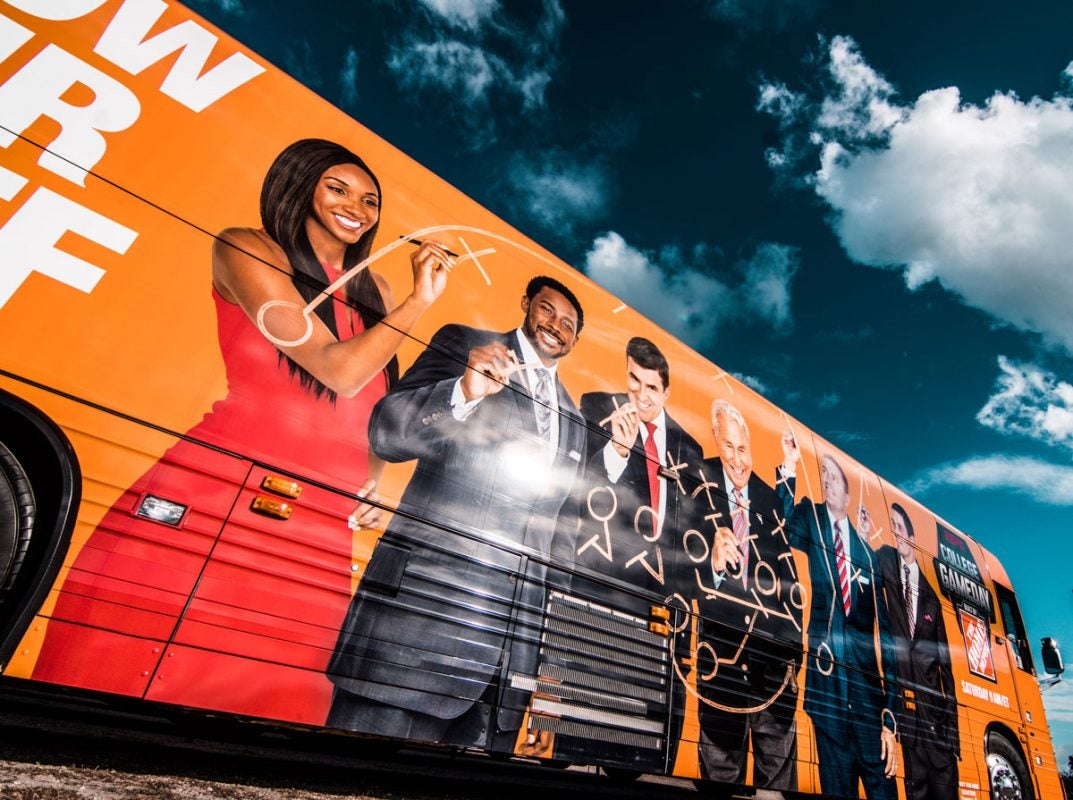 12. UCF Is One of the Most Memorable College GameDay Visits Ever
In 2018, ESPN's premier college football pregame show College GameDay went live from UCF for the first time in program history ahead of the Knights' nationally televised primetime matchup against Cincinnati. UCF's main campus was electric in support of the Knights who secured a title win as 2018 AAC Football East Division Champions. Fans say UCF set the College GameDay sign record with an impressive display of signs, flags and more on Memory Mall.
Now a member of the Big 12, UCF knows if College GameDay were to return to campus, Knight Nation would rally even harder.