As UCF approaches its inaugural season as the youngest member of a Power 5 conference, the athletics department is taking a look back to commemorate this special moment in history. The following feature is a part of UCF's 12 for XII series — 12 stories that define UCF and the meteoric rise of the Knights in their journey to the Big 12 Conference.
---
In 2017 and 2018, the UCF football team rose to the height of popularity and disrupted the college football world with its 25-0 run that spanned 745 days. The accomplishment ranks among the NCAA Division I FBS' top 25 longest winning streaks of all time, cemented UCF as a national brand and exposed access barriers to the College Football Playoff.
The following story is the most detailed account reported of the program's success, told exclusively by those who lived it. ESPN, when you're ready to greenlight the 30 for 30 documentary … you're welcome.
Scott Frost, 2016-17 UCF head coach: It's hard to win a game, much less all your games. I think there's got to be some magic.
McKenzie Milton '19, 2016-18 starting quarterback: The story of the win streak — I think it's got to start in 2016 with coach (Scott) Frost coming in.
Shaquem Griffin '16, 2013-17 linebacker and team captain: I feel like that story started with coach Frost at the time where you were starting to see the dynamic and the culture of UCF change.
Andrea Adelson, ESPN senior writer: Remember the situation that Scott Frost inherited. You've got a winless team, and a locker room that's in disarray. Nobody knows how to win. And that might sound simple to say, "Oh, we just get together and win." That's a hard thing to do when you have 100 guys in a locker room who may all be thinking about something different.
Scott Frost: One thing I will tell you, they were 0-12 the year before but coach (George) O'Leary left a lot of really good players there. Sometimes things go your way and sometimes they don't, and when they don't, they can really go off the rails. But I give him credit for the players that were in the program and that I inherited.
Andrea Adelson: I was at Scott Frost's introductory press conference. I remember that very vividly. I remember talking to (UCF vice president and director of athletics) Danny White and to Scott and having this sense that there's going to be something different here now. A lot of those press conferences are just formulaic and cliches. But there was just a different sort of energy in that room.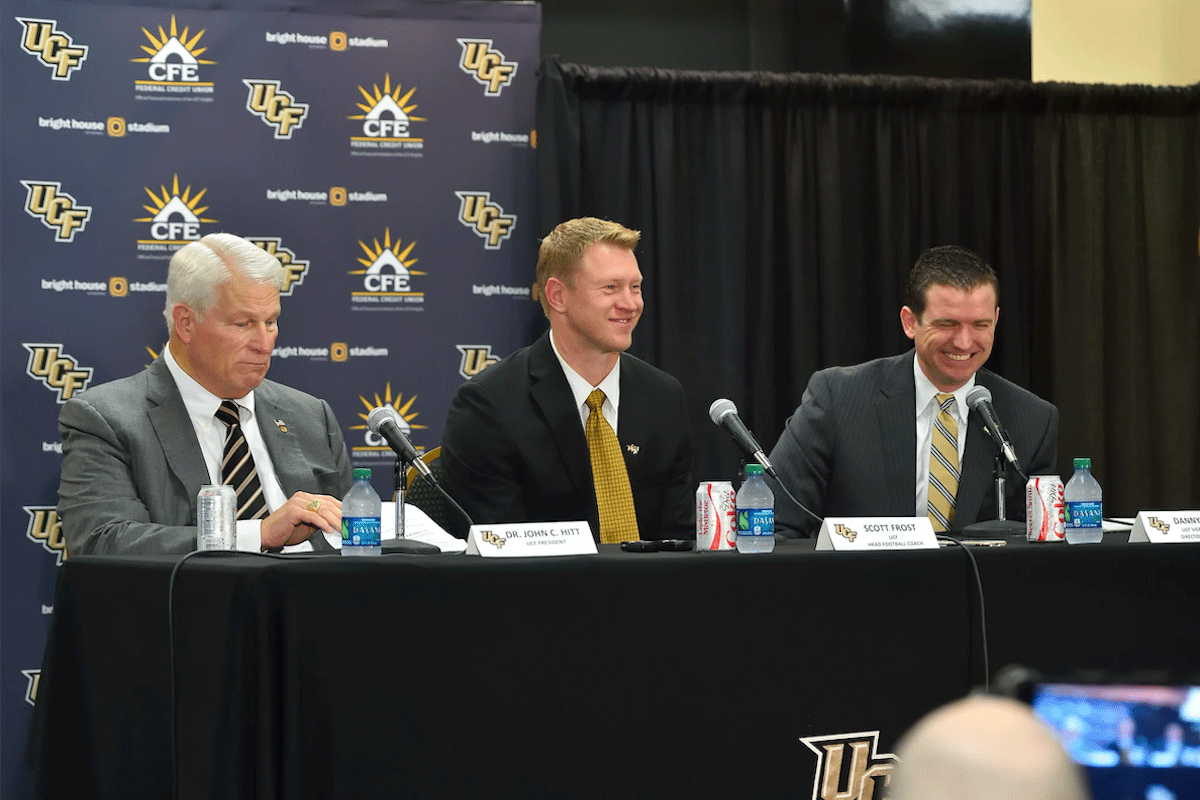 Scott Frost: The first thing we wanted to do was create a brotherhood with the players that they would play for each other and love each other and love the coaches and show them an environment where the coaches would love them and really get them to believe again.
Shaquem Griffin: It was more of, "We're here for each other," not the other way around. I feel like in certain ways, when I first came in (to UCF), football was more like a business. We had to do this and we should just be grateful [to be there] — as opposed to, "I'm doing it because I care about you and I know that we care about each other."
Marc Daniels, longtime UCF radio broadcaster: [The story of the win streak] kind of starts during 2016. Scott is in his first year. Makes the decision to start McKenzie and people kind of wondered about this undersized kid from Hawaii that they didn't know much about. And yet I think people remember the double overtime loss to Maryland at home — we battled Maryland toe to toe, and you felt like it could be kind of interesting to watch the journey.
Scott Frost: We grew a lot that year. I don't think the next year would have happened without 2016. Once you start 0-12, 6-6 seems pretty good. And then we got embarrassed in the (Cure) Bowl game. That's a really good improvement from where we started, but I wanted the guys to set their sights higher. I told them that I was tired of people congratulating us for going 6-7. I wanted to make sure that the goals in the guys' mind were as high as the goals in my mind and the coaching staff's mind.
Michael Colubiale '17, 2013-18 tight end and special teams: I think the story of that 25-0 run really starts in the offseason going into that 2017 season. If you would have asked anyone on the team if you thought we would have ran the table for not just one year but two years, they would have probably called you crazy just because of all the stuff that was going on that offseason.
McKenzie Milton: I had a good spring ball but just really wasn't in a good mental space. Honestly considered quitting football and moving back home. It was around finals week where I just had a mental breakdown.
Andrea Adelson: He's thousands of miles away from his home in Hawaii here in Orlando, and that 2016 season was rough. He got booed (by UCF fans at the Cure Bowl).
Scott Frost: We didn't start him at the beginning of the season because we knew he had some growing to do, just like the rest of the team. I don't think he was quite ready when he came in (for injured senior Justin Holman '16). He made some spectacular plays. But he also made some bone-headed plays, which when you're a freshman in college, that's going to happen.
But he led us to that (2016 Cure) Bowl game. He didn't play great in that bowl game, but we didn't play very well around him either. And inevitably it's the head coach and the quarterback that get most of the praise, and it's the head coach and the quarterback that get most of the blame when things don't go well.
McKenzie Milton: Going through my freshman year, like a lot of college kids when they leave home for the first time, they want to go out, have a good time and things like that. I just feel like there's no room for that 1) if you're professing God and 2) if you want to be a world-class athlete — it just doesn't add up to what you're saying you want to be. I think it was more so just an identity crisis in terms of putting a lot of my identity into football, and really, in all honesty, some substance issues, too, off the field. Really just taking a look at myself in the mirror and was professing one thing but not really living like that.
And I think Twitter didn't help. You'd read the positive and the negatives. And there were a lot more negatives that year, and all that fills your mind. That self-doubt starts to creep in and part of you doesn't feel wanted in a way.
I turned off my phone. Got off social media. Wasn't in contact with anybody on the team really. Kind of fell off the face of (the) Earth and not a better place to be than Hawaii when you want to do that. I was in contact with coach Frost and (UCF Director of Sports Medicine) Mary Vander Heiden, just giving them updates on how I was doing. If it wasn't for the help of Scott Frost and Mary Vander Heiden, I definitely wouldn't have made it back to UCF during that time.
Michael Colubiale: We showed up day one (of offseason strength workouts) and he wasn't there. We had a leadership council that I was a part of, and we had multiple meetings on just kind of where he was and what was going on. McKenzie was friends with a lot of dudes on the team and (his) phone wasn't working. Not returning texts. Like his calls weren't even going through. Frost let us know that he was back home in Hawaii. We were kind of sitting there not knowing what was going to happen going into the year.
McKenzie Milton: I was just doing some soul searching and at the end of the day, always put my faith in Jesus Christ. I got baptized. And that was really it for me. [I had a] conversation with my dad where he said, "The first grown man decision you made was to not stay home here, and decommit from Hawaii and go play football at UCF. You've never been one to quit." So really it was my dad pushing me to see it through. That is the reason my mom came out here (to Orlando). I don't think a lot of people know that either. I needed that support system. So my mom started living with me and that made it a whole lot more comfortable to come back. I've got to thank my parents for sacrificing time away from each other for a long time.
Michael Colubiale: We [the leadership council] had keep-it-real meetings in the summer before fall camp.
Steve Seay, UCF director of Leadership and Career Development Strategies, and leadership council oversight: I still have those meetings pop up on my calendar. Tuesdays at 4 p.m. What was rewarding was that we set out a framework of; If you're going to be a championship team, everybody's got to be pulled together. If you're going to talk the talk, you've got to walk the walk. That council was able to hold the rest of their teammates accountable because they first held each other accountable and to a higher standard. And they would — for the most part in a diplomatic way — be able to bring up issues and it was handled at a level that didn't involve yelling, screaming or anything like that. It was handled very professionally. The athletes in that room made a difference. That was leadership. I was quite uplifted with the way they interacted.
Michael Colubiale: I remember having a vote with the leadership council on if we wanted to bring McKenzie back. It was a tight vote to bring him back. I think this why we were who we were — we didn't care who you were, we were going to try to hold you accountable.
McKenzie Milton: I had to earn the trust of the guys back. I started with meeting with the leadership council. Just, "Guys, I was in a very bad headspace, and for me to be the best I could be for you guys, I had to get myself right first." There was definitely some that welcomed with open arms, and some that were like, "Dude, we've been here the past month and a half busting our butts, why would we want you here?"
Michael Colubiale: He knew that trust was hard to earn, and he had to start over again.
McKenzie Milton: I just had to control what I could control. And it was hard. There were practices where I'd go into coach Frost's office and be like, "Coach, man, nobody really on the team wants me here, I'm done." But having a guy like (junior offensive lineman) Tyler Hudanick '19 waiting outside coach's office until I got out to make sure I was good, having teammates like that (helped me get through it).
I think more than anything, the guys could always tell I tried to be as genuine as possible with every interaction with them. I always came from a place of love and trying to understand where they were coming from.
Michael Colubiale: I think he showed his commitment in practice. He showed his commitment in the locker room with the guys during camp because camp is a grind. You're with those dudes all day every day. Just win the respect there — show up early, obviously playing how he played on the field, he just kind of earned it during that first couple weeks of camp and ran away with that starting job. I think he knew that all his commitment needed to be to 1) earning our trust back and 2) being who he was on the field.
Scott Frost: I think anytime you're going to accomplish a lot, usually it helps to have gone through something pretty hard. And sometimes those things that we go through that are hard are the things that shape us into the person that's capable of taking on something great.
It was just a unique year. We were able to start camp earlier because of an NCAA rule so we started it as early as we could and we gave guys a bunch of days off during camp that I think helped keep them fresh.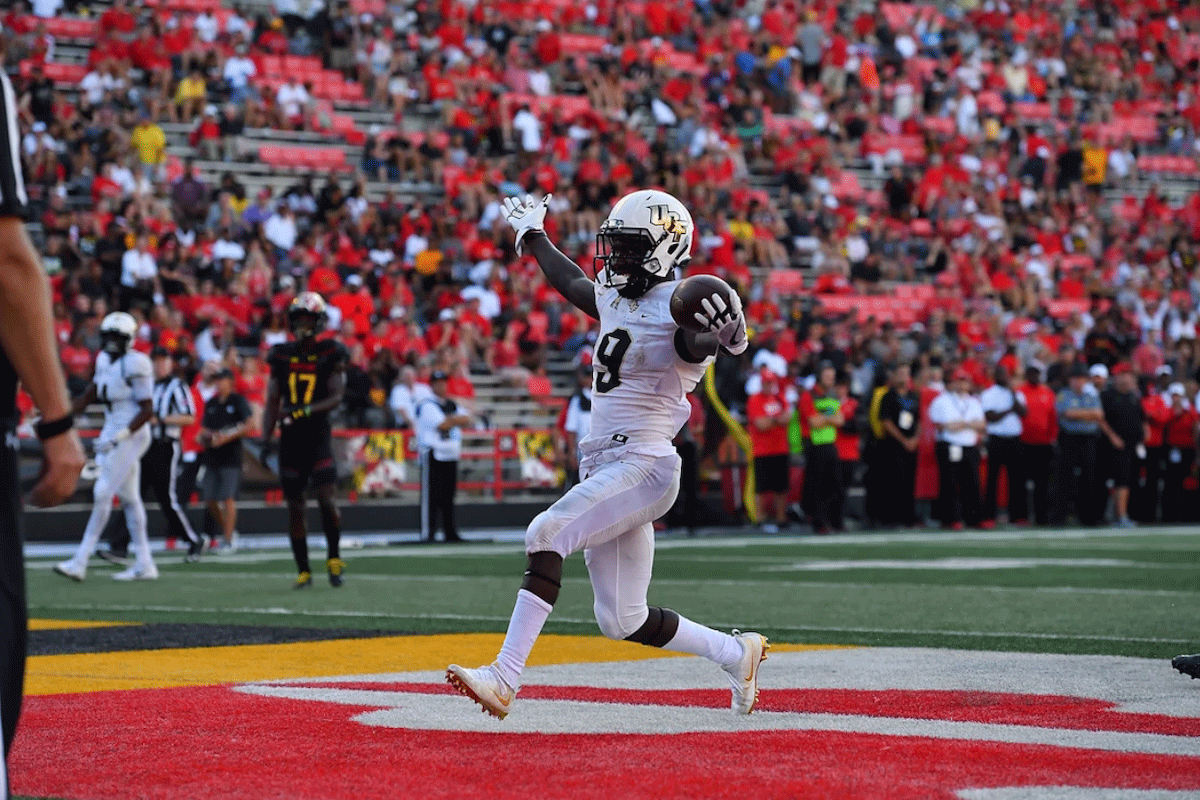 Michael Colubiale: The (first game) FIU game we came out and put up basketball numbers —63 points — on them.
Scott Frost: We had a team (Memphis) fly to Orlando and then get on a plane and fly back out, and we didn't get to play. And then a hurricane where the guys helped (the National Guard) with filling sandbags, and that kind of brought us together but we missed another game (Georgia Tech).
So it wasn't easy in a sense that everything was laid out and structured like a normal football season. We kind of had to overcome a lot and adapt to a lot, and again I think that helped make the team better.
Michael Colubiale: We played like eight or nine straight after that with no bye week so we had to be locked in. We had to be playing for not only ourselves, but the brothers next to us.
Andrea Adelson: The players to me were really the key to what happened. They were the underdog story, not just from a "Group of Five" perspective but from a player perspective, right? You have a team filled with players that were overlooked their whole lives and a university that has been overlooked in the state of Florida their whole life, and a football program that has been overlooked by the entire country for their whole life except for maybe a Fiesta Bowl season with Blake Bortles. Starting to find this energy but also this chemistry that made them feel invincible. And you could see that every time they lined up. This team never felt like they were going to lose. That no matter what happened in a game, they were going to win.
Scott Frost: I remember the TV announcer at Maryland, the night before, he said, "How do you think this is going?" I said, "Honestly if we win this one, we're going to go on a run." That set the stage, that one. … I've talked to McKenzie about this. There were about five games that season that were one-score games that could have gone either way. To be honest, coaches don't really win those games. Players win those games. Because in those moments a play has to be made to help win the game, and all coaches can do is set the stage and try to train and prepare the athletes to go make it happen.
From a defensive stop at SMU to Bam (Brandon Moore '20) causing a fumble at Navy to Tre (Neal '18) getting an interception at Memphis to Mike Hughes returning a kickoff against USF — the spirit that McKenzie and Shaquem had kind of permeated our team, and they were confident, and they went out and made all the plays that mattered at the right time.
Marc Daniels: That's what made 2017 into 2018 so fun — those teams just found a way to win.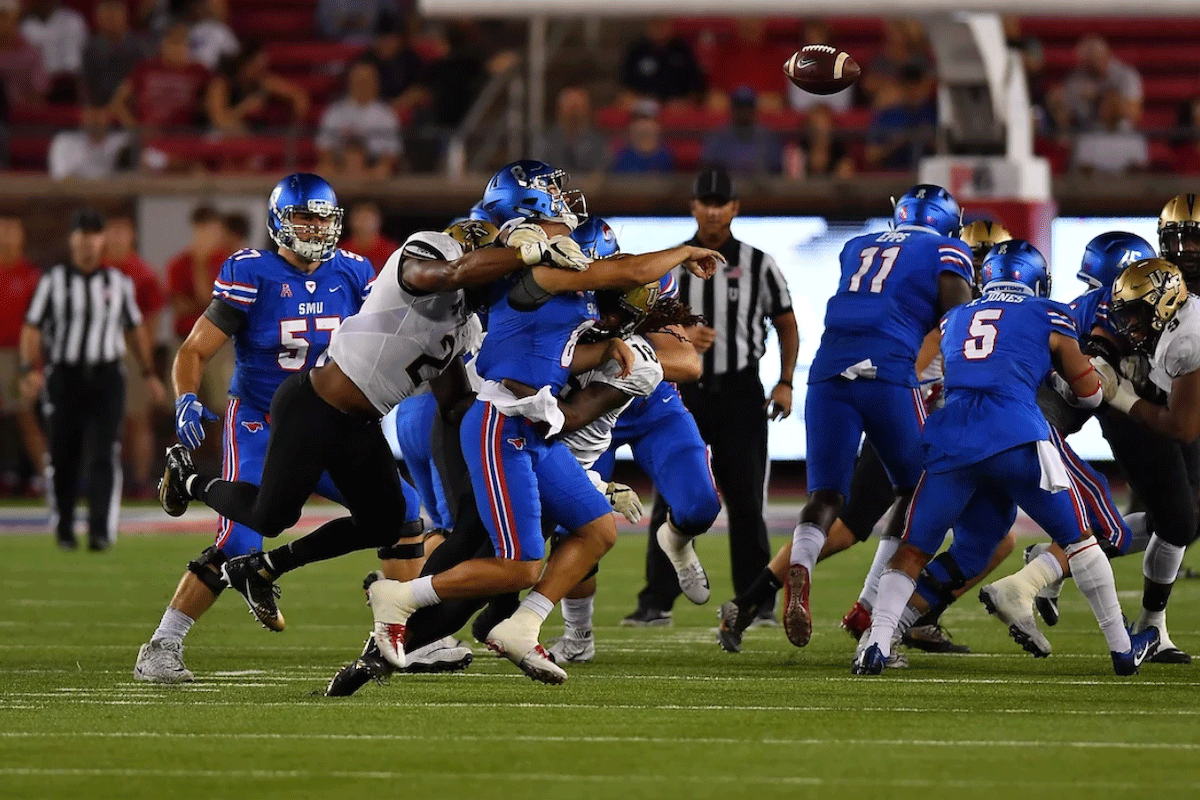 Scott Frost: The most nervous I was was SMU. I'll be honest, I probably called my worst game of the year in that game. My wife was due on a Tuesday and that game was on that Saturday and I remember some of the supporters of the program were kind enough to me to have a plane waiting in case my first child was going to be born. I had been at the hospital half the week.
It got to the end of the game, and we were only up a score, and SMU had the ball and they had been moving the ball pretty decent against our defense. I remember looking out on the field and they were playing a song. Usher, "Yeah."
Shaquem Griffin: So we played (NBA) 2K. And there's something called the intimidator badge. And it was like, "What can we do to intimidate them?" I was like, shoot, we're going to go out there dancing. They're going to think we don't care about fourth down. You're going to go for it? We're just going to stop y'all.
So we started dancing and you could see them looking at us. You could see the offensive line and the team looking like, "Oh, they are too hype." It wasn't (a feeling of) OK, we got to get a stop and we were all tense. It was like, loosen up because we're going to give it to these guys. That was fun.
Scott Frost: I was nervous, biting my fingernails off trying to make sure we held onto the undefeated record. I went over to coach (Erik) Chinander and I was going to get him to have them stop dancing and he goes, "Let 'em be, coach, let 'em be." Just like the rest of the games they got it done. That's how confident our guys were.
Michael Colubiale: I remember being a part of a lot of big games in UCF's history. The lead-up and the anticipation to that (2017) USF game was bar none the most must-win game we had to have, in my opinion, in UCF history. I don't think we are sitting here today if we lose that game.
Our biggest rival. Conference championship implications on the line. At home, senior night. Not sure if it's our last game in the Bounce House. Not sure what our coach is going to be doing (with head coach job openings). So winning that game, that was a grind.
Scott Frost: That (USF) game is so interesting because we were on the way to really winning big, I think. Offense was clicking early in the first half. We put up a bunch of points. They basically changed their defense and ran something that they had never run — put a bunch of DBs on the field to try to match our speed, went to kind of a 3-3 stacked type defense. We practiced against it, but we weren't expecting to see it in that game, so all the lead-up to that game we hadn't really prepared for it. And it took the guys a while to adjust. I give USF credit, they fought back into the game, and it became just an unbelievable contest and football game.
Marc Daniels: I do remember a couple times during a commercial break saying to myself, "Holy smokes, what am I watching here?"
Scott Frost: Got to the end and we scored on a little screen to Otis (Anderson) to take the lead and in my mind I kind of thought that's it. And then we had a busted coverage, and they threw a long touchdown pass.
Marc Daniels: I remember turning to my color analyst Gary Parris before the kickoff to (Mike) Hughes and I said, "There's still so much time for both teams to do things here."
Scott Frost: I'm not sure I had completely recovered from the shock of them scoring fast. I had my head buried in a play sheet trying to figure out a set of four or five plays that I thought would get the ball down the field and get a field goal to win the thing. Jovan Dewitt was our special teams coach, and I've heard him tell this story about 20 times, but Mike came up to him right after USF scored, and I'm sure we all had stressful looks on our faces, and Mike told Jovan, "Don't worry about it, I got ya."
Marc Daniels: They had a kicker who could kick into the end zone. When they kicked it to Mike I was really surprised and when he made the second cut, I saw the angle and he's gone. I'm watching Mike, and in the corner of my eye that's where I saw cabanas, and that's where I came up with the "reservation for six." But I'm also able to see our sideline explode. And as Mike is jetting down the field, I could see Scott Frost with two hands up in the air almost like, "Good, because I didn't want to start calling plays again." Although I think he had faith in McKenzie. But it was an unbelievable moment.
Michael Colubiale: The place just erupted. If you were to define UCF in one play, I feel like it would be that single play.
Marc Daniels: And still you're holding your breath because South Florida had the ball marching toward midfield with time left on the clock.
Andy Staples, On3 national college football host: I can tell you right now (what is the defining moment of the win streak). I was there. I could feel it underneath me as I'm in the press box on Black Friday when Mike Hughes runs back the kickoff and he's not. supposed. to. score. Because if he just takes a knee at the 1, they kick a field goal and walk off the field. But instead he scores and they have to make it extra dramatic, and Richie Grant '20 has to punch the ball loose and Shaquem Griffin has to jump on the fumble. And the place was bouncing. It was really bouncing. You could feel everybody jumping up and down. It was incredible.
I've covered a lot of really good football games. I was at the Vince Young Rose Bowl. I was at the Boise State Statue of Liberty. A Michigan State-Wisconsin game that ended with a Hail Mary in overtime. I've been at some of the best games in college football history. That's one of them. UCF over USF on Black Friday in 2017 is one of the greatest college football games ever played.
Andrea Adelson: My brother-in-law was in town for Thanksgiving. And he's from Michigan so he's got preconceived ideas about, "What is UCF? Let's just go to this game and see what this is all about." So he went with my husband Eric, who is now a professor here at UCF. The two of them sat in the stands, and I was at the game covering as a reporter. … When we get in the car at the end of the game, UCF has won, my brother-in-law turns to me and he was like, "That was the most fun I've had a football game in quite some time."
And remember at that time in 2017, UCF was ranked behind a three-loss team in the playoff ranking. Seven two-loss teams. I think they were like 15th going into that game. So people like my brother-in-law, who were from Michigan, didn't think UCF belonged anywhere near the conversation. But after he watched that game, his mind changed a little bit. And that to me is just a great example of how UCF won people over in 2017.
Shaquem Griffin: When we beat USF, we knew who we were fitting to play.
Michael Colubiale: We knew what we had on the line. We had a New Year's Day game on the line. We knew we were getting the best of them (Memphis). The whole coaching situation (Frost potentially accepting another head coaching job) was in our heads as well. I don't know if that was a little bit of a distraction. But maybe, sort of kind of.
Marc Daniels: It's the week of the Memphis championship game. And Scott had for the most part made up his mind. No one knew publicly where the story is going. [I saw him] outside of the student center. He was sitting in a golf cart. … And we just sat there talking. He opened up. I don't know why. The stress had obviously piled up. And I asked a question, "Why are you going, if you're going?" And he goes "Well, it's kind of complicated. My dad always wanted to see me coach Nebraska. And could I not have my dad see that if the opportunity is there?"
Shaquem Griffin: We knew (Memphis) would do whatever it takes to win because we already beat them before. I know some people were like, "Oh, well, It's hard to beat teams over and over again." I feel like it's hard to be disciplined and do the same thing over and over again. It's not about who you're playing. It's about who is going to be firing on all cylinders and is going to handle their business and be disciplined to what they need to do. And we came in ready to do that. Everybody was dialed in. We are in the moment. This is now. I protect you. You protect me. I got you. You got me. We got each other and let's finish this. That was the mentality.
Michael Colubiale: I just remember it being a shootout. I think that's a good word for it. It was just a story of quarters, really. We'd beat them one quarter, they'd beat us the next. It was a fun game. We kind of showed why maybe we belonged in the conversation for the playoff I think because of how much talent was on the field that day.
McKenzie Milton: In double overtime we ran a triple option, and I got to about the 2-yard line, tried running over the corner and right when I hit the corner, I separated my throwing arm, like my shoulder. I was just thinking, "Oh, no." We were on the 2-yard line, trying to score. So I think we handed the ball off one or two more times. Otis (Anderson) punched it in, and I'm on the sideline like, defense just get a stop here, just get a stop. Because I'm trying to throw and it feels like somebody is stabbing my shoulder.
Michael Colubiale: It was a storybook ending. Shaquem Griffin — a story himself — just makes a play at the end of the game.
Shaquem Griffin: I was just running at the quarterback. They didn't bump me at all, and I was like I've got to get to him as fast as possible. That was probably the hardest I ever tried to run. I was like, I just have to put my hand in front of his eyes or something. I wasn't even worried about the tackle. I just had to blind him some way, some how.
When we ran into each other, I'm looking back like, "Where's the ball, what's happening?" I see Tre Neal with his hands up.
McKenzie Milton: Tre Neal gets a pick. I didn't even really see it. I was just like, "Thank God I don't have to go back out for triple overtime."
Shaquem Griffin: My eyeballs flooded with tears. I'm like, I'm not fitting to jump up right now. I just have to take all this emotion in. It hit me. It was hard work. And I felt it.
Michael Colubiale: I remember storming the field, celebrating with the guys, everyone is going crazy and then Frost running all over the place. He was in tears.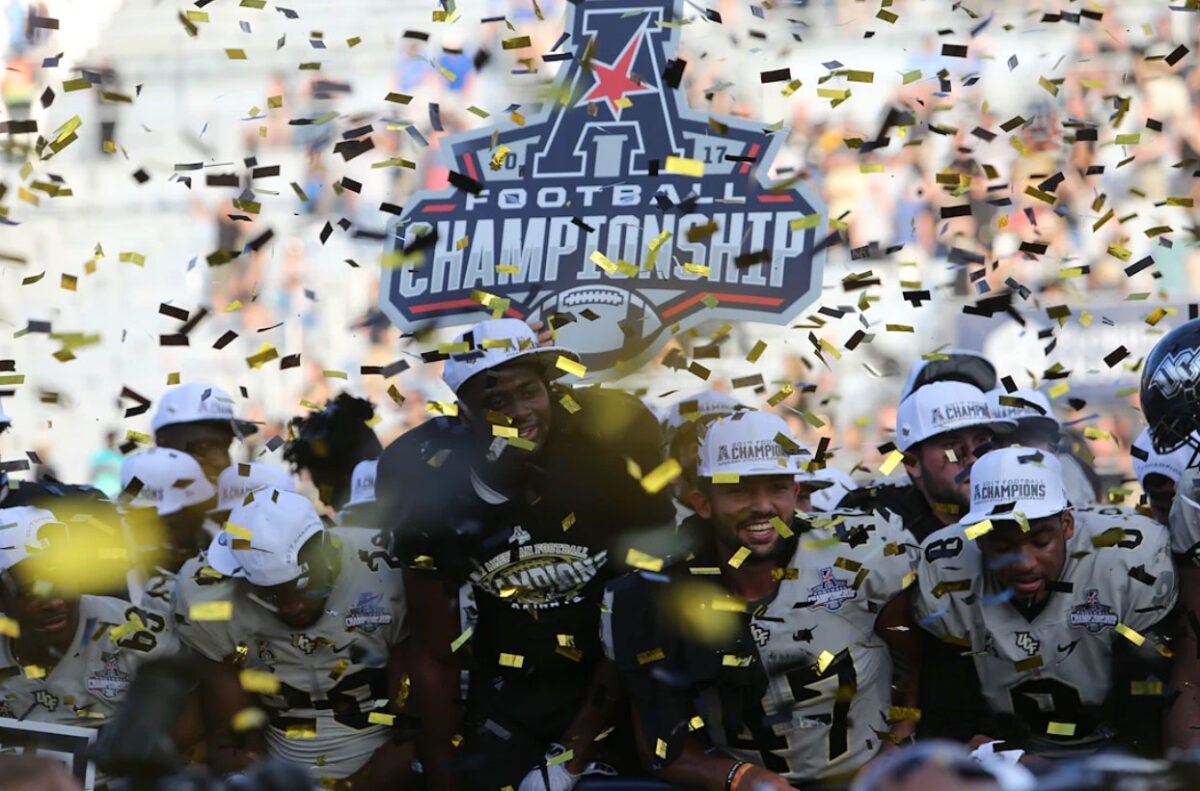 Scott Frost: Coming off that field after that win was so exciting, and I was so happy for the players. But I knew there was change coming.
McKenzie Milton: Nebraska is really the only place he would have left UCF (for). His dad was ailing at the time and that was the only place he was going to leave (for). It was just one of those things — their coach was getting fired and that was his home.
Marc Daniels: I've said this on my radio show, I've written about it — it may have been inevitable that Scott was going to coach Nebraska. I don't know if he wanted it to be as quickly as it happened.
Shaquem Griffin: I always respect and commend coach Frost for his transparency and his honesty because he didn't have to. I feel like he was open and vulnerable with us. You can't be upset about something like that. You can't be mad about it. We only respected him so much more because we saw how hard it was for him.
Michael Colubiale: Winning that game and then having to sit down and go from the highest of highs to the lowest of lows and listen to Frost spill out his heart and tell us how thankful he was for us and how hard the decision was, it was tough having to hear it. But at least he was able to let us all know. And we all knew how much he cared for us.
McKenzie Milton: I don't think there was a dry eye in the team meeting room after the Memphis game. I came in there late because I was celebrating with my family and coach was sitting on the side and the whole team was crying. I broke down too because I knew we lost our coach. What we didn't lose was the brotherhood within that. And we got to thank coach Frost for helping instill that.
Scott Frost: I was having a hard time holding it together because I cared so much for those guys. Tre'Quan Smith was pretty special to me. And I remember hugging him, and him putting his arm around me and said, "It's alright, coach. We've both got journeys to take."
That was a tough decision for all of us. Looking back, I think a lot of people would have done a lot of things different through that time. What's tough about making decisions like that is the timing that they come. You have to make those decisions in the middle of the season when you're tired, when you're exhausted. All I'll say is, I can't really describe to you how emotional I was because I don't think my heart really wanted to leave. UCF was a special place to me then and it always will be.
We made a decision that there's no way we weren't going to give the players the best opportunity to finish the season they started and the undefeated season. So the coaching staff, we wanted to come back (for the Peach Bowl) and help see it through. Because of our bond with the university and our players.
Marc Daniels: An incredibly uncomfortable month leading up to the game because you had a coaching staff that was at practice in the morning and then putting the colors of another program on to go recruit and the awkwardness of that.
Michael Colubiale: I remember going out to practice and (the new coaching staff of Josh) Heupel and (Glen) Elarbee and all these guys are lining up giving us high fives, and coach [Sean Beckton] and all these guys are on the field waiting for us and I'm like, "What world are we living in right now?"
Scott Frost: I remember one day we went out on the practice field and it was supposed to be a half-padded practice and some of the leaders on the team I think were acting out a little because they didn't want to see us go. And the whole team showed up on the field without pads on.
Michael Colubiale: I think it was one of the first practices back after we had a little break. We see that we're having a full-padded practice. I think we were all in on we're not going to practice in full pads that first day back. Frost hasn't been here. Why should we come out on day one and practice in full pads? Guys don't like practicing in full pads, if you don't know that.
So I remember we all came out in helmets only. Coaches have a practice plan all scripted out for what we're wearing. We (were supposed to have) a full-tackle period. So we all come out in helmets, Frost is our coach but not our coach, just sitting there watching everyone roll out in helmets. He's livid.
Scott Frost: It took a really good job by the players and the coaching staff to get everybody back focused on the task at hand. I actually turned the music off for the first time since I had been there, and we practiced in the silence. We had a heart-to-heart talk afterwards and cleared the air.
Michael Colubiale: We get done with practice. We take a knee. I feel like this is why we won the Peach Bowl.
Frost sits us down and kind of tells us what he's been doing. He just got off a plane that morning. He flew to California. Flew back. I think he got back at 6 a.m. He rolls right up to the facility — he was there to help coach us.
You could see the red in his eyes. He was tired. He could have not been there, really. But he chose to be there. He didn't miss a single practice when we were leading up to the Peach Bowl. It was like, "Listen, guys, I'm fully committed to you guys — I know I'm the coach somewhere else right now but until after this game, we're going to win this game and we're going to finish the story." A lot of the guys, I know myself, we kind of all felt a little different after that speech.
And then he made us run some gassers. We're like, "Alright, alright, OK. I guess so."
Scott Frost: I think that day was really important to make sure that we could approach the game the right way and finish it the right way. Shaquem played a big part in getting us pointed in the right direction. Chequan Burkett '16 played a big part in that, too. With everything changing the way it was, I don't think the team could have gone and won without great leadership, and we had those type of players on the team.
Marc Daniels: (Scott Frost and I) did our final pregame interview before the Peach Bowl. And before I clicked record, I said, "What's going to happen tomorrow?" And he said, "I don't know. We might get blown out because I could have done better in the month to prepare these guys. But if they win — and I wouldn't be shocked if they win — it will be because of guys like Shaquem and Adrian Killins '21 and Otis and Chequan Burkett and McKenzie because they carried this team for the last month. If we win, it will be because of them."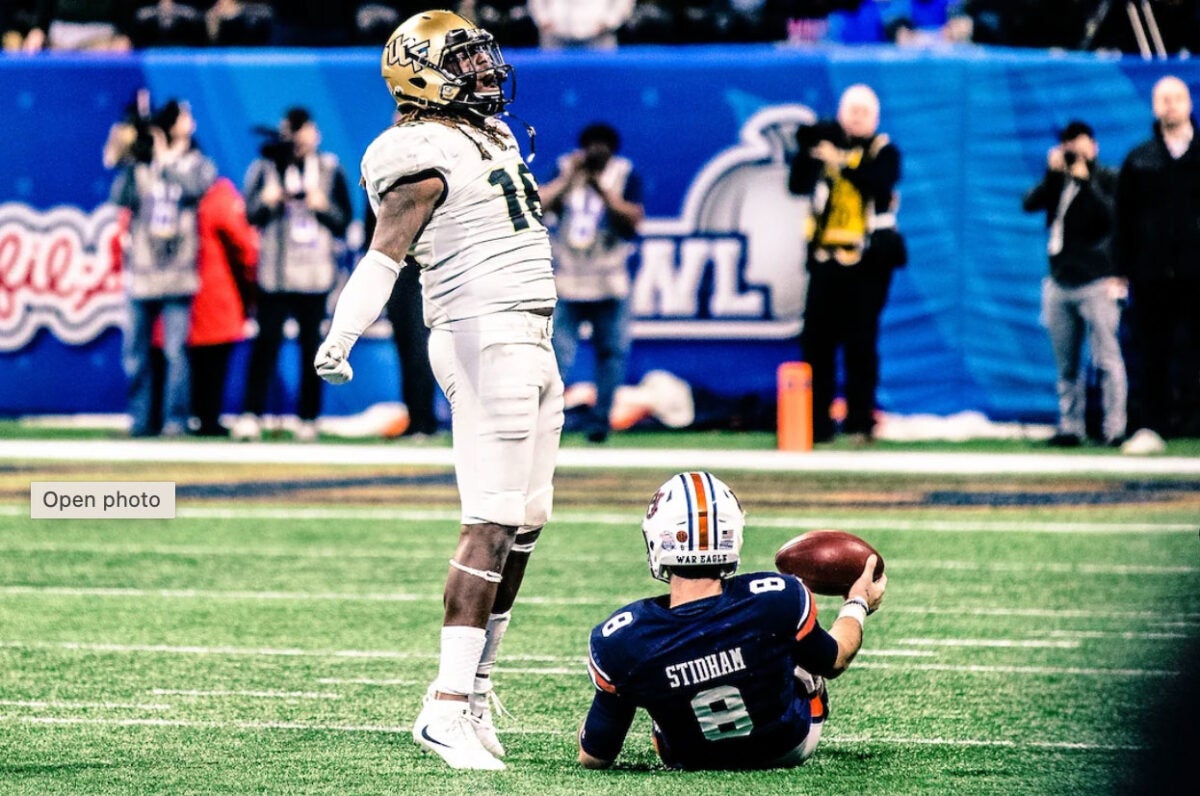 Scott Frost: I didn't know what to expect. I didn't know how motivated our team would be. I knew we were playing a team (Auburn) that had beaten Georgia and Alabama who were in the national championship game. And watching them on tape, they were a different animal than what we had played physically.
Shaquem Griffin: When we started to have interviews, I always felt like there was targeted questions of how can we stop them, and it wasn't how are they going to stop us? At one point we sat back and said, "Why are they trying us, like this don't mean nothing to us? Why are they trying us like we can't stop them?" Oh this is the No. 1 line in the country. We don't care.
We're going to watch film just like they do. We're going to play just like they do. Why are you not asking them how they are going to stop McKenzie and the pass? I'm not hearing those questions. At the end of the day, we're going to play UCF football and hopefully they can keep up with it because it goes fast.
McKenzie Milton: I really didn't practice much throwing until the week of the game and didn't go fully live until the actual game. I just had some patches and tape and Icy Hot. … . It was frustrating but luckily my feet were still good, my legs were still good, so I was able to run around and get in a rhythm.
By no means did we play a perfect game. I think our defense played extremely well, but offensively it was one of our sub-par games, especially for me. But you just find a way. Chequan Burkett pick six for a fifth-year senior. Antwan Collier, true freshman, making a pick at the end. Guys just making timely plays when we needed to and that was our MO that year. We found a way in those close games.
Scott Frost: I don't think there will ever be a team in college football history again that starts 0-12 and goes 13-0 in two seasons. Go undefeated in two seasons. It just doesn't happen. There's too much that has to change. Too much work that has to be done.
McKenzie Milton: My brother Pomi Milton — shout-out Pomi — he told me before the game, "Hey, after the game you gotta say, 'Cancel the playoff.' " I was like, "Oooh, I like that." So it was in the front of my mind. We had to handle business first and foremost. And I'm glad (then Director of Athletics) Danny White ran with it with the national championship so we were on point with that.
It ("Cancel the playoff") was wholeheartedly serious — what else do you want us to do? We ran the table. We beat ranked opponents and you have us sitting at 12. There was disrespect the whole time. You got three-loss SEC teams who had mediocre play from the quarterbacks, and things like that. You look at our roster top to bottom, we had a D-line that was as good as anybody in the country. We had guys in the secondary that could play man coverage. We had a bunch of receivers that are still playing in the NFL. And a quarterback who could make some plays. … We truly believe we could have beat anybody in the country and would have beat anybody in the country if we had the opportunity to play them.
Andrea Adelson: That game meant a lot to the players because they needed to show, we're good enough to beat an SEC team, we're good enough even though, our head coach is leaving, to carry this forward into the next season.
This wasn't the end of the road for the players, even though it was the end of the road for Scott Frost. To me, it felt almost like a beginning for the players because they knew this was an opportunity they had to seize. And, boy, did they seize that opportunity.
Andy Staples: That season probably did more for (UCF) than I can think for any season doing for any program. Maybe the 2006 for Boise State that ended with the Statue of Liberty play in the Fiesta Bowl. … Everybody knew after 2017 what UCF football is whether they lived in Orange County, Seminole County, Osceola County or whether they lived in the other Orange County in California. It made them a viable, national brand.
Andrea Adelson: I thought it was fabulous what Danny White did, saying, "We're national champions." Because, well, why not? How many other programs have self-declared a national championship? Go in Alabama's media guide and start scrolling to see how many national championships they have versus how many they've actually won on the field. There's a disparity there.
So the publicity that it brought to UCF was terrific but it also brought a backlash to UCF — so that headed into 2018 it wasn't, "Hey, look at all these great players with this underdog story." It was, "I can't wait until those guys lose so they can shut up." Watching that entire dynamic play out to me was completely fascinating because everybody loves an underdog until the underdog tells you how great they are and then they don't love you anymore.