Two project teams comprising of UCF researchers and community partners were named winners of the 2022 Pabst Steinmetz Foundation Arts and Wellness Innovation award. Each team was granted $25,000 to help fund their respective initiatives.
This year's winning projects respond to the theme of "No Place Like Home," focusing on collaboration with organizations and diverse communities to strengthen our sense of place through arts and wellness. Now in its fifth year, these are the ninth and tenth project teams to receive a Pabst Steinmetz Foundation Arts and Wellness Innovation award.
The awards were founded in 2018 by Central Florida's Pabst Steinmetz Foundation to recognize cross-disciplinary teams building sustainable models for arts and wellness innovation. The teams must involve the UCF College of Arts and Humanities and at least one other college, unit, or center from the UCF, and a community organization.
"Every year, we are impressed by the quality and creativity of the applications we receive for this initiative,"says Margery Pabst Steinmetz, who co-founded the foundation with her husband and initiated these annual awards at UCF. "This year we were looking for projects that would strengthen our community and be scalable to other places and the selected projects really answered that call. Congratulations to our awardees; I cannot wait to see these partnerships flourish."
In Fall 2022, teams from across the university submitted proposals for the two awards. Winners were chosen for being interdisciplinary, sustainable and community focused.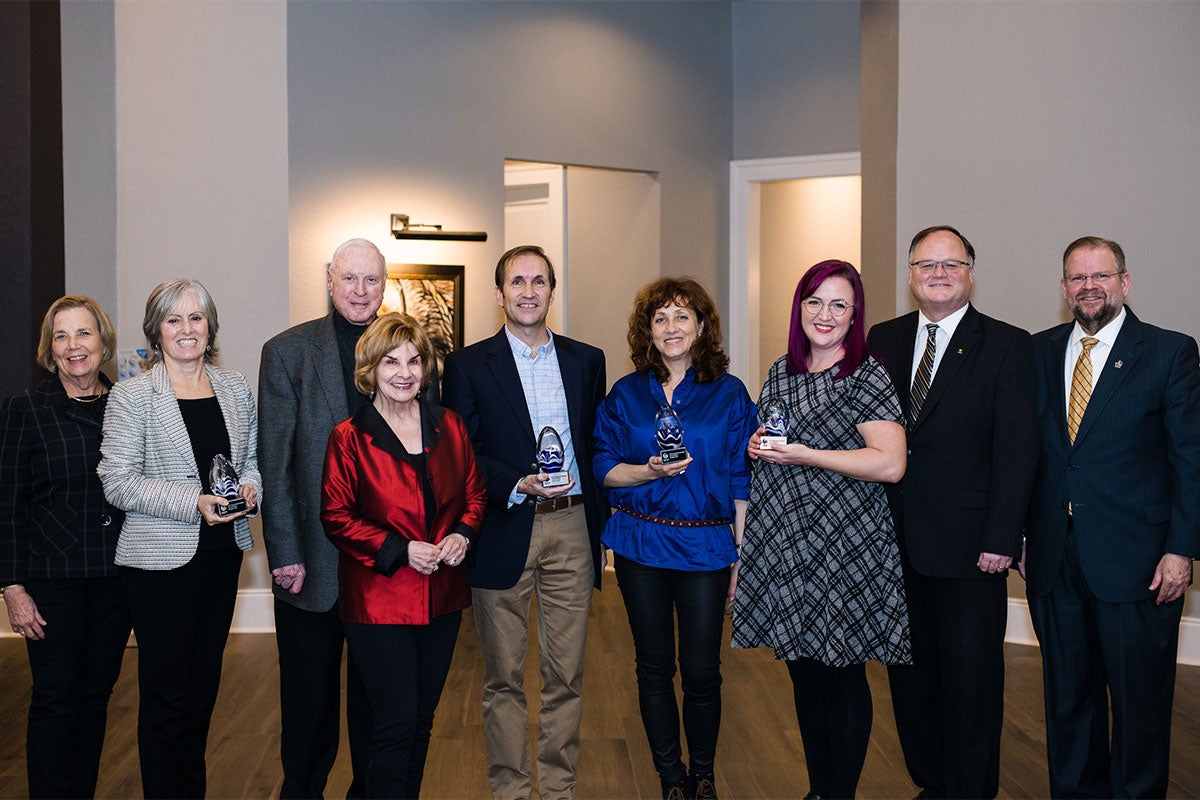 Pegasus PlayLab: Building a Shared Home
UCF's Pegasus PlayLab is an annual festival dedicated to developing plays by emerging playwrights for performance at Theatre UCF. Building on this model, UCF's School of Performing Arts and the College of Community Innovation and Education will partner with Best Buddies of Florida to offer Pegasus PlayLab to young adults with intellectual and developmental disabilities (IDD) and their neurotypical peers.
"Despite Orlando's rich community of theatre practitioners, there is a lack of opportunities for people with IDD to engage with the performing arts at the University of Central Florida," says Julia Listengarten, primary investigator for the project. "This collaboration will open writing, performance, communication, disability awareness, and problem-solving opportunities to UCF students as well as a diverse group of high school students and young adults in our community."
Best Buddies promotes inclusion by developing student-run friendship clubs that create buddy pairs between students with and without disabilities. To recruit participants in the program, Best Buddies of Central Florida will reach out to young adults in the UCF service area who are part of the Best Buddies Program.
The project will begin in Spring 2023 when participants attend a Theatre UCF performance of Home of the Brave, a play about home, belonging, friendship and change. UCF and Best Buddies will then host a reception following the production.
In the second phase of the project, theater artists with and without disabilities will have the opportunity to submit works in progress with the theme of "No Place Like Home," to be developed during a week-long series of workshops and performed at UCF in early Summer 2023 as part of Pegasus PlayLab.
"There has been a growing recognition of the importance of community inclusion for young adults with developmental disabilities," Listengarten says. "Our team believes that it is both timely and necessary to foster artistic relationships between students with and without disabilities on the UCF campus. Building a shared home is especially pertinent right now in 2023 as we continue to adjust to a new reality after having lived through COVID-19 induced lockdowns and isolation for the last three years."
Researchers from the College of Arts and Humanities, College of Community Innovation and Education, College of Nursing, and Best Buddies of Florida include:
Julia Listengarten, Pegasus Professor, artistic director and graduate program director in the School of Performing Arts
Rebecca Hines, associate professor in the College of Community Education and Innovation
Kim Wehagen, area director of Best Buddies
Keri Watson, associate professor in the School of Visual Arts and Design
Vandy Wood, associate professor in the School of Performing Arts
Elizabeth Kinchen, associate professor in the College of Nursing
Sage Tokach '22MFA, guest artist and Director of Education at New London Barn Playhouse
Shifting STEM Perception: A Community Approach to Increasing STEM Participation and Persistence in Low-income, BIPOC Communities
Due to underrepresentation, youth and families in low-income communities often do not see a place for themselves in the in-demand fields of STEM (Science, Technology, Engineering and Mathematics). To address this need in the Central Florida community, the Orlando Science Center formed the Community Consortium Advancing Racial Equity in STEM (CARES), comprised of leaders of organizations offering STEM programs in low-income, BIPOC communities.
Building on the work of CARES, this project seeks to shift perspectives of STEM for youth and families in an Orlando neighborhood to create pathways for STEM learning and careers. The project will develop activities and presentations held at community events using the arts to make learning about STEM relatable and engaging.
"Developing a personal identity within STEM is a vital component to an individual's choice to continue lifelong STEM education and pursue careers in the field. Through our work with our community partners, we have identified perceptions of STEM as a barrier," says JoAnn Newman, President and CEO of the Orlando Science Center. "We will explore the relationship between science and art to create an even deeper connection with youth and their families. These efforts will address gaps that go well beyond the classroom. It is our goal to work alongside them, building confidence and essential skills while letting them know they belong in STEM careers."
The Orlando Science Center is partnering with the School of Visual Arts and Design (SVAD) to create these presentations, and the inclusion of SVAD students will also expose youth and caregivers to career opportunities at the intersection of art and STEM. The Ginsburg Center for Inclusion and Community Engagement Office of Diversity Education and Training will train presenters to ensure inclusivity.
"There is science in art and art within science. The two are intimately connected. Our program will use the appeal of the arts as a point of entry for a deeper discussion about STEM with our audience within these targeted communities," says Newman. "Creativity, critical thinking and collaboration are important skills for both an artist and a scientist. Our program will explore the similarities between both concepts to eliminate the barriers of entry for STEM learning."
Researchers from the College of Arts and Humanities, Ginsburg Center and Orlando Science Center include:
Brandan Lanman, vice president of Visitor Experience at Orlando Science Center
Jo Anne Adams, graduate coordinator for emerging media MFA – animation and visual effects and instructor at UCF School of Visual Arts and Design
Andrea Guzmán, Vice president for Diversity, Equity and Inclusion, The Ginsburg Center for Inclusion and Community Engagement Office of Diversity Education and Training