UCF's School of Visual Arts and Design (SVAD) and Center for Research and Education in Arts, Technology and Entertainment (CREATE) will host Pompeii-related arts initiatives in the months leading up to the opening of "Pompeii: The Immortal City," an exhibit that will be at the Orlando Science Center from June to September 2020.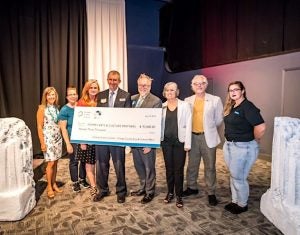 The science center will be one of only four museums nationwide to host the traveling exhibit of ancient artifacts, and partnered with Orange Country Arts and Cultural Alliance to select and fund community projects that will support and amplify the exhibition. Twenty-nine projects were proposed and nine were selected to receive a total of $93,000.
Faculty from SVAD and History, in collaboration with colleagues from Rollins College, will host a symposium titled "Life and Death in Pompeii". CREATE plans to lead 40 students from Lake Eola Charter School in lessons regarding Pompeii's history, mythology, and the science behind how frescos are created, including the systematic process of Buon frescos, and why the frescoes in Pompeii were preserved for so many years. Then the students will work collaboratively to create fresco paintings in a storyboard fashion. Once complete, the fresco pieces will be on display at the Orlando Science Center during the exhibition.
Read more about the "Pompeii: The Immortal City" exhibit in the Orlando Sentinel or at the Orlando Science Center.