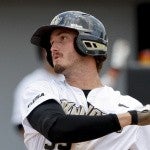 Maybe it was just a matter of time before UCF's usually potent bats awoke on Saturday at the NCAA Regional Tournament. But when they finally did – fittingly enough with the Knights trailing and their season hanging in the balance – they wasted little time and erupted in a huge way.
Trailing 4-3 after a somewhat troubling bottom of the sixth inning, UCF got consecutive first-pitch RBI hits from D.J. Hicks, Jonathan Griffin and Derek Luciano to plate five runs that dramatically changed the tenor of the afternoon. That spree jump-started an eight-run seventh inning for the Knights and paved the way for UCF's 16-5 rout of Bethune-Cookman in NCAA Regional play at Florida State's Dick Howser Stadium.
UCF, in a NCAA Regional for the first time since 2004, set a slew of school records during its late-game offensive onslaught. The eight-run inning and the 16 runs overall were highs for a NCAA Tournament game. For the game, UCF had 20 hits as seven players collected multiple knocks.
"Our guys continued to battle throughout the day … and our offense responded when we needed it," UCF manager Terry Rooney said. "Our guys hung in there with tremendous confidence all the way through. I was very proud of the way we battled back and answered the way we needed to in that second half of the game."
A day after UCF's two-through-five hitters struggled through a 1-for-15 afternoon in a 5-3 loss to Alabama, Griffin (four hits, five RBI), Hicks (four hits, two RBI), Luciano (two hits, four RBI) and Beau Taylor (three hits) combined to go 13-for-21 with 11 RBI.
The production from the middle of the lineup allowed the second-seeded Knights (39-22) to live to play on Sunday at noon against the loser of the Florida State-Alabama game from Saturday night. The Knights routed Alabama 12-4 in late February, but they lost to the Tide in Friday's first-round play. UCF won one of three games against FSU three weeks ago in Tallahassee.
"We talked about it early in the cages – me, Beau, Griff and everybody – that we had to come through," said Hicks, a sophomore. "I didn't get a hit (Friday), so it was important for us to jump out today and help the team out the best that we could."
Bethune-Cookman (36-25) was eliminated from the double-elimination tournament. The Wildcats, who lost 6-5 to Florida State on Friday in heartbreaking fashion, dropped to 1-24 all-time in NCAA Tournament play.
Saturday's game was bizarre in several aspects, ranging from wacky errors, a 3-hour, 21-minute lightning delay without any precipitation for the first 2 1/2 hours and some wacky, wild swings in momentum. Including the weather delay, it took almost five hours to play the final three innings. The game took 3:25 to complete – four minutes longer than the rain delay.
Said Hicks of what his team did during the delay: "Nothing good. It's tough because you are just trying to wait it out, but it gets to a point where you don't know what to do. We just started playing games to get our bodies going again. It was nothing great, to be honest."
UCF led 1-0 through five innings in what was shaping up as a pitching duel between UCF starter Danny Winkler (six strikeouts, three hits allowed) and Bethune-Cookman's Ryan Gonzalez (eight strikeouts).
Griffin, all 6-foot-7 of him, put a charge into the game when he hit a two-run home run halfway up the scoreboard beyond the 340-foot left-field fence. The 19th home run of the season for Griffin put UCF up 3-0 and moved him to within two of Chris Duffy's school record of 21 home runs set last season.
The game changed dramatically for UCF late in the sixth inning. Winkler, who allowed just one ball out of the infield in the first three innings and struck out six through four innings, retired the first two batters of the sixth. He appeared set to get out of the inning when he got B-CU standout catcher Peter O'Brien to pop out to left center. But when Ronnie Richardson and Ryan Breen collided on the play, the ball squirted out and Breen's throw to second sailed wide. A UCF team that hadn't had two errors in a game in more than a month committed two on one play.
From there, Winkler hit a batter and walked another to load the bases. He appeared to have Emmanuel Castro struck out on a picture-perfect 2-2 pitch, but it was ruled a ball. A walk and consecutive singles plated four-straight runs to shockingly put Bethune-Cookman up 4-3. That was especially surprising considering that UCF head beaten Bethune-Cookman 13-0 and 8-1 during the regular season.
"I just didn't pitch well down the stretch. I had a hit batter and an uncharacteristic walk with the bases loaded. That's not me," Winkler said. "I just think I was trying to too hard to make that perfect pitch and get the momentum back on our side because it was swaying toward their side.
"I think we have more confidence when we get down," Winkler continued. "For some reason when we get down we just kind of wake up."
UCF sophomore shortstop Darnell Sweeney opened the seventh with a single – the third straight inning that UCF put the leadoff man on base following a stretch of 17 consecutive innings dating back to the Conference USA tournament where it had failed to do so.
The single by Sweeney – who has four hits in two NCAA games – started a stretch of six consecutive hits by the Knights. UCF chased three pitchers with some efficient hitting. Reliever Bryan Rivera threw three pitches, all going for hits that resulted in five runs for the Knights.
Winkler, a junior from Effingham, Ill., had his good fastball and was dominant early in Saturday's game. At one point, he retired 10 straight batters and struck out six of seven hitters. He needed just 61 pitches to get through the first five innings with 45 of them going for strikes.
Said Winkler: "I couldn't have drawn this up any better. When coach Rooney was recruiting me he said, `You're going to pitch in a regional,' and what he said has come true. It was an awesome experience and hopefully we can keep going and get in the Super Regionals and Omaha."
Winkler was in a position to potentially be the tough-luck loser after BCU scored the four unearned runs in the sixth. But UCF's bats finally came alive and got him off the hook. A lineup featuring six .300 hitters produced 11 straight runs before the lightning delay. Now, the Knights hope to carry over that momentum to Sunday where their season will once again be on the line. They will need to win two games to get to a championship game on Monday – something that Rooney feels his team is quite capable of doing.
"We're very confident in the position that we're in. We'd like to be in the 2-0 game, but I like where we are because offensively we found our groove a little bit and our pitching depth," Rooney said. "Today, was a mindset that we had to battle and do whatever it takes to get the hit when we needed it.
"Now, we have confidence. Our guys have it," Rooney said. "And from a pitching standpoint, we've got depth and I feel good about where we are. We still have a lot of guys who have been starters for us who haven't pitched yet. This is what you play for and I feel good about our chances."
John Denton's Knights Insider appears on UCFAthletics.com several times a week. E-mail John at jdenton@athletics.ucf.edu.