For future emergency physician Michael Chiang '20MS, medicine and hospitality go hand-in-hand in ensuring a patient-centered experience. On Friday, he will become the first UCF student to graduate with his M.D. as well as a master's in hospitality as part of the College of Medicine's 10th graduating class.
The newest physician Knights mean UCF's young medical school has now trained 956 doctors. This summer, the 2022 graduates will move on to residencies at top U.S. hospitals, including Boston Children's, Georgetown, Harvard, Johns Hopkins, Orlando Health and Stanford.
This week, the College of Medicine's founding dean, Deborah German, reflected on the class and its role in helping create a medical school that is the academic center of an emerging Medical City at Lake Nona.
"Whenever you create something, you wonder, what will it look like in 10 years?" she says. "I dreamed of a 10th class that would be extraordinary and our Class of 2022 has exceeded my expectations."
The medical school began its unique M.D./M.S. in hospitality and tourism management degree with UCF's internationally recognized Rosen College of Hospitality Management. The program educates future physicians on how to use service-oriented business models in the medical practice. Students complete the first two years of the medical school curriculum, take required hospitality courses during the third and then spend the next two years completing their clinical rotations.
Chiang says he witnessed the importance of hospitality in medicine as a child. A first-generation student, he is the son of East-Asian immigrants who moved to the U.S. to create a better life for their family. His mother worked three jobs to help support the family — one as the operator of an assisted living home, where Chiang, his parents and younger sister also lived in a single bedroom.
"I grew up seeing my mother interacting with patients with varying health needs at the nursing home," he says. "So it was easy for me in terms of recognizing the importance of service in healthcare. I was also a bartender as an undergraduate and I'd also been a server before, so hospitality was not something that was foreign to me."
After completing a bachelor's in biochemistry at the University of Florida, Chiang learned about the dual-degree program when he enrolled at UCF's medical school and thought it was a perfect fit for his background and interests.
"The program was a really interesting experience," Chiang says. "For me, it was kind of a reprieve from medical school. As a med student, sometimes medical school pretty much becomes your life and it's easy to get burned out, so the hospitality program added some variety for me."
The program, he says, helped teach him the "business side" of medicine, an area not generally covered in the M.D. curriculum.
"In one of my hospitality classes," he says. "I had to do a feasibility study and I did it from a medical perspective, where I planned out a private practice as a family practitioner using a Direct Private Provider Care model. It really helped to bring the nature of business to the medical side, which was really interesting to me. It helps you to focus on how to provide the best possible service and really build rapport and positive relationships."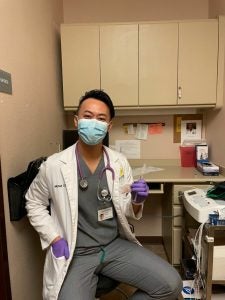 His desire to study medicine began while in high school when he came home to find his mother collapsed on the floor — he now suspects due to exhaustion. The sense of helplessness he felt that day sparked the desire to help others including his family.
"I remember feeling really frightened during that period," he says. "My family structure is pretty much matriarchal. We grew up very poor and my mother worked three jobs to support us. So suddenly this powerful figure was in need of care and I wasn't able to help her."
After graduation, Chiang will move to the University of Texas – Southwestern Medical Center to complete his residency training in emergency medicine, a field he was drawn to after his own experience with the emergency department.
"I actually was driving back to Orlando from a (clinical) rotation in Bay Pines late one night and I hydroplaned off the road, spun 270 degrees and my car was totaled," he says. "Having had that experience and also having treated people in the ED, I can say it's the setting that I feel the most energized in and the one that I feel I can make the most difference in saving lives."
While he has no immediate plans to open his own practice or enter the service industry, he is confident his training in both disciplines will help him to be a better physician and provide better care for his patients.
"I don't think this program suddenly teaches you how to be a better human — that's essentially what we want our physicians to be, good humans," Chiang says. "But I think these principles provide a framework for you to incorporate principles to provide a more patient-centered experience — to look at things that matter to patients such as why they're there, how you should treat them, how you should do service recovery when things go wrong and how to approach them."
Days ahead of Friday's commencement ceremony, Chiang says he was grateful for the unique opportunity UCF provided.
"Over the last five years, I've always felt supported by UCF in terms of own dreams," he says. "I'm incredibly grateful for not only the support of faculty but also the friendships and relationships that I've been able to have as a result."