As the fifth anniversary of the Pulse shooting approaches, the 49 individuals killed continue to be remembered and honored for their positive impact before their untimely deaths. Four Knights were selected among the recipients of the onePULSE Foundation's second annual 49 Legacy Scholarships, each of which honors an individual victim.
Founded by Pulse owner Barbara (Papaleo) Poma '90, the nonprofit supports the LGBTQ+ nightclub memorial site and future museum, educational programming and this scholarship program, which provides the 49 awards that are distributed nationally and support students with similar interests and backgrounds to those who were killed on June 12, 2016.
Environmental studies major Jonathan Beltran Torres, international and global studies major Valentina Diaz, first-year medical student Nader Tabsh, and nursing-pending major Kimberly Vielma are the four UCF students among this year's awards. During the application process — which included completing various forms, personal essay questions, an interview panel, and a final interview with Poma — each student discussed how the shooting impacted them personally.
Healing with Care
Vielma and her mom had been for in Mexico several weeks preparing for her quinceañera when they got the news that Luis Vielma, her brother, was one of the 49 victims in the Pulse shooting. Luis was a Universal Studios employee and Seminole State College student working to become an EMT. Vielma says he was her best friend and father figure who always supported her dreams of becoming a nurse.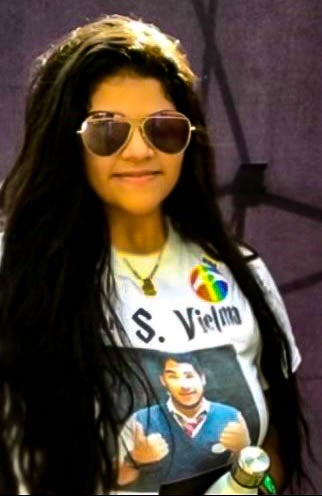 "When we got the news, I still couldn't believe it. I just dropped," Vielma says. "I felt very empty and alone and it deterred a lot of focus in my life. But my brother always told me to keep going and the sky is the limit."
While dealing with the grief of losing a loved one, Vielma and her family found comfort in the community at the onePULSE Foundation and being among others who had been impacted.
"At first it felt like we were going through this alone. It felt like we were the only ones going through the struggle, but really it was 48 other families who also were going through the same struggle and we came together with their support," she says. "They helped me realize that Luis died in a place of love with 48 other people."
Vielma's recent scholarship award is just another example of how the foundation tries to continue to provide her support.
"Receiving the scholarship means a lot to me," she says. "It really helps with the financial burdens of my education, but it also brings me closer to the onePULSE Foundation. They have this motto, 'We open hearts, doors and eyes to others.' And I feel as though with becoming a nurse, I can do that by sharing my experience and empathy with patients."
Living with Purpose
Tabsh has long had a strong sense of self, but growing up Muslim in Dubai he says he couldn't openly express that he was a gay individual. When he moved to Tampa for his first year of undergraduate studies at the University of South Florida in 2015, he finally had a chance to be out and proud. But when the Pulse shooting happened, it brought back old fears.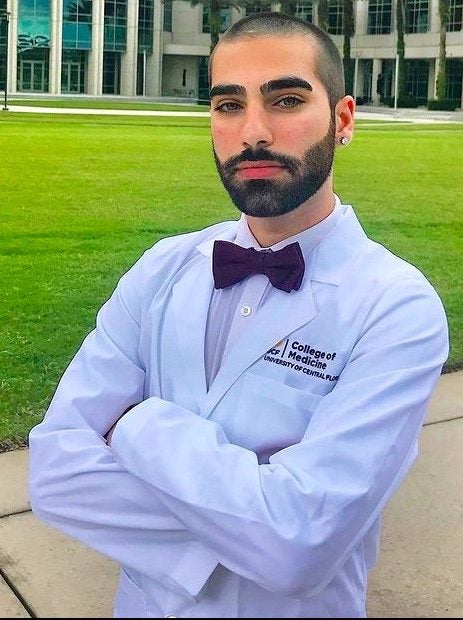 "The safety and security that I felt within the first eight months of moving to America was all of a sudden gone because the largest mass shooting in the country happened right next to me, and it was targeted specifically towards my community," says Tabsh. "I felt like the acceptance that I've been searching for [was gone] and the discrimination that I've been running from had followed me all the way here to America."
On top of internal struggles, Tabsh dealt with the loss of two friends and fellow Knights Juan Ramon Guerrero and Christopher Andrew "Drew" Leinonen '07 '09MA, who often visited him in Tampa. Guerrero, a pre-finance student, and Leinonen, a psychology alum, were boyfriends.
"Most of my memories with them were when we used to go out dancing, so it was actually incredibly ironic that that's where they lost their lives," Tabsh says. "I remember them sweating, dancing and kissing on the dance floor without a care."
Tabsh's scholarship is in honor of Rodolfo Ayala Ayala, who was a longtime employee at the OneBlood donation center and passionate about helping others. Tabsh, who is also co-president of UCF's LGBTQI+ Medical Students and Allies group, plans to pursue psychiatry as a career and says he's incredibly grateful for the aid he's received.
"What I'm most happy about is that [the Pulse shooting] didn't just fade away and become history," Tabsh says. "Even though it absolutely is a tragedy, our community managed to come together to move us forward in remembering the victims in a positive light and honoring their families. Now we think of the [onePULSE] foundation, the legacy behind it and the generous donors who are working to make a better future for queer people who are affected by this tragedy."
Celebrating Safe Spaces
For Beltran Torres, coming out was an experience he felt comfortable sharing with his family in middle school. And while he felt positive about being out for years, he says once he joined the Army after high school, he reconsidered openly sharing this part of his identity. He was stationed in New York and had begun living an open life again when the Orlando shooting happened.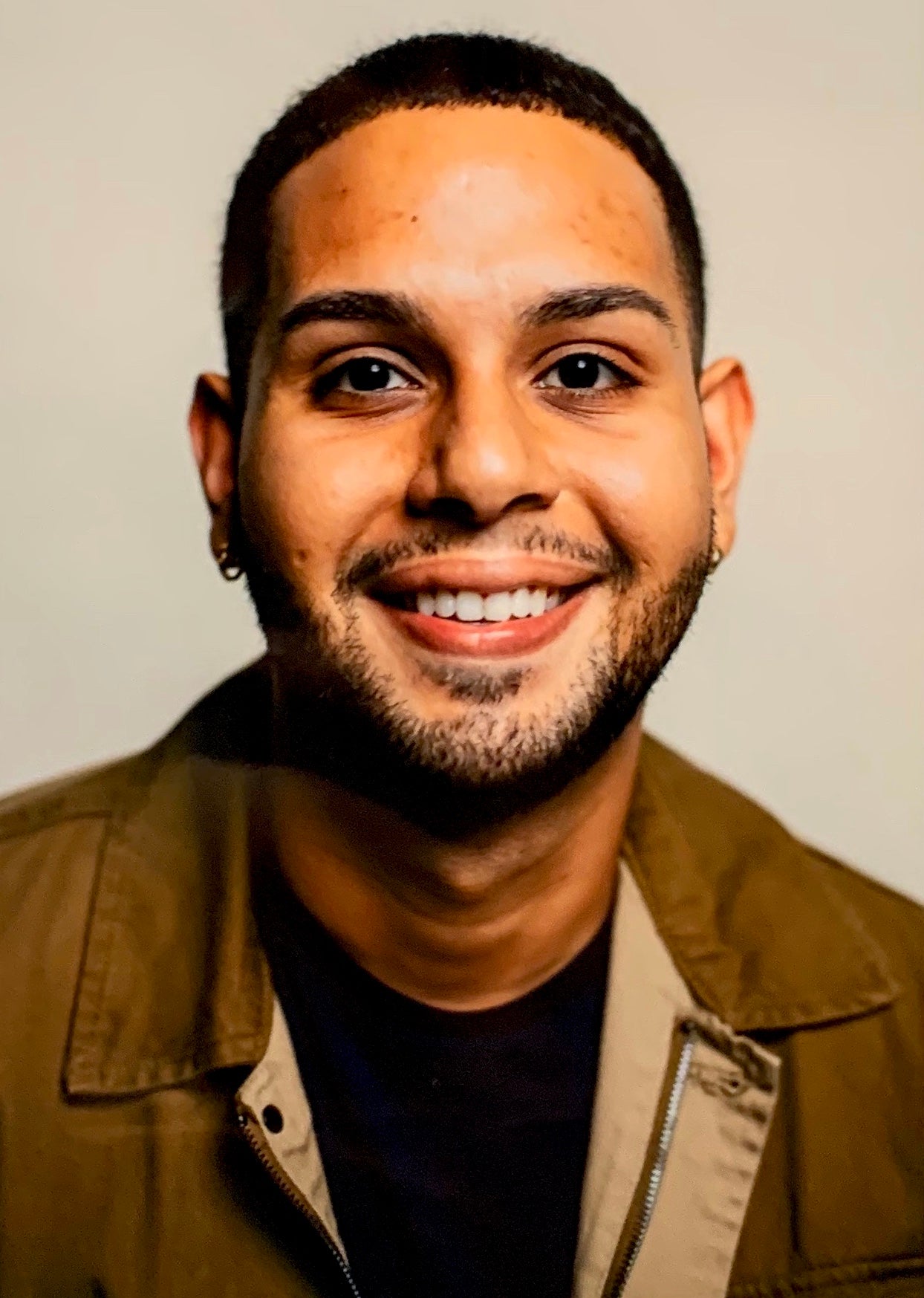 "It made me reevaluate myself in the way I express myself," says Beltran Torres, whose parents moved to Florida from Puerto Rico. "I was becoming more aware of how I navigated the world as a colored, gay man and how the world interacted with me. And it really changed a lot of the way I just interacted. I wasn't freely telling people I was gay anymore."
Since coming to UCF, Beltran Torres has become comfortable sharing his true self again and has learn more about other LGBTQ+ individuals through his involvement with Out in STEM, or O-STEM, a organization for students to support one another in sharing their identities.
"I'm grateful for the exposure this group has given me to people, from asexual to transgender," he says. "I used to think we were all the same, but we're individuals. We fall in different parts of the spectrum and we need to appreciate and support one another because those struggles, [although] they may be different, they still hurt and they still are hard to navigate, especially when you're by yourself."
The organization also helped him learn more about the onePULSE Foundation scholarship, which Beltran Torres' partner — a Pulse survivor — initially encouraged him to apply for. His scholarship is in honor of Darryl Roman Burt II, who recently earned a master's in human resources from DeVry University shortly before he was killed, and is intended to support any field of interest. In the future, Beltran Torres plans to pursue urban planning development.
"Pulse was a place where a lot of the marginalized community came to feel safe and validated," he says. "I have the utmost respect for Pulse survivors, victims and their families. It meant a lot to be awarded something like this, just because I know the struggles of being the only one like you in a room sometimes and not having a place where I felt safe."
Advocating for Change
Diaz was in high school in South Florida and finally felt ready to come out when the Pulse shooting happened. The event would cause her to delay her decision to come out for more than a year, and she was soon after impacted when someone she knew was killed in the 2018 Stoneman Douglas High School shooting in Parkland, Florida.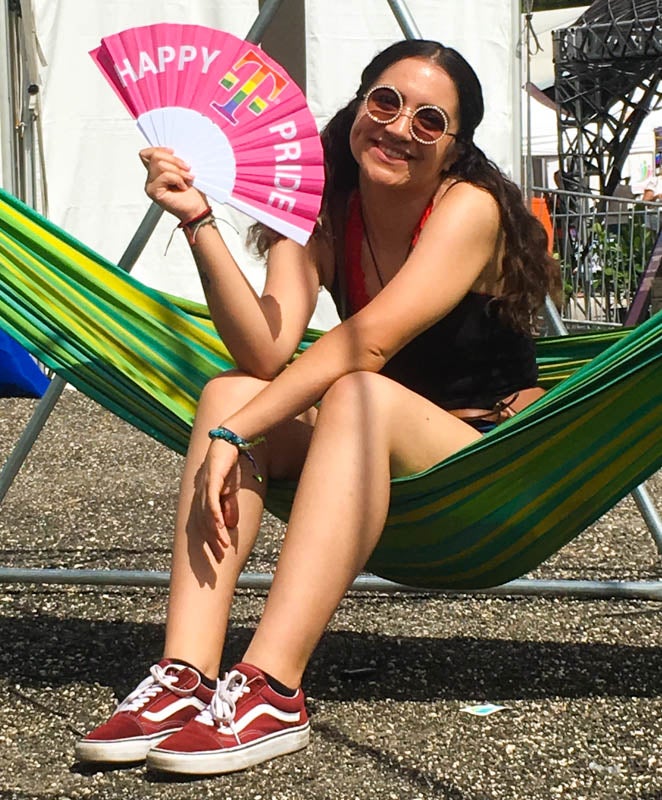 "I think one of the things that really secured this particular scholarship for me was my understanding of the tragedy and how important it is that we need gun control in this country," Diaz says.
Both incidences have sparked a passion for advocacy in Diaz, who is also a member of UCF's Lavender Council and LGBTQ+ Services. She plans to serve in the Peace Corp after graduation and would like to work for an organization such as the United Nations one day. Her focus on international interests is a commonality she shares with Pulse victim Mercedez Marisol Flores, the Valencia student who wanted to pursue a career in international tourism and events.
"I did a lot of research about her, and I realized that we had a lot of stuff in common. She loved music and her two brothers were DJs," Diaz says. "One thing that really connected me to her was the fact that whenever she was in the car, she would blast music, lower the windows and drive."
While doing her research Diaz also connected to statements Flores' father, Cesar, gave about forgiving the Pulse shooter, she says.
"Her father said he cannot live in this hate. After the Parkland shooting, I think that's something that I had to learn," Diaz says. "After so many shootings have happened, we cannot live in hate. We have to live in understanding that if we actively channel our anger and our frustration into making a difference and fighting for what's right, then hopefully one day it will actually be right."
UCF Remembers will honor the 49 lives taken at Pulse and celebrate the diversity and equality that unite us all during a vigil June 10 in the Student Union Ballroom. Doors open at 7 p.m.