UCF Celebrates the Arts — eight days of music, performances and visual displays — returns April 6-14 for a fourth year. The university's annual showcase of student and faculty presentations at Dr. Phillips Center for the Performing Arts in downtown Orlando will open with a tribute to American composer, conductor and educator Leonard Bernstein and close with a concert featuring jazz artists, the UCF Orchestra and Flying Horse Big Band celebrating UCF President John C. Hitt's contribution to UCF and Orlando.
The festival consists of free or low-cost presentations by the School of Visual Arts & Design and the School of Performing Arts. Many events feature collaborations across the university and community partners.
"We've selected outstanding projects that represent the best of UCF," said Michael Wainstein, director of the School of Performing Arts and producer of the festival. "I hope that our patrons will walk away in wonderment at the facility, at the talent of our students and they will want to see other shows on campus and support our programs."
"Our mission is to prepare students for careers in the arts and to expose their work to the community. Performing at our region's premiere performing arts center allows performing arts students an invaluable opportunity to perform in a large commercial venue. In addition, providing access is at the heart of what UCF is all about and that includes ensuring that all community members have access to affordable arts events."
Opening the festival April 6-7 will be Mass: A Theatre Piece for Singers, Players and Dancers, by Leonard Bernstein and lyricist Stephen Schwartz. The large performance will bring together on stage the UCF Orchestra, UCF Choirs, Theatre UCF singers and dancers, School of Performing Arts alumni and other musicians. The piece is part of "Leonard Bernstein at 100," a two-year global celebration of the life and career of the 20th century cultural giant with more than 2,000 events on six continents.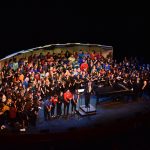 "Mass is an enormous and ambitious piece, with more than 300 musicians, vocalists, and dancers on stage," said Wainstein, who is directing the production. "We knew we wanted to honor Leonard Bernstein this year and we wanted to do it in a big way. UCF is one of a few organizations equipped to produce this piece at this scale."
The eclecticism of Mass's music reflects the multifaceted nature of Bernstein's career, with blues, rock, gospel, folk, Broadway and jazz idioms appearing side by side with 12-tone serialism, symphonic marches, solemn hymns, Middle Eastern dances, orchestral meditations and lush chorales, all united in a single dramatic event with recurring musical motifs. Written for the inauguration of the Kennedy Center in 1971, the controversial piece gave voice to an anti-war youth culture that was seeking truth and transparency from its government. Though Mass challenges divine authority, exposing its contradictions and questioning religion's relevance to contemporary life, it ultimately serves as a reaffirmation of faith and hope for universal peace.
On Friday, April 13, the university will honor another legend, UCF President John C. Hitt and his wife, Martha Hitt. "Imagine Something Wonderful: The Flying Horse Big Band meets the UCF Orchestra with special guests T-Bone, Veronica Swift, and The Jazz Professors" will be conducted by Jeff Rupert and Chung Park. UCF's premier jazz ensemble, the Flying Horse Big Band, joins forces with the UCF Orchestra for a swinging evening of music including bossa nova tunes, hits from the big band's past albums, and some new surprises, including a world premiere by Stella Sung dedicated to the university's first couple.
Other highlights of the festival include:
Tableau vivant, April 6 and 13: A festival favorite, "Living Art" returns to Dr. Phillips Center showcasing the collaborative work of more than 160 School of Visual Arts & Design students who recreate famous artworks and wear costumes to model as the people in the life-size paintings.
"A Celebration of Arts, Storytelling, and Technology," April 7: One night of exhibitions showcasing work that weaves together arts and technology, featuring a digital media showcase, an alumni panel, interactive projections, and demonstrations of digital storytelling, tools for historians, and video gaming. Participants include the School of Visual Arts & Design's Digital Media program, the Florida Interactive Entertainment Academy, the Veteran's Legacy Program, and The Florida Review.
Project Spotlight's Play it By Ear, April 7: a full-length student written, produced, and presented play about a group of 20-somethings trying to figure out how life works while living in close proximity in New York City.
A Reading of The Refugee Plays, April 8: a series of short plays that explore the experiences of refugees and undocumented immigrants in the United States. This is part of the UCF Big Read.
UCF New Music Ensemble, April 8: part of the Collide Contemporary Music Series, the student-based ensemble features world premieres by music composition students at UCF.
Quadruple Stuffed Oreos, April 8: A student-produced sketch-comedy group
UCF Choral Concert, April 8: the UCF Choirs cast away the traditional concert format to share a lively evening of songs written in the spirit of social justice.
Wind Ensemble and Symphonic Band, April 9: includes a commissioned piece, entitled "Zodiac Concerto" featuring guest artists William Caballero, horn, and Roger Oyster, euphonium.
Blackberry Winter, April 9: Orlando Shakespeare Theater presents a reprise performance of its 2017 production Blackberry Winter with a post-show talkback to raise awareness of caregiving.
Writes of Spring, April 10: Theatre UCF graduate students and the Orlando REP devised a musical from writing submissions provided by Central Florida K-12 students.
UCF Rising! Applied Bystander Prevention Workshop, April 10: a collaborative workshop between Theatre UCF and UCF Victim Services that combines theatrical skills with victim advocacy and prevention training.
Choirs Invitational Concert, April 10: 400+ students from eight Central Florida schools participate in a day of workshops, followed by an evening public performance.
Just Like Us, April 10: The Orlando REP presents a staged reading of "Just Like Us," a documentary-style play that follows four Latina teenage girls in Denver—two of whom are documented and two of whom are not.
K-12 Fine Arts Showcase, April 11: K-12 students from public and private school fine arts communities of Brevard, Orange, Osceola, Lake, Hillsborough, and Seminole counties gather for performances, shows and presentations.
Percussion Invitational Concert, April 11: Following a day of workshops with international percussion artist Anders Astrand, the UCF Percussion Ensemble performs a public concert.
UCF Woodwind Ensembles, April 11: The UCF Flute Ensemble, Saxophone Ensemble, Clarinet Choir, and Woodwind Quintet come together for an evening of woodwind chamber music, featuring work from a local composer.
Opera Double Feature: Giacomo Puccini's Gianni Schicchi and Michael Ching's Buoso's Ghost, April 13 and 14: The UCF Opera workshop presents two one-act operas in collaboration with Theatre UCF, Florida Symphony Orchestra, Florida Southern College and the Imperial Symphony Orchestra, in celebration of the 100th anniversary of Gianni Schicchi.
In addition to the tableau vivant, 6-foot-tall collective assemblage totems are found-object sculptures created by students in SVAD's 3-D art classes that will be featured on the center's Harvey & Carol Massey Family Grand Staircase. Massive banners displaying School of Visual Arts & Design student artwork fill the halls on multiple floors of Dr. Phillips Center including images from drawing, painting, printmaking, graphic art, architecture and animation. Experience new, interactive games from game-design-track undergraduates housed in custom-built classic arcade cabinets in Della Phillips Grand Lobby.
Throughout the festival, clips of the character animation student films will precede events in the Pugh Theater. Some of the films are Cuddlefish, Dreamweaver, Farmer Glorp and The Moth Effect.
New for 2018, festival planners are implementing a reserved seating procedure for evening events that have historically sold out. While many events will remain free, the opening and closing performances in Walt Disney Theater and most of the performances in Alexis & Jim Pugh Theater will have a nominal ticketing fee, which will include reserved seating.
The base ticket price will be $5 to reserve a seat at a performance, with some premium seats available at $20 or $50, depending on the event.
"This new pricing structure is a reminder that the arts have financial value—and it isn't inexpensive to produce a festival of this scale. We do have some generous supporters of this event, and hope to see even more members of the community support our work at a higher level," said Wainstein.
"Patrons will enjoy the facility and programming that is high quality at a low price, or for some events, free of charge. Orlando knows that UCF is a powerhouse in all areas and a driver of the Orlando community, but the celebration allows anyone and everyone to experience the wonder that is our students, and incredible events that showcase those students."
"We made this adjustment based on patron feedback," said Heather Gibson, director of marketing and communications for the College of Arts & Humanities. "We want the festival to be a more relaxed and enjoyable experience. Instead of enjoying the art exhibits, attendees have been waiting in long lines in order to get their preferred seat. Hopefully this change will help us accommodate as many patrons as possible and to make it a more enjoyable experience overall."
Tickets will be available starting March 1. For a complete schedule, ticket reservations and other information, visit the festival's website at www.arts.ucf.edu/.