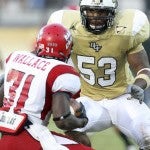 After making two Conference USA Championship appearances in three seasons between 2005 and 2007, the Knights find themselves favorites to represent the East Division again in 2010.
Entering his seventh season as head coach at UCF, George O'Leary is set to "end the trend." Throughout his tenure, the Knights have alternated winning and losing seasons.
But after an 8-5 campaign a year ago, here are five reasons to believe UCF is poised for back-to-back winning seasons for the first time since 2002, as our "47 Days Until College Football Countdown" rolls on.
Offensive Line
An experienced offensive line is an absolute necessity for any championship contender, and the Knights are strong and deep in this department.
Despite losing center Ian Bustillo and guard Steven Robinson, eight of ten "big uglies" on the two-deep return in 2010, none more prominent than reigning first-team all-conference tackle Jah Reid.
The last time UCF had a line with this much experience was 2007, when Kevin Smith led the nation in rushing with more than 2,500 yards. Also worth noting: the Knights won C-USA that fall.
Bruce Miller and the Defense
One of four preseason all-conference selections for the Knights, Miller returns for his senior campaign as one of the most accomplished college football players in the country.
He leads all players nationally with 27 career sacks and 44 tackles behind the line of scrimmage. The reigning C-USA defensive player of the year saw most of his linemates depart this off-season, but is joined by six other returning starters on the defensive side of the ball. Freshman All-American Josh Robinson is back for his true sophomore season, after recording six interceptions in his first fall on campus.
UCF proved to be the best defensive team in the league in 2009, and will work to live up to that legacy.
Coaching tenure
In a league breaking in three new coaches this season—Ruffin McNeill (ECU), Larry Porter (Memphis), and Doc Holliday (Marshall)—O'Leary is tied with UTEP's Mike Price as the longest-tenured leader in C-USA.
That stability, combined with the fact that he'll go head-to-head against all three of the newcomers in 2010, should pay dividends in the win-loss column.
Scheduling
There are so many positives to point out on this year's schedule, and they all point to a December date in the C-USA Championship Game.
First, UCF will challenge a couple BCS-conference opponents early in NC State and Kansas State, with a bye week before opening league play October second.
Second, if Southern Miss is expected to by the Knights' primary challenger in the East, advantage UCF. Both teams play Tulane and Houston (the Golden Eagles do benefit from having the Cougars at home), however the Knights get Rice as their third opponent from the West while Southern Miss will have to contend with Tulsa.
And finally, if the East race does come down to the Knights and Golden Eagles, that November 13 showdown will be contested at Bright House Networks Stadium.
History against Houston
Houston is widely respected as the class of C-USA in 2010, and deservedly so. However, the Knights have a confidence born from last season's 37-32 upset of the Cougars—the first win over a ranked team in the O'Leary era. UCF's defensive pressure disrupted Heisman-caliber quarterback Case Keenum like very few opponents could. There's a chance these two programs could collide twice this season, and if they do, there will be a Liberty Bowl berth on the line in round two.
Source: Bright House Sports Network, College Football 2010: Five Reasons To Believe UCF Knights Will Win C-USA, by J.B. Long. Last Updated: Tuesday, July 27, 2010 2:47 PM