It's easy to like Rayniah Jones. Her bubbly personality charms a stranger almost instantly. Her teammates adore her — so much so that even though their season on the track had ended, several were willing to endure the unrelenting summer heat every day just so Jones didn't have to train by herself as she prepared for the USA Track & Field Olympic Team Trials.
"I think that speaks a lot to who she is," UCF track and field head coach Dana Boone says. "Every once in a while, you come across someone who is really special, and she's one of those people."
Below the surface, though, lies Jones' drive to break out and break away — to keep running and never look back at her past.
Jones was a two-time state champion at Miami Southridge Senior High School and graduated with the highest academic honors. While her public life was shiny and bright, her home life told a different story.
She says her mental health took a dive while living with her mother, who was dealing with her own personal struggles after serving in the military and living with PTSD.
"It just took a lot for me emotionally and mentally, and I'm very proud of myself for even coming to this point," Jones says. "My mom has taught me how to carry myself. She has taught me a lot of patience. I would go to practice just to not think about everything. When my coaches told me you can go college for free, I said, 'OK, I'm just going to run."
Boone thinks the adversity Jones faced has helped shape her into who she is today.
"I always tell kids, everything is a choice," Boone says. "Now I understand certain things happen to certain people, but how you respond to it is still a choice. She chose the positive side of life instead of the negative side."
Pushing the Limits
Three treasured items in Jones' dorm room at UCF help keep her focused on the positive.
Her Build-a-Bear, Lola. Perched right next to Lola is her 2021 American Athletic Conference Freshman of the Year trophy. And — the most important of all — a sticky note reminding her of all she has accomplished, and all she has planned to come.
The note lists her goals for the 100-meter dash, the 200-meter dash and her signature event, the 100-meter hurdles. Personal best times for all three events have been scratched out throughout this season and redefined.
"We are getting to the end of the sticky note, so I might have to put a new one next to it, but it's really fun crossing it out and seeing the progress," says Jones, who has a 3.8 grade-point average as a criminal justice major. "I love the lessons that the sport teaches me. It teaches you a lot of patience, and I feel like it translates over to real life. You don't know when your time is coming but when it does, always be grateful for it."
"You don't know when your time is coming but when it does, always be grateful for it."
Jones' performance on the track this year has been outstanding.
Well before arriving at UCF in the fall of 2019, she picked up track in the sixth grade. She mostly focused on sprints until her high school coaches told her as a sophomore that she had hurdler feet.
"I said what does that even mean?" she recalls. "They set up a hurdle in front of me and said, 'Run and see what's comfortable.' That's literally where it started."
Collegiate track and field technically has two seasons: indoor (January­–March) and outdoor (March­–June). In her first year, Jones says juggling her new responsibilities as a student-athlete with coursework, study hall hours, weight training, practice schedules and competing in a new event (the 60-meter hurdles) was a huge adjustment.
Outdoor season was set to begin when the pandemic canceled all spring sports for the 2020 season.
"In a way I was kind of glad it fell apart because I didn't think I was ready," Jones says. "But this year, I knew what to expect."
This outdoor season, she set her sights on breaking 13 seconds in the 100 hurdles. In her debut race March 20, she hit a hurdle and still finished in 13.36. She improved her performances in each of the first four meets of this year's outdoor season but was still striving for that sub-13 mark.
And then April 24 happened.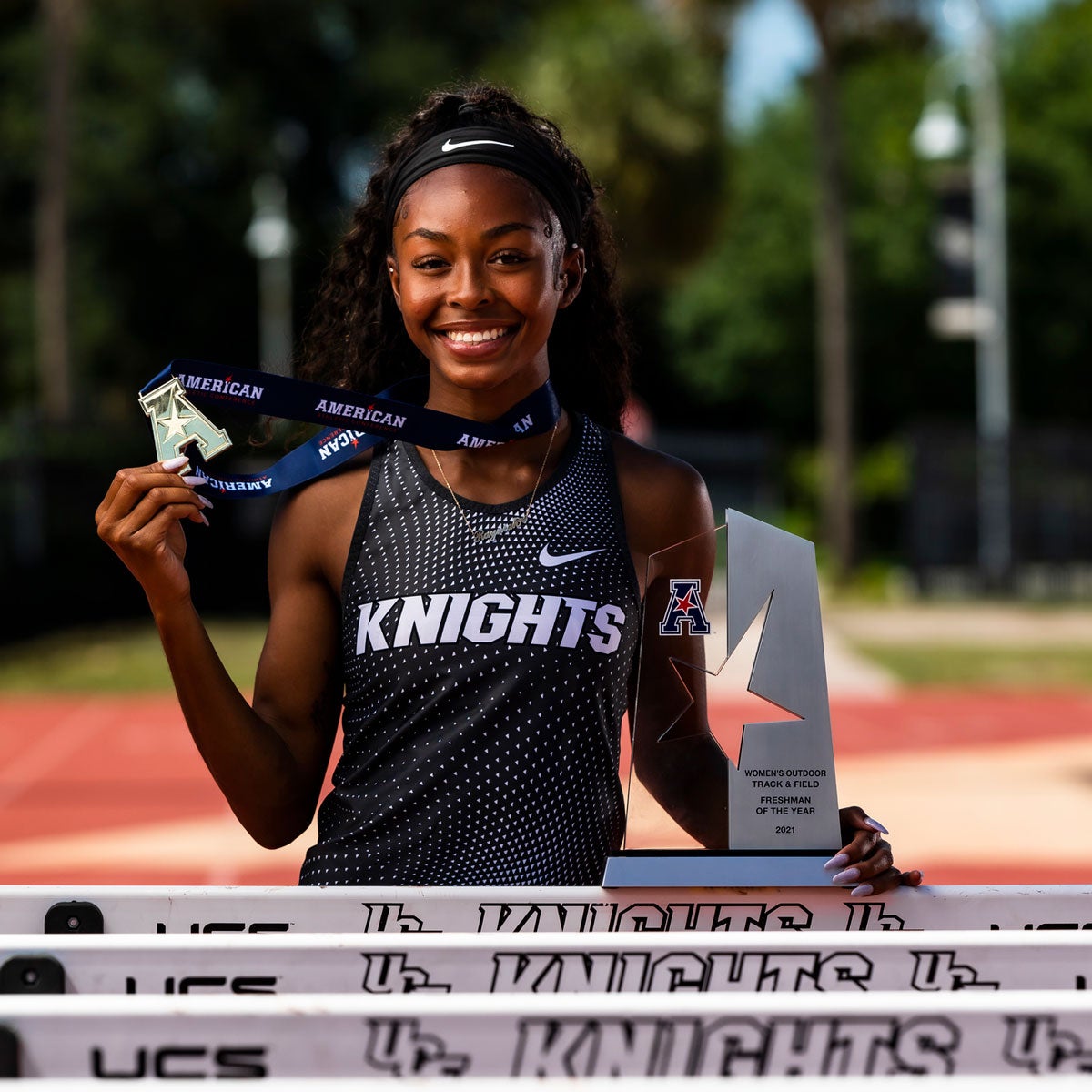 Chasing Dreams
Boone had a feeling that something special was in store at the Knights Invite on April 24. She could sense Jones' excitement that her older sister Brinda, who helped raise her, was going to be in the stands to watch her run for the first time as a collegiate student-athlete.
"I thought we're going to finally break that 13 seconds," Boone says. "When I saw her time, I swear initially I stood there and said, 'Does that say 12.73?' I'm thinking that's got to be a typo. It didn't register. What do you mean? How do you just skip over 12.9, 12.8 and you just go to 12.73? I had been standing there with President Cartwright and his wife, and I took off running after I realized it was legitimate."
Indeed, Jones had crossed the finish line in 12.73. Not only had she eclipsed a 9-year-old school record, she hit the Olympic standard, meaning she earned a spot to compete at the USA Track & Field Olympic Team Trials for this summer's games in Tokyo.
"That whole race, everything was just a 10 — my execution, my emotions," Jones says, who cried when Boone told her she had qualified for the trials. "When I got out of the blocks and I was going over the hurdles, I just felt so in control."
A week after she finished runner-up at the NCAA Outdoor Championships, she took to the same track to measure up against the top runners in the country.
In the first round of competition June 19, Jones reset her personal best and new school record, clocking 12.64 to finish second in her heat and advance to the semifinals the next day. She just missed the cut to advance to the 9-competitor final round with her time of 12.68, which placed her 10th overall.
After her season came to an end, she tweeted: "13.3 to 12.6 in one season.. I can't complain.. one thing I do know is that it's only up from here."
Boone couldn't agree more.
"We were just talking the other day and Rayniah said, 'Coach, I'm not running 13s anymore.' I said, 'I know,' " Boones says. "She's found out she's fast now — and whatever she sets her mind to is what she's going to do."