When musical theatre alumna Jerusha Cavazos '14 stopped by the UCF Performing Arts Center ahead of her Broadway debut last October, she felt a wide array of emotions: Gratitude. Excitement. Nervousness. Joy. Shock. She knew she was about to embark on something special as part of the original Broadway cast of The Prom, a new musical comedy about acceptance and love.
It's been a little over seven months since she began performing in The Prom, and she still feels those emotions – plus, exhaustion.
"But exhaustion in the best of ways," she says. "In some ways, it's everything I expected it to be: thrilling, exciting, emotional; but in another way, it's nothing I expected it to be. We all love the show so much and are deeply connected to it."
With The Prom being a brand-new musical, there's endless pressure for the show to be a success, something each company member feels personally.
Fortunately for them, it has been.
The Prom was the first musical of the 2018–2019 Broadway season to be named a New York Times Critics Pick, and has been nominated for 28 awards so far in 2019 – seven of them being Tony's, including Best Musical. The awards ceremony airs June 9 at 8 p.m. CBS.
Ahead of the biggest night in theatre, The Prom won the prestigious Drama Desk Award for Outstanding Musical.
"The competition is stiff. We call ourselves 'the little show that could.'" — Jerusha Cavazos on The Prom's Tony Award nominations
"We're thrilled beyond belief," Cavazos says of all the nominations. "The competition is stiff. We call ourselves 'the little show that could.'"
And it could. The Prom has become one of the most impactful productions on a Broadway stage, resonating with audiences and being lauded by critics and professionals alike. The Prom follows the story of a lesbian student who just wants to take her girlfriend to prom in a small, close-minded town that won't allow it — and the band of Broadway stars who try to make it happen.
"The audience reaction is surprising – the message of unconditional love and respect, no matter your political, religious or cultural background, seems to have reached beyond just the expected audience. It's transcended it. And to me, that's one of the things theatre does so well – touch people."
It's been especially important for Cavazos to be part of this cultural narrative.
"The impact and resonation are deeply personal for me. I lost a dear friend and coworker, Shane, in the Pulse shooting in Orlando, and another friend barely escaped with his life," says Cavazos, who dedicates her performances each night to Shane. "The show has helped me heal. Every day, I am reminded that love wins."
Before her debut, Cavazos first had a role on the show Atlanta on FX in April and performed in Jesus Christ Superstar in Chicago through May of last year. Even with such a successful whirlwind year, during her visit to campus in October, she gave new musical theatre students a masterclass and reflected on her roles, her journey and her own prom.
Congratulations on your Broadway debut! Do you recall how it felt getting ready to take the stage?
I had so many mixed emotions then. So grateful and excited … literally bursting with joy. At the same time, I was nervous and still in shock that I get to go on a journey that I've been dreaming about since I was 10. There are days I walk to the theatre and ring the stage door buzzer with tears in my eyes. I've walked past many Broadway stage doors dreaming of what it would be like to enter it as an artist performing on that stage. I get to do that now. It feels surreal and I've been trying to be present in every moment, taking it all in, with so much gratitude.
"I am still in shock that I get to go on a journey that I've been dreaming about since I was 10." — Jerusha Cavazos
What have you learned since your debut?
I think the best thing I learned is how to take care of myself. I learned from my parents how to eat right, exercise, do preventative things like take vitamins and supplements, but this is a whole other level of "taking care" – like saying "no" to going out and just going home to sleep, taking time to meditate and be silent to rest my voice and my mind, endless hours of physical therapy to keep my body healthy, etc.
Tell us about the show and the role you're playing?
In a nutshell, the show is about acceptance and love. This story will have you laughing so hard you can't breathe – and then, it will have you crying. It is moving, honest and relevant. I play one of the high school kids in the show, in the ensemble.
Are there any memories from your own prom that inspired you in this production?
In high school, prom was SUCH a big deal. Finding the perfect dress, the date, how you were going to arrive, the after-party, etc. I remember going to so many different dress stores with my mother. My best friend and I planned out a party bus to pick up all our friends, and we went all out. These memories really help me with my character … when I remember just how important prom was to me then, it's easy to really tap into the brain of a high school teen who just wants to have the best senior year and make memories.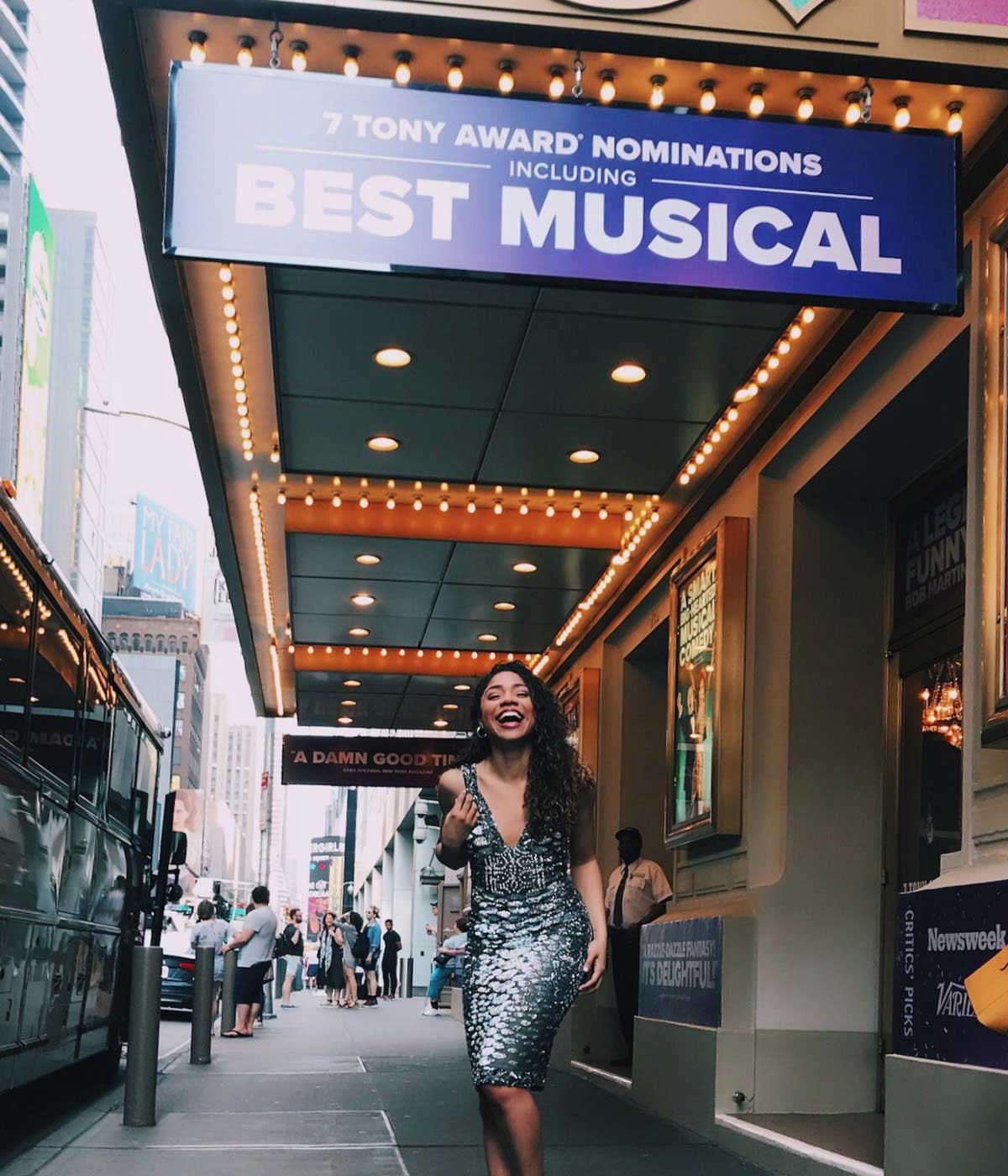 What's the most exciting thing about being in a new, original Broadway production?
There are so many exciting things about being in a new Broadway show, it's hard for me to choose just one! So, I'll make a quick list:
Meeting and working with the writing team – this is so rare, and it's so special to be part of.
Working with Casey Nicholaw (director and choreographer) and his team. I can't express how amazing it is to watch this team work together. It's pure magic.
Recording the original cast album – a bucket list item for sure.
Working with designers. Getting to look at costume sketches that were designed with me in mind is just out of this world. Trying on wigs that were made for me is amazing. The design team are incredibly talented people.
And, there are also about 13 people making their Broadway debuts on this show. This is so special. The energy backstage and on-stage is electric. The Broadway vets are so excited for us, and I am thrilled that I am experiencing this life-changing moment with this group of people.
You recently had a part on FX's Atlanta. How is being on the screen different than being on the stage?
I loved working on Atlanta. Donald Glover is a genius and so generous, kind and very collaborative.
When I was shooting Atlanta, we would be on set for about 12 hours a day. The biggest difference is that in TV, you have to nail your action perfectly once, but you're exhausted once the day is done because you've worked on scenes for 12-14 hours. Once you get the shot you can move on to the next. In theatre, you have to recreate those moments every night, eight times a week. This requires a discipline that is individual to each actor. How you maintain and balance energy, keep moments fresh and honest, preserve your voice and body, etc. is unique to each actor.
How did your time at UCF prepare you for your career as an actor?
I'm so grateful for my experience at UCF. I think that any program you enter as an actor becomes what you make of it. And I made the most out of my time at UCF. I took advantage of the many recourses that UCF has. I did independent studies with professors and worked on perfecting skill sets I knew I needed to make it. Here's the great thing about UCF: if you really want it, the professors are there to help guide you to do so. You just have to show up.
Do you have any advice for someone pursuing an acting career?
Just do it! Don't let anyone or anything deter you. My dad always told me, "If you feel you have something to say, say it; if not, get off the stage!" I've tried to live by that. It's challenging because our business is so overwhelming at times and it can look impossible. But if you have any amount of talent and technique mixed with some good old-fashioned courage, you can make it. And it doesn't matter where that happens. That's the beauty of our business — there are many places where we can make that happen: New York, London, Paris, Berlin, Chicago, Los Angeles, Nashville and Orlando. Just go out there and do it! Also, don't compare your journey to anyone else's. What's meant for you is yours and cannot be taken away.