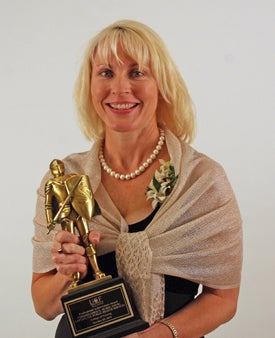 From her education and training as a nurse at UCF and Florida Hospital to her Air Force medical career, Capt. Virginia A. "Ginny" Giroux (B.S.N. '89) is a seasoned health care provider, taking the health and welfare of our nation very personally.
Capt. Giroux is the deputy director and senior supervisory health promotion officer for the Center for Drug Evaluation and Research (CDER), a division of the Food and Drug Administration, in Silver Spring, Md. She is also a Captain in the United States Public Health Service Commissioned Corps, one of the seven uniformed service agencies in the United States.
At the CDER, she provides leadership, program direction and general oversight for the Center's science, regulatory, leadership and professional development programs. She also manages the only accredited Continuing Education program in the FDA. To that end, she has developed online continuing education courses in collaboration with the FDA Offices and the National Institutes of Health, as well as a Public Health Certification Program through Georgetown University and a graduate certificate in Patient and Product Safety from the University of Southern California.
Her duties in the PHS are broad and have included deployments to areas devastated by Hurricanes Ike, Katrina and Ivan. She also served at the Reagan State Funeral in 2004.
Capt. Ginny Giroux, MSN, FNP-BC, was awarded the 2010 Professional Achievement Award by UCF College of Nursing during the university's Black & Gold Gala held annually during Homecoming Week.