After a national search, and following a confirmation vote by the Board of Trustees, UCF has selected Youndy C. Cook as its new vice president and general counsel. She is expected to formally start her new role with the university on Dec. 10.
Cook has served as interim vice president and general counsel at UCF since Dec. 2020, following the departure of W. Scott Cole after 19 years as the university's vice president and general counsel. She joined UCF's Office of the General Counsel in April 2002, first serving as associate general counsel and then as deputy general counsel, where she has worked closely with the Board of Trustees, university leadership, and departments and units across the university on a wide variety of issues — including employment, litigation, student affairs, policies and procedures, regulations, and contracts.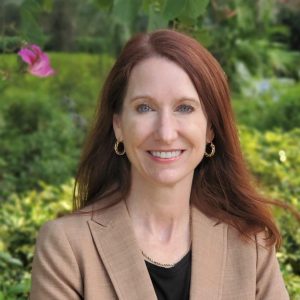 "Over the last year, Youndy has continued to demonstrate incredible knowledge and provide valuable counsel to our university, and there is no doubt that she is the absolute best person for this role," says President Alexander N. Cartwright. "Her leadership and commitment to UCF has helped to move the university forward, and her expertise will continue to support our aspirations to become the university for the future."
The Washington D.C.-based search firm AGB Search was commissioned to assist the search committee, led by Senior Vice President Gerald Hector and Vice President Janet Owen. Finalist candidates were recommended to the president for consideration, two of whom participated in on-campus interviews and campus open forums in November that included questions and feedback from students, faculty and staff.
"I am honored and humbled by the trust the university community has placed in me with this appointment," Cook says. "UCF has been my home for nearly two decades, and I'm excited to start this next chapter as we continue on our path to become the top metropolitan research university in the country."
UCF's vice president and general counsel is a university-wide leadership position that serves as the chief legal officer for UCF, reporting directly to both the president and the Board of Trustees. Because of this unique reporting structure, in addition to selection by the president, Cook also required confirmation by the UCF Board of Trustees, which unanimously approved her selection on Dec. 2.
Prior to joining UCF, Cook practiced labor and employment litigation at law firms in Tampa, Florida. Cook is active in the National Association of College and University Attorneys and the Florida Bar and is also certified by the Florida Bar as an education law specialist.
A Baton Rouge, Louisiana, native, Cook received her B.A., summa cum laude, from Vanderbilt University, and her J.D., summa cum laude, from the University of Miami School of Law.