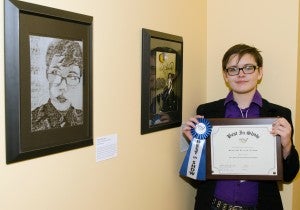 Counseling and Psychological Services, in collaboration with School of Visual Arts and Design and Student Disability Services, had its third annual Healing Art Exhibition, featuring the artwork of UCF students, faculty, staff and alumni. This year's theme was "Art out Loud: Emerging from the Shadow."
The UCF community was invited to attend the 2015 Healing Art Exhibition Opening Reception on February that included the viewing of the artwork, refreshments, live music and award announcements.
There were 86 artworks accepted into the exhibition from 47 artists. The following are award recipients:
Best in Show- William Elijah Clark "Adjectives of a pessimistic millennial" -student
Second Place- Tina Gardiakos "Lighthouse" – student
Third Place- Angilyn Watson "Hanging in the balance"- alumni
Staff Favorite- Cecillia Lin "Break Through"- student
The artwork will be on display at the Counseling Center through October 2015. CAPS is an office in the Division of Student Development and Enrollment Services.