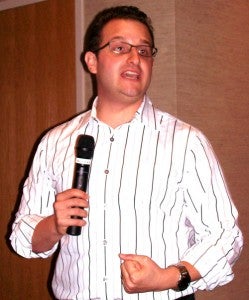 Nearly 150 aspiring entrepreneurs attended Invention to Venture (I2V), a one-day workshop hosted by the College of Business Administration's Center for Entrepreneurship and Innovation and the National Collegiate Inventors and Innovators Alliance.
Scott Gerber, founder of the Young Entrepreneur Council and author of the book Never Get a "Real" Job: How to Dump Your Boss, Build a Business and Not Go Broke, was the keynote speaker. Gerber promotes entrepreneurship to students and young professionals interested in starting their own business in support of Startup America Partnership, an initiative from President Barack Obama focused on supporting entrepreneurs. Prior to his presentation, Kirstie Chadwick, managing partner of Growth Innovators, announced the formation of Startup Florida, an offshoot of the national program. KnightLaunch, a new web-based resource for young entrepreneurs at UCF was also introduced at the workshop.
The event, which was held in the FAIRWINDS Alumni Center, featured workshops on technology entrepreneurship, legal issues, marketing and sales and financing.