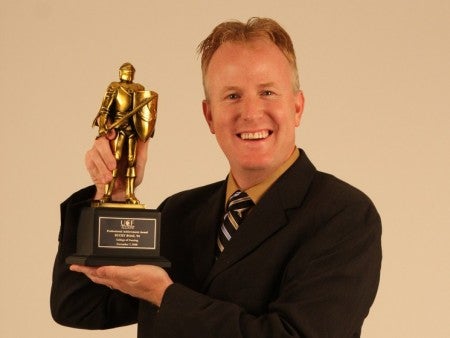 Sanford "Bucky" Boaz, a UCF nursing alumnus and adjunct instructor, is changing the face of patient care as co-founder of a revolutionary new urgent care center in East Orlando.
The miniER, Boaz explains, was designed to bridge the gap between an individual's primary physician and an emergency room.
The 7,200 square-foot, one-of-a-kind facility offers multiple on-site treatments, ranging from preventative services like immunizations and blood pressure screening to emergency services like treatment for car accident injuries. It can even fill prescriptions, take x-rays, perform multiple lab tests and offer physical therapy.
"The whole philosophy behind The miniER was to take health care to the level that we thought it should have been from the beginning," he says. Through The miniER, Boaz and his partner, Dr. Brantley Molpus, MD, FACEP, aim to bring patients the quality of emergency care without the excessive costs and waiting associated with most traditional emergency rooms.
The duo has even begun to create a foundation which will donate some of The miniER's profits back into the community. Boaz says, "We're working to set up a foundation to create special vouchers for members of churches and others who can't afford these services. We will also be partnering with area high schools to perform sports physicals for athletes, with all the proceeds going back into those schools."
Boaz earned his bachelor's and master's degrees in nursing from UCF in 1994 and 1998 respectively. Today, he continues to serve his alma mater as an adjunct instructor in the nurse practitioner master's program–a position he has held since 2000. He is an expert in the areas of emergency medicine and orthopedic trauma nursing. In 2008, he was honored with the college's Professional Achievement Award for his nursing accomplishments and on-going commitment to improving patient care.