Most college students who head to Jamaica over the summer spend their days on the beach.
Not Dalton Dee.
The 21-year-old University of Central Florida student mixed concrete, helped build a drainage system and renovated an elementary school. Dee represented UCF's Delta Upsilon fraternity chapter at a service project that's been underway for several years.
"It was a real eye-opening experience," Dee said. "There was so much poverty. We went through neighborhoods that were really just a collection of shacks. We have so much compared to them."
Dee recently returned from Jamaica, where he joined more than a dozen other Delta Upsilon brothers from chapters spread around the United States. They worked to improve Church Hill Primary School, where children in kindergarten through sixth grade study in classrooms that would be considered substandard in America.
There's no air-conditioning, and thunderstorms would routinely flood school rooms. Dee and the other volunteers mixed concrete by hand – back-breaking labor necessary because industrial mixers weren't available there – then used the concrete to help build a stormwater drainage system to stop the flooding.
Dee, an accounting major from Jacksonville, also helped renovate a home adjacent to the school that will house the school's principal and his family. The Delta Upsilon members removed old tile, fixed walls and repaired the roof.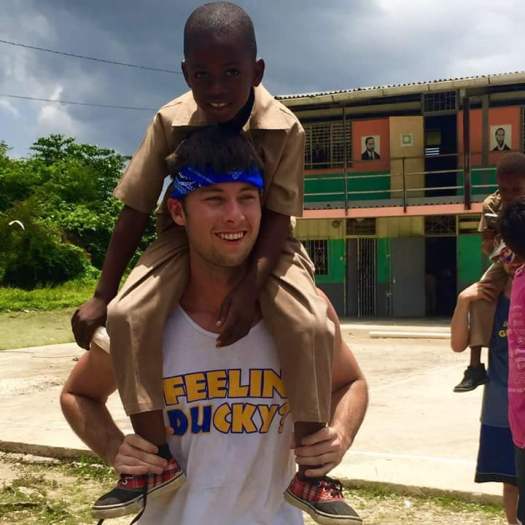 Despite the condition of their school, children at Church Hill were thankful for the opportunity to learn, Dee said.
"They were very appreciative of being able to go to school," he said.
They were also eager playmates: "The kids were awesome," Dee said. "You'd hear the recess bell ring and they'd run out and want to play with us – get on our shoulders, kick the soccer ball, play marbles."
Work at the school is funded with money raised by Delta Upsilon chapters, including the Lucky Ducky fundraising drive at UCF. The UCF chapter raised more than $4,000 for the project this year. Dee said the project is more meaningful because it includes both money and sweat equity.
"There's philanthropy and there's service," he said. "We raise money toward the [fraternity's] Global Service Initiative, and we have brothers use that money firsthand by doing the work."