When learning English as a second language, Boniesta Melani recalls hearing her friend say, "I have a lot on my plate," to which Melani replied, "you shouldn't eat too much." While she understood the literal meaning of each word, the figurative phrase was lost in translation — an issue faced by many nonnative English speakers.
Graduating this semester with a doctoral degree in education with a teaching English to speakers of other languages (TESOL) track, Melani hopes to make conversational and idiomatic phrases more widely taught to students learning English.
"In my research, I would like to challenge people's opinions about what constitutes an idiom," says Melani. "Many everyday phrases like 'go on' or 'in order to,' are actually idioms because the literal meaning of the words doesn't match the intended meaning. Idioms can be very difficult for second language learners like me to learn but are often neglected when teaching English vocabulary."
"In today's world, knowing English means having access to knowledge. … I'm hoping that by teaching people English, I can help them gain access to the world's knowledge." — Boniesta Melani, UCF student
To her, teaching English means creating opportunities for people in her native Lombok, Indonesia, where she will return after graduating from UCF to continue her role as assistant professor at the University of Mataram. There, she will help other TESOL teachers revolutionize the school's curriculum by opening more idiomatic conversations in the classroom — and better connecting students to the international community.
"In today's world, knowing English means having access to knowledge," says Melani. "Most of the information on the internet, on television, or other media, is most likely written in English, and if you don't speak a widely distributed language, then all that information is not available to you. I'm hoping that by teaching people English, I can help them gain access to the world's knowledge."
Motivation Through Motherhood
For Melani, earning her doctoral degree means achieving a dream she never thought was possible. In the area she grew up in, most women did not have access to higher education. Now a mother of three boys balancing full-time graduate coursework for the past four years, she continues to redefine what is possible for herself.
"In Indonesia, there aren't many women with access to education, especially on the island where I'm from," says Melani. "Growing up, I assumed I would be like other women in my area, and not obtain a higher education. I never thought I could pursue more and get my master's and then even a Ph.D. For me, being able to do this is really something huge."
As a first-generation student, obtaining the highest degree of education available has another dimension of meaning for her.
"I wanted to prove to myself that being a married woman with the responsibilities of being a mother shouldn't stop you from pursuing your dream. And this degree has proven to me that it's possible." — Boniesta Melani, UCF student
"I have a very strong connection with my mom. One day, I asked her why she never got a university degree, because I know that she really, really wanted her children to pursue a higher education," says Melani. "She said that she quit in the final semester of her bachelor's degree because she couldn't keep up with managing both school and household tasks. … I wanted to prove to myself that being a married woman with the responsibilities of being a mother shouldn't stop you from pursuing your dream. And this degree has proven to me that it's possible."
Melani already beat the odds when she earned a bachelor's degree from the University of Mataram in 2003. After working in the English department for several years, she decided to continue her education with a master's degree in TESOL from the University of Queensland in Australia. But the tug to continue learning would never leave her — and she made up her mind to pursue a doctoral degree.
Taking a Chance
Limited funding and high competition for Ph.D. programs made applying to schools in Australia and Japan out of the question. Melani turned her focus toward the Fulbright Scholars program — one of the largest and most prestigious educational exchange programs worldwide. The program, administered by the U.S. Department of State and Bureau of Educational and Cultural Affairs, awards around 8,000 grants each year for students to continue their development through research and study in a foreign country. At the time, Melani had no idea she would be moving to the United States.
"The United States and Indonesia are on exactly opposite ends of the globe," says Melani. "It felt like I would be going to a whole different world, and I was scared at the time. But the Ph.D. programs offered were really what attracted me the most, so I decided I had to do this."
Fulbright's rigorous selection process had Melani completing multiple examinations, proposals and interviews. When she was finally selected, the Institute of International Education chose five universities she could apply to receive full funding — one of which was UCF. The university also provided a waiver of tuition for international students, further encouraging her decision.
"As I did more research, I found that UCF's TESOL program perfectly fit my research proposal," she say. "But what really made me choose UCF was Dr. Keith Folse, he's a famous researcher in the topic of English second language vocabulary, and I thought, 'He can help me with my research interest. ' "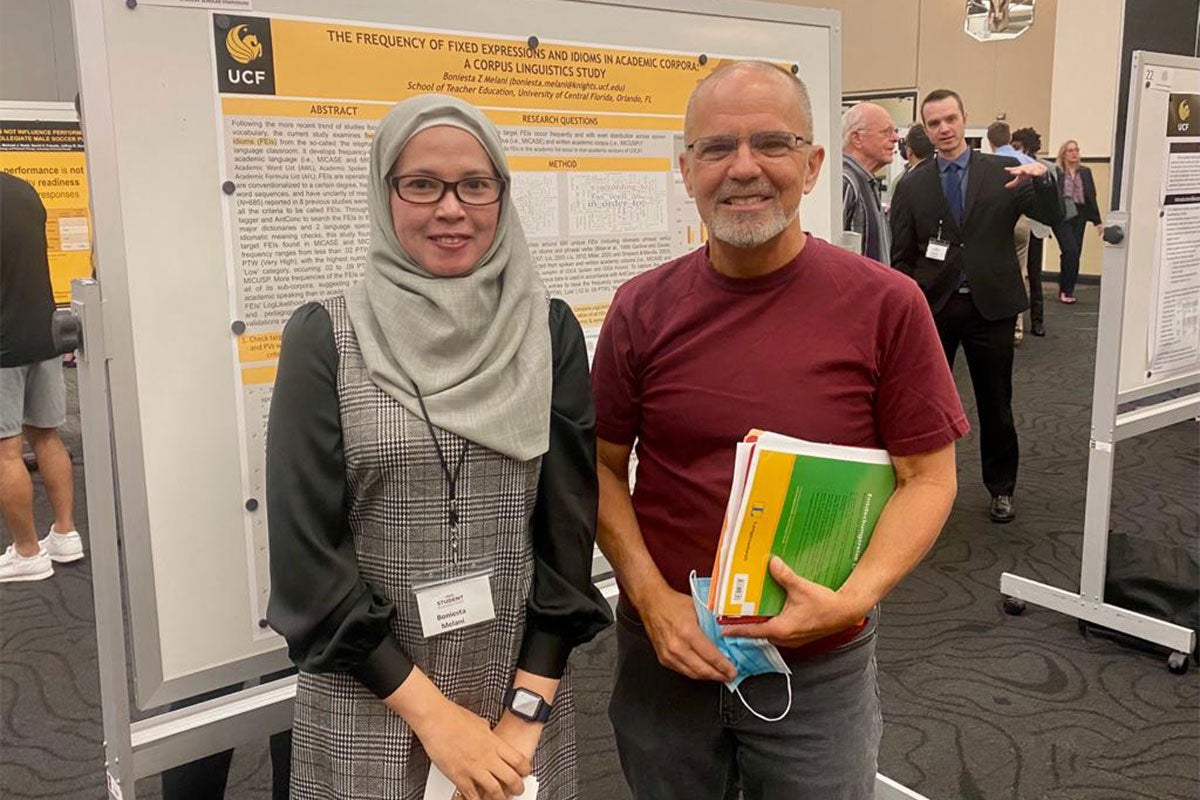 While planning her dissertation, visited her chair, Folse, each week. There, they would dig deeper into researching TESOL vocabulary and language features, such as idioms, that are often neglected in vocabulary classes. Her dissertation resulted in a list of 123 idioms based on the frequency of occurrence in academic English writing and conversation to create vocabulary learning materials for English learners.
Since meeting Melani in his doctoral course, Second Language Vocabulary Research, Folse has remained impressed with her perseverance.
"Boniesta is a do-er. As a person, she is always pleasant to be around, and even when she has encountered some difficulties, she has kept moving forward," Folse says. "Not once have I heard her voice any discouragement. Not once."
The first two years of her doctoral program were difficult, Melani says. She notes the transition from being a teacher to a student as challenging but exciting. Meanwhile, aspects of moving to the United States were confusing, and her family had to adjust to the language barrier. But balancing her coursework with being a full-time mother of three boys was the biggest transition, Melani says. She cites mastering time management as the key to success.
"I have to multitask a lot," says Melani. "Sometimes I study in the kitchen in order to cook and type at the same time while working on an assignment. I'm trying to be as responsible as possible to my children and help them with their schoolwork whenever I can. Thankfully, my husband is a big source of support for me."
Excelling at UCF and Beyond
Despite the difficult transition, Melani continued to excel in her research and studies. In November 2021, Melani won first place in the College of Graduate Studies' Three Minute Thesis (3MT) competition, where graduate students are judged on their ability to engagingly convey the importance of their research to a non-specialist audience within three minutes. She was awarded a $1,000 scholarship for her work, Frequency of Idioms in Academic Spoken and Written Corpora, and proceeded to the statewide competition held at UCF in March 2022.
In March of 2022, Melani won first place in the College of Community Innovation and Education Research Showcase competition. She has also presented her work at numerous academic conferences across the nation. In September, she presented at the American Association of Corpus Linguistics (AACL).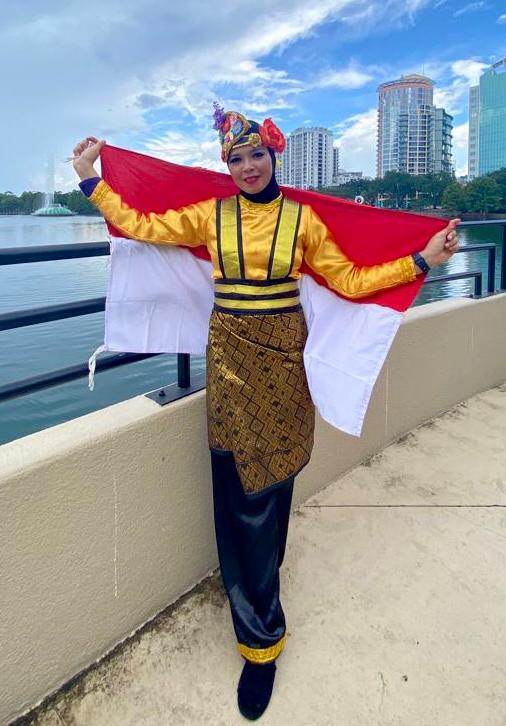 Beyond her academic accomplishments, Melani enjoys sharing her culture with the community through Indonesian folk dance Ratoeh Jaroe. Central Florida and UCF, she says, has been a welcoming atmosphere for international students like herself.
"It's like a home to me. I love the vibe. I love the students. I love the community and social traditions, like homecoming and Universal Knights," says Melani. "There's a very mixed culture here in Florida and at UCF. Students come from all over the world, and you don't see just one culture applied here. It's been very accessible for me."
When Melani returns to Indonesia, she will oversee faculty and teacher training at the University of Mataram, where she will bring the knowledge she obtained at UCF to lead future teachers to success. But beyond that, she hopes to use what she's learned on her journey to inspire the younger generations in her home country — especially female students — to take a chance and challenge themselves.
"From the beginning, I knew this journey would be very difficult, but it turns out that I can do it. It's not only about making a dream come true, but it's also about proving to myself that I can do something I never imagined would be possible for me," says Melani. "This is a lesson not only for me but also one I can teach to my children and maybe teach other women where I'm from — the idea that you never know what is possible for you to achieve until you try it."