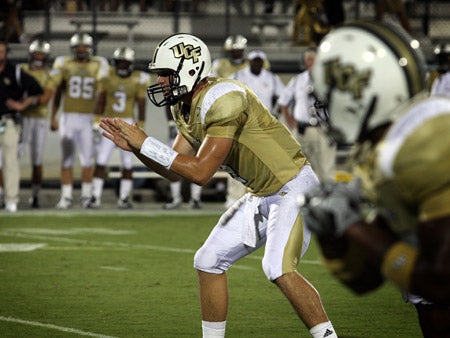 Barring a change in philosophy as he keeps the position open to competition for the next eight days, UCF coach George O'Leary is planning to open the season with Rob Calabrese as the starter at quarterback.
O'Leary favors the experience of Calabrese, a junior and a part-time starter each of the past two seasons, but stressed that freshman phenom Jeff Godfrey will play plenty in the Knights' Sept. 4 opener against South Dakota.
Calabrese and Godfrey have been locked in a back-and-forth battle for the starting quarterback job over the past three weeks of training camp. Calabrese won the job in the spring and seemed like he was headed toward locking up the starting job early in camp. Godfrey made a late push at winning the job with his dynamic playmaking skills through the air and on the ground, but O'Leary ultimately picked the quarterback with the most game experience for the opener.
UCF set its two-deep depth chart on Thursday, and for the first game at least it will be Calabrese as the starter and Godfrey a close second.
"They're both going to play in the game, but my background is that I'm always going to go with experience. I think that's the way that you should go," O'Leary said. "Rob has played well, but I have also been very impressed with Jeff and he's going to have to be a factor in this season. He's going to see a lot of playing time whether Rob is playing great or not playing up to par. He's going to be in the game because we need to play him."
Calabrese also opened last season as the starter, but struggled in his first two games and was pulled in favor of senior transfer Brett Hodges. Calabrese vowed recently that the past has helped him become a different type of player and things will be different this time around.
"I can't wait to get started because I know we're going to have a great offense this year," said Calabrese, a native of East Islip, N.Y. "It's much more different for me now. I came here as a freshman and played and I was a little jittery. Last year, I didn't play so well, but I got to sit back with Brett Hodges back there and I learned a lot. Those past couple of years helped me mature and helped my game."
O'Leary has been highly complimentary of Godfrey, who enrolled at UCF in January in hopes of battling for the starting quarterback job. In high school, the Miami native was the most prolific passer in Miami-Dade County history with 7,251 yards. He's shown off his powerful right arm in camp, hitting numerous deep post and deep out routes, and an innate ability to scramble away from trouble.
But what has impressed O'Leary the most is the true freshman's ability to remain calm under pressure and his capability to turn a potential negative into a positive.
"The freshmen who really help you right away don't act like freshmen. Jeff has great poise for a freshman," O'Leary said. "He has great leadership characteristics and he really has the ability to do it all. And he can do what most great quarterbacks can do by taking a bad play and making a good play out of it. I've been pleased with that sense of it with him. He may make a mistake, but he moves on to the next one. That's what we're constantly working with Rob on."
O'Leary said his Knights have had as good a preseason camp as he's had in his seven years at UCF. With 18 seniors and 17 returning starters, the Knights have their most continuity and ultimately their best leadership in years. O'Leary said he's pushed the group hard in an effort to test its mettle and he's been impressed with this team's grit and fight.
O'Leary's mantra throughout camp is that players can "have a bad play, but not a bad day." He insists that athletes put bad plays behind them quickly and that repeated mistakes necessitate depth chart changes. Of UCF's 19 training camp practices, O'Leary said that UCF "didn't have a bad day" throughout.
"The personality is dictated by the senior class and they are a very determined group. I evaluate a team and players on how they handle setbacks when things don't go well, but we have a lot of guys who have been in the program while and they understand what it takes to win," he said. "They know about going through the highs and lows of practice and I have to say their leadership has been outstanding. I think it's a group if I had to give a characteristic I'd say it's perseverance because they do things right and hang in there."
Now, he's looking to see how his quarterbacks hang in come game time next Saturday night at Bright House Networks Stadium. In the past, Calabrese has responded well in practice, but has struggled to put it all together in games – something he is vowing will be different after a strong spring and fall. And O'Leary – not to mention much of UCF's fan base – is eager to see how Godfrey responds to the pressure of a big game. The answer to those questions will likely shape the way UCF's quarterback position plays out the rest of the season.
"Both of them have had a good preseason, and now when it comes game time we need to see how they handle the team and move the chains," O'Leary said. "Then, we'll go from there."
Source: John Denton's Knights Insider appears several times a week on UCFathletics.com. E-mail John at jdenton@athletics.ucf.edu or follow him on Twitter at @JD_UCF.