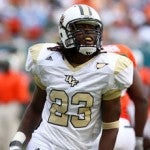 Justin Boddie has a dozen or so tattoos splattered across his body, and he proudly refers to them as "my artwork." But it's the first one ever done on his body and easily the most basic one that is his biggest source of pride.
"Melissa," referring to his mother is there for everyone to see, and just the mention of it brings a wide, toothy smile to the face of the UCF cornerback.
Melissa Boddie is one of the biggest reasons why Boddie is in the position that he is now – on course to become the first person in his immediate family to earn a college degree. And to make matters even better for the Atlanta native, if UCF's season were to start today Boddie would be a starter at cornerback for the Knights.
No Knights defensive player has had a better fall camp than the 6-foot-2, 190-pound cornerback who seems poised to finally live up to his massive potential. His play now has been a carryover from a stellar spring and a summer in which he added 40 pounds to his bench press and dramatically improved his 40-yard dash time.
"I think of all of the corners we have he's had the best camp," UCF defensive coordinator Dave Huxtable said. "He's been the most consistent. He had a tremendous summer and it's shown now. Justin's playing well and I look for him to have a really good year for us."
Boddie says he's a much more focused and serious player now than he was early in his career at UCF, and the results are showing. Maturity and the fact he's heading into his final season were factors. But also Melissa played a big role in pushing him to strive for greatness on the football field and in the classroom. The tattoo was a tribute to her and the impact she's had on his life.
"When she saw it, she loved it," Boddie said. "She helped me so much get to this point and she's my motivation in everything. I'm the first one in my family to go to college and that means a whole lot to me. My family they look up to me and I will be the first one to graduate from college. That will be a big day for all of us."
Before that day comes, however, Boddie figures to be a key player in UCF's defense this season. He played well enough early on to surge ahead of Freshman All-American Josh Robinson on the depth chart. And he played so well in that slot that even with Robinson back on the first team now that Boddie should still be in the first-string rotation.
He is UCF's best defensive back at breaking on the ball, showing the kind of transition and change of direction that could someday make NFL scouts drool. In fall camp alone, he's had his hands on more balls than some wide receivers – and that has certainly caught the eye of position coach Sean Becton and head coach George O'Leary.
"He's played really well. He had a good spring, too. He's carried it over to the summer and he's running with the first group right now," O'Leary said. "It's real competitive over there, so we'll see what happens. He's gotten his hands on a lot of balls and his transition has been really good."
Boddie has been a part-time starter in his first three seasons at UCF, and he looked like a future star in 2007 when he once intercepted passes in consecutive games. But he never became quite the player he expected, and that bothered him greatly heading into his final collegiate season.
So starting back in the spring, he turned all of his focus to football and took seriously his role of being a leader in the UCF secondary. He likes the results he's seeing now and also wonders what could have been had he matured faster.
"I think about it every day, how my time here all came so fast and I can't believe I'm already a senior," reflected Boddie, who was seventh on the team in tackles last season and also added four pass breakups, four tackles for losses, an interception and two forced fumbles. "Now, I'm a lot more focused. As a freshman I didn't always make football my No. 1 priority. I wasn't as focused as I should have been and didn't give as much effort as I should have."
Maturity has also made him a better cornerback. No longer does he peek in the backfield while trying to make a big play, instead sticking to his keys and playing disciplined football. Experience, he said, has taught him so much about the game and has allowed his potential to become production.
"My problem last year was not letting plays go. Now, when I make a bad one I have to forget about it and concentrate on the next one," he said. "I'm very comfortable back there now. I'm keeping my eyes out of the back field and on the receivers and that's helped me a lot. I feel like I can break on balls, make plays and really help out our team."