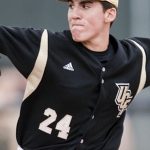 When head coach Terry Rooney took over the UCF baseball program in the summer of 2008, his mission from the very beginning was to get the Knights back to the postseason. On Monday, that goal was reached as UCF learned it will travel to Tallahassee this weekend for the NCAA Tournament, marking its first trip to the dance since 2004.
"This means a lot to us," said sophomore center fielder Ronnie Richardson. "We've worked so hard for this day. To know that we are only five wins away from Omaha means that this is just the beginning. Now we've got to go out and take care of business."
It is the 10th appearance for the Black and Gold in the NCAA Division I Baseball Tournament. In their previous nine trips to the dance, the Knights won at least one game eight times. This year also marks the seventh time UCF will travel to Tallahassee for Regional play.
The Knights open up NCAA Regionals as a No. 2 seed and will face No. 3 Alabama Friday at noon. Joining UCF and the Crimson Tide in the Tallahassee Regional will be host and No. 1 seed Florida State and No. 4 Bethune-Cookman. If the Knights can advance, Super Regionals are set for June 10-13 at campus sites while the College World Series in Omaha begins June 18.
The bracket is shaped up where the winner of the Tallahassee Regional will square off against the victor of the College Station Regional (Texas A&M, Arizona, Seton Hall, Wright State) in a best-of-three series for the right to reach Omaha.
UCF played every team in its regional, going 1-2 at FSU in a weekend series May 6-8, 2-0 vs. Bethune-Cookman and 1-0 against Alabama. However the Seminoles are the only team the Knights have faced in the NCAA Tournament, going 2-6 against FSU in postseason play.
Meanwhile, UCF played 10 teams this season that qualified for the 2011 NCAA Regionals, and went 12-10 against those programs. And among the eight national seeds, the Knights posted a 5-4 record this year (Florida, Florida State and Rice).
Ticket information for this weekend's Regionals will be announced when it becomes available.
With a 38-21 overall record, UCF already has its most victories since going 42-18 in 2005. It also produced a 12-12 Conference USA record to finish in fourth place in the standings, the Knights' best showing since joining the league in 2006. They went 2-1 in the C-USA Championship with wins over Memphis and UAB before dropping a close 4-2 decision to top-seed Rice in the final day of pool play.
UCF went 8-8 this season against ranked teams and had a 10-11 record vs. teams ranked in the top 50 of the RPI. Among those victories, it defeated Rice (twice), Florida (twice), Stetson (twice), Florida State and Alabama.
Rooney currently owns a 93-78 record in three seasons as the skipper of the Knights. Joined by associate head coach Cliff Godwin and assistant coach Jeff Palumbo since 2008, they have recruited two classes that were ranked in the top-20 in the country. Last year UCF was the only team in the nation that had five freshmen make at least 35 starts.
And those freshmen quickly matured, blending with a veteran group in 2011 to have UCF's most successful season in the C-USA era. Redshirt sophomore D.J. Hicks leads the Knights with a .343 average, driving in a C-USA-high 62 runs and hitting 13 homers. He was named a semifinalist for the Dick Howser Trophy, which is awarded to the best player in the country.
Hicks and first baseman Jonathan Griffin have formed one of the top 1-2 power combinations in the NCAA. Griffin, an All-C-USA First Team selection, has pounded out 18 home runs which rank in a tie for second on the UCF single-season chart.
In all, UCF is hitting .305 as a team, and carries a .979 fielding percentage (school record is .973). Eight different pitchers have three wins or more, and closer Joe Rogers has earned nine saves this year.
Several Orlando-area natives are leading the way as well. Along with Hicks (Altamonte Springs) and Rogers (Winter Haven), Beau Taylor (Rockledge) has a 15-game hitting streak entering the NCAA Tournament and Brian Adkins (Orlando) has been UCF's No. 1 starting pitcher in 2011.