Why is Florida such a good place to make a scary movie?
That's one of the topics filmmakers will discuss as part of free workshops sponsored Feb. 8 by UCF's College of Arts & Humanities to kick off the Love Your Shorts Film Festival in Sanford. The Feb. 8-11 festival will feature 80 short films from 10 countries along with 15 UCF student exhibition films and two student films in competition.
"Florida is a great place to make any kind of film but there is a quirkiness to this state that lends itself to creepy story lines and absurd characters," said Associate Professor of Film Lisa Mills. "Many people out there are making scary films and we wanted to use our panel to explore what makes a film scary, and try to figure out why so many scary movies are made in Florida."
The two Education Day workshops for aspiring and veteran filmmakers ("What makes a movie scary?" at 9 a.m. and "Why is Florida a good place to make a scary movie?" at 10 a.m.) will be led by Mills at the Greater Sanford Regional Chamber of Commerce, 400 E. 1st St., in downtown Sanford. The panel is made up of Central Florida film professionals, including four with UCF ties: Zachary Beckler, a UCF film graduate and now lecturer whose horror films have been screened around the world, and Michael Walsh, a professor of cinematography studies whose credits include working on Pirates of the Caribbean II and III, Monster, 2 Fast and 2 Furious, The Waterboy and 70 other feature films and more than 400 TV episodes; Lacey Maloch, a UCF graduate and filmmaker who co-founded SlashHer Productions; and Morgan McKinley, a UCF graduate who works on special effects for SlashHer Productions and has done makeup for Halloween Horror Nights.
Space is limited, so free registration can be found with the festival ticket information on the LoveYourShorts.com website.
Student Films
The 15 student films of drama, comedy and other genres also will be shown free at 7 p.m. Feb. 8 at the Wayne Densch Performing Arts Center, 201 S. Magnolia Ave. The movies were created by students in directing classes or as capstone projects.
A Grave Matter by Dylan Thompson – A kidnapping goes awry when two hit men realize they've nabbed the wrong guy.
Jimbo's Limbo by Daniel Reinert – Jim is skeptical when his co-worker tells him that cracking his neck will cause a release of residual LSD.
Engaging Conversation by Stanley Swindling – Two couples meet in the park, each hiding a secret.
Eleven by Blayne Parker – A battered detective's tormenting past resurfaces during a case.
Abandoned by Kathryn Jenkins – A young woman explores a house, and while looking for resources is forced to remember what she has lost.
Me and Her by Alejandro Watson – The relationship of two longtime friends evolves.
Parece Que Va A Llover by Christopher Campa – A mother and son struggle to make a home for themselves within the confines of a Kissimmee motel.
Mark by Olivia Wilson – Mark and Adrian tacitly experience the destructiveness that their ignorance has on their relationship.
If Found, Please Return by Sydney Ray – A kleptomaniac named Charlie steals a diary detailing a life of a woman working through chronic depression.
Strangers by Andres Erickson – A young couple consumed by technology is forced to "meet again" when their everyday routine comes to a sudden halt.
Forget Me Not by Sarah Ballard – An exploration of the natural complexities within a maternal relationship, or lack thereof.
Where Have I Been Before by Dylan Alexander Thompson – An unconventional look at the influence of the internet and technological trends of the era.
We Love You, Stephanie by Sara Ambra – "Good luck in your first semester, Stephy! You're our rising star! Love, Mom, Dad, and Tabitha."
So The Other Day in Daytona Beach by Josh Evangelista – Two talkative people share anecdotes while loitering around Daytona Beach.
Diamond Days by Julian Baner – "Sometimes when I'm thinking about old stuff, I get so confused…"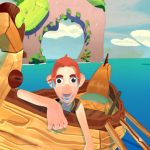 Character Animations in Competition
Two other student films by the university's 2017 character animation class will be shown in competition at the weekend festival.
Dreamweaver, about a frightened Chippewa girl who is helped to overcome her nightmares, was submitted by student directors Katherine Ryschkewitsch and Erich Schulz and their faculty director Cheryl Briggs. The film will be shown in the festival's E for Everyone block of films at 10:30 a.m. Feb. 10.
Cuddlefish is the story of a Viking sailor whose travels come to a halt when a love-sick kraken falls in love with the anchor on the seafarer's ship. The film submitted by Briggs and student directors Brianna Jaeger and Jared Bittner will be screened in the animation block at 1 p.m. Feb. 10.
Mills said it is rewarding for students to see their finished projects shown on the big screen—in this case, a refurbished 1923 theater on the National Register of Historic Places.
"Film is still an art to be enjoyed collectively, even in these days of streaming video," said Mills. "So when a student can sit in the audience and experience the reactions of people sitting all around her—the laughs, the sniffles, the gasps—then that student understands the blood, sweat and tears she put into making her film was all worth it."
The weekend festival at the theater will showcase short films in seven categories (comedy, drama, animation, documentary, sci-fi/horror, Florida Flavor, and E for Everyone), plus an opening-night variety of films, and a Best of the Fest competition on closing night. Also scheduled is a free panel at 5 p.m. Feb. 10, at which visiting filmmakers will present a discussion and Q&A on techniques, tips and current projects.