Peter Becht rose from his seat with a soda can in hand to lead a spontaneous toast to his friends crowded around a table.
"To IES!" he exclaims, which elicits a whoop of enthusiastic cheers from his fellow graduates — the first to complete UCF's Inclusive Education Services program.
At a pre-graduation ceremony and celebration April 22 on campus, these 13 trailblazing students and their families relished in the realization that the moment they've been working toward — and sometimes weren't sure was ever a possibility — was finally here: graduation.
As the students received their caps and gowns, they immediately opened their bags to try out the fit, snap selfies and take photos with their loved ones. Parents asked:, Which side do you put the tassel on?
Christina Arias showed up with a cap she ordered online months ago and decorated for the big day.
Within seconds of receiving and trying on her gown, she carefully adjusted her cap that dons seven small purple flowers and gold, cursive lettering that reads: "I want adventure in the great wide somewhere. Class of 2019."
And what an adventure it has been already.
IES' Beginnings
Launched in August 2015, the certificate program to foster post-graduate employment readiness for students with intellectual and developmental disabilities — which is defined as someone with an IQ below 70-75 who has significant limitations in many everyday social and practical skills — provides a college experience for students who may not otherwise have the opportunity.
"We wanted this to be something where the students are a natural part of the fabric of what UCF is about and the activities and opportunities that all students have to be part of," says Adam Meyer, director of UCF's Inclusive Education Services. "One question that I kept going back to the committee was, 'How is x like for any student who participates at UCF?' What is the admissions process like and how can we tap into that? What are the social opportunities like? What does going to the Rec and Wellness Center look like for these students? What is the classroom like?
"We looked at how any other student progresses through and experiences at UCF, and wherever possible, we wanted to make this experience for students who are apart of IES the same. If we had to modify or adapt, we looked how we could make those modifications happen."
UCF's IES program offers a curriculum and college experience during a two-and-a-half year period for students with intellectual disabilities to earn a professional-services credential in hospitality, education or social services. This credential is offered through a partnership with UCF's Continuing Education, Student Development and Enrollment Services and the College of Community Innovation and Education.
To be admitted to the program, students need to have graduated from the K–12 school system or completed a K–12 home school program. Meyer says there needs to be clear evidence that a traditional postsecondary avenue is not possible for the student.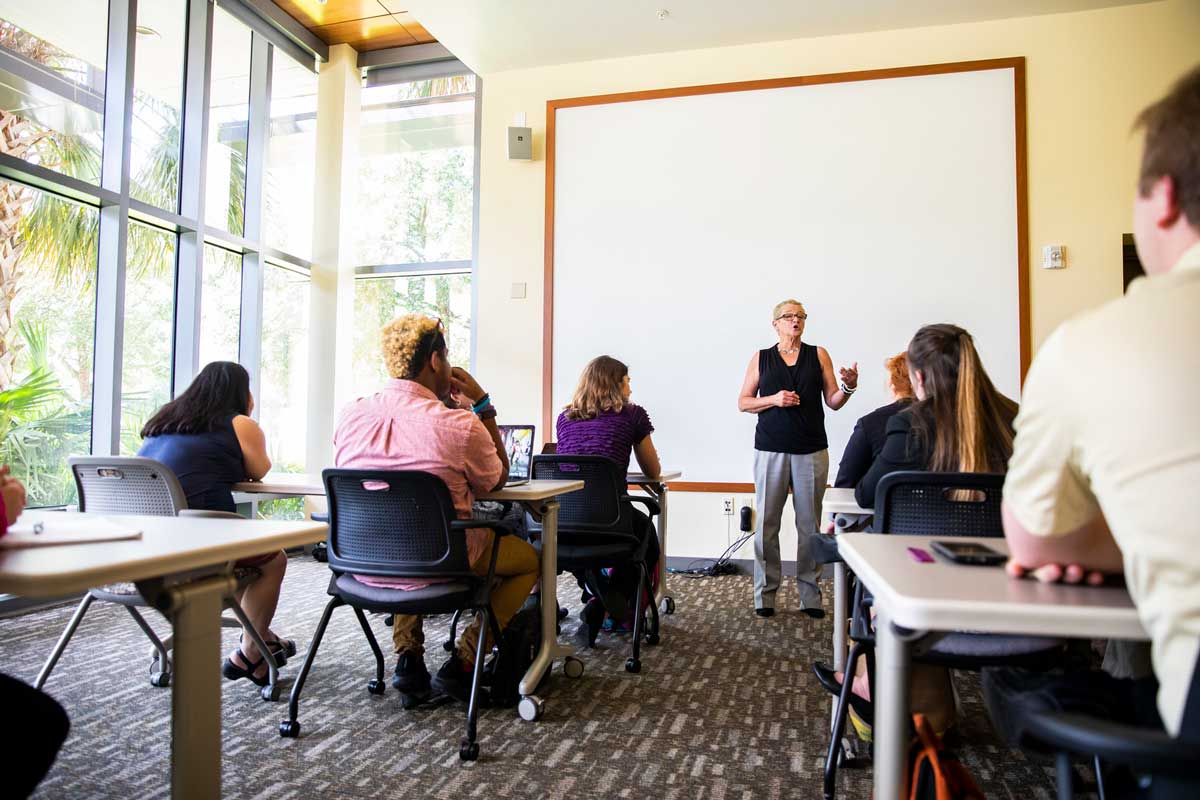 Thanks to UCF's Florida Center for Students with Unique Abilities, which is funded by legislation at the state level, every student enrolled in a recognized program in Florida by the center is eligible to receive a $7,000 scholarship annually that they can use to apply directly to their educational costs, such as tuition or housing. UCF is one of three public universities in the state with a recognized program.
According to Think College, a national organization dedicated to developing, expanding and improving inclusive higher education options for people with intellectual disability, there are 266 institutions nationally that offer programs similar to UCF's Inclusive Education Services.
What makes UCF stand out among the state's programs is its year-round curriculum and on-campus housing opportunity.
Meyer says the program is also special because of the buy-in throughout the university.
"We have so much buy-in from so many people on campus to make this happen that it allows us to be one of the more inclusive college experiences in the country for students with intellectual disabilities." — Adam Meyer, director of UCF IES
"Even though there are a dedicated team of individuals who are involved in making [IES] happen, IES is really about the campus. It's about students living on campus. It's about the students participating in different clubs and organizations such as SGA. It's about students going to sporting events. It's about working in the classroom and interacting with other students and faculty," he says. "We have so much buy-in from so many people on campus to make this happen that it allows us to be one of the more inclusive college experiences in the country for students with intellectual disabilities."
In August 2015, the program opened its doors to its first six students — all of whom graduated May 3.
Meyer says that without the trust of the first students and families to try the new program, the IES that thrives at UCF today would not have been possible.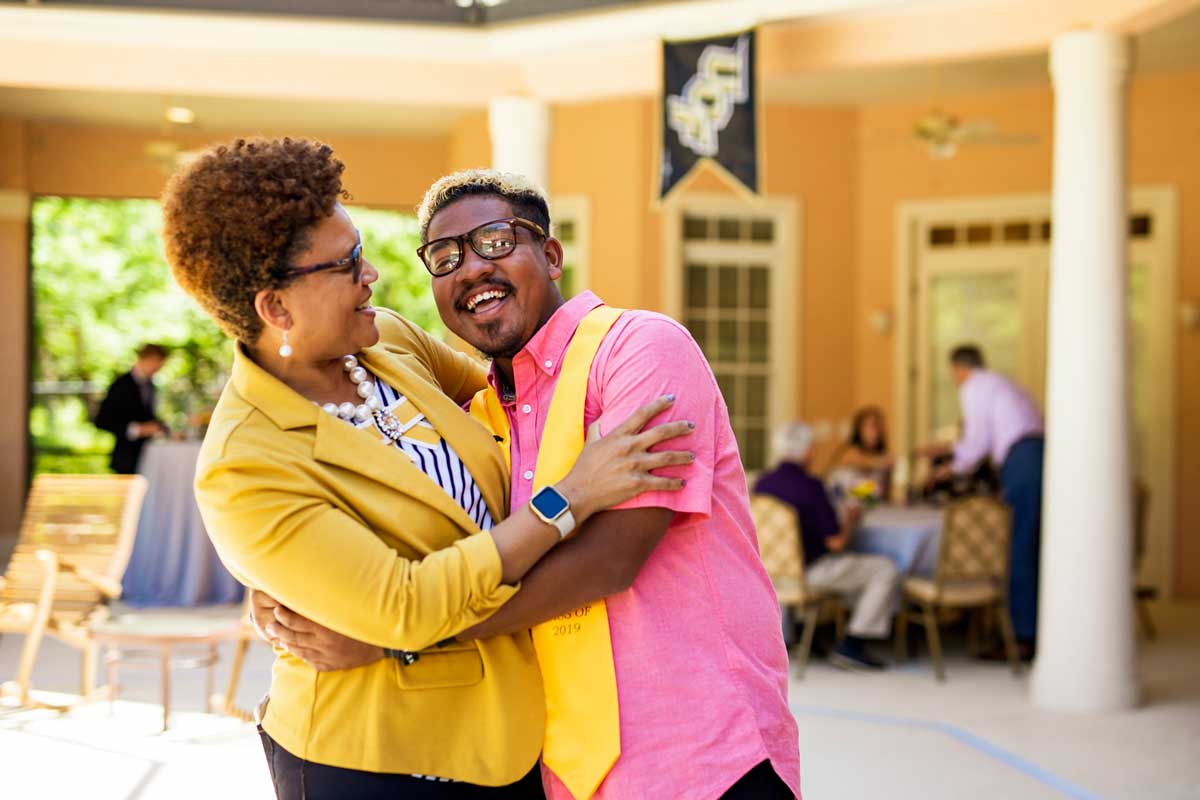 The Dream of Something Bigger
Matt Ortiz and his mom, Kimetta, from Tampa are among those six trailblazing families.
Matt started taking early intervention programs at the age of 3. Initially his parents thought his development was delayed only in speech and language, but they quickly noticed there was also something different about his processing.
"It always took him longer to learn different things. For example, you could tell him a million times that red is red and it's not green, but it was always green. Or 'for I can' is not 'so I can,'" Kimetta says. "As we began to realize where his challenges were, then we could just modify things and help him get through."
From the beginning, Matt's parents had always encouraged him to pursue anything he wanted to do in life. A Bible verse became the family's motto: I can do all things through Christ who strengthens me.
So when Matt set his sights on college in middle school after watching his older cousins move away to pursue higher education, his parents wanted to help him go after his dream.
That push intensified for Kimetta after Matt's father was diagnosed with Stage 4 cancer before their son's senior year of high school. Within five months of his diagnosis, he died.
"That was not something that we ever anticipated. And I realized that I needed to make sure that if I was not here, my son would be OK," she says. "We needed to have a plan."
"I just felt like if we stayed [at home], his life would be small. And there's nothing wrong with that. But not for him. I felt like there was something more." — Kimetta Ortiz, mother of UCF IES graduate Matthew Ortiz
While sifting through her inbox, she saw an email from a parent advocacy group for students with disabilities promoting UCF's new IES program. One informational session and three interviews later, Matt was accepted as a member of the charter class.
"That was huge for us. But then it was like, holy cow, can we actually do this? For me, it was just as much 'Can he do it?' as 'Can I do it?' Because it hadn't even been a full 12 months since my husband and his dad had passed away," she says. "We began to talk about it, get excited about it, and [we realized] yes, we can do this. You're going to be fine. You're going to be great. Because I just felt like if we stayed there, his life would be small. And there's nothing wrong with that. But not for him.
"I felt like there was something more."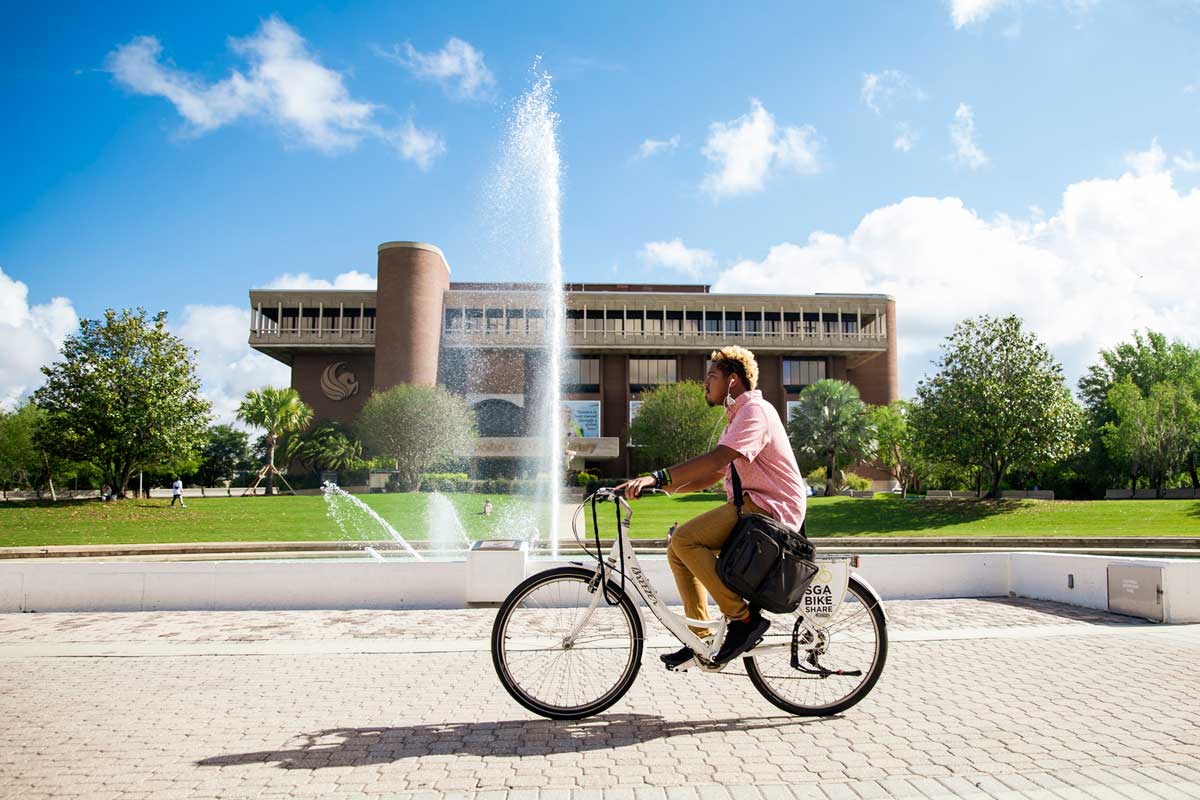 Branching Out
Matt's first semester at UCF wasn't easy. Kimetta says her phone would ring at 1 a.m. regularly with calls from her son telling her he needed to come home. That he couldn't do this. After an hour, Matt would calm down enough to stick it out another week. By Christmas, those phone calls stopped happening and she knew he had started building a life for himself in Orlando.
He figured out how to use the Lynx bus system. He found a church to belong to. He made friends. He interned. He attended football games to cheer on his favorite player, quarterback McKenzie Milton. He went on mission trips to the Canary Islands and Nicaragua.
"Had he stayed [at home], maybe I would have been too afraid to let him do these things. But because I can be absent or at least take a step back, he did those things on his own," says Kimetta.
And many of IES' 21 students are just as involved as Matt.
Elyse Mundelein, who blew a kiss as she walked across the stage at graduation, has become a certified Zumba instructor for UCF's Recreation and Wellness Center. She has also served on the Student Government Association's election commission for a year, which facilitates, markets and oversees elections at UCF.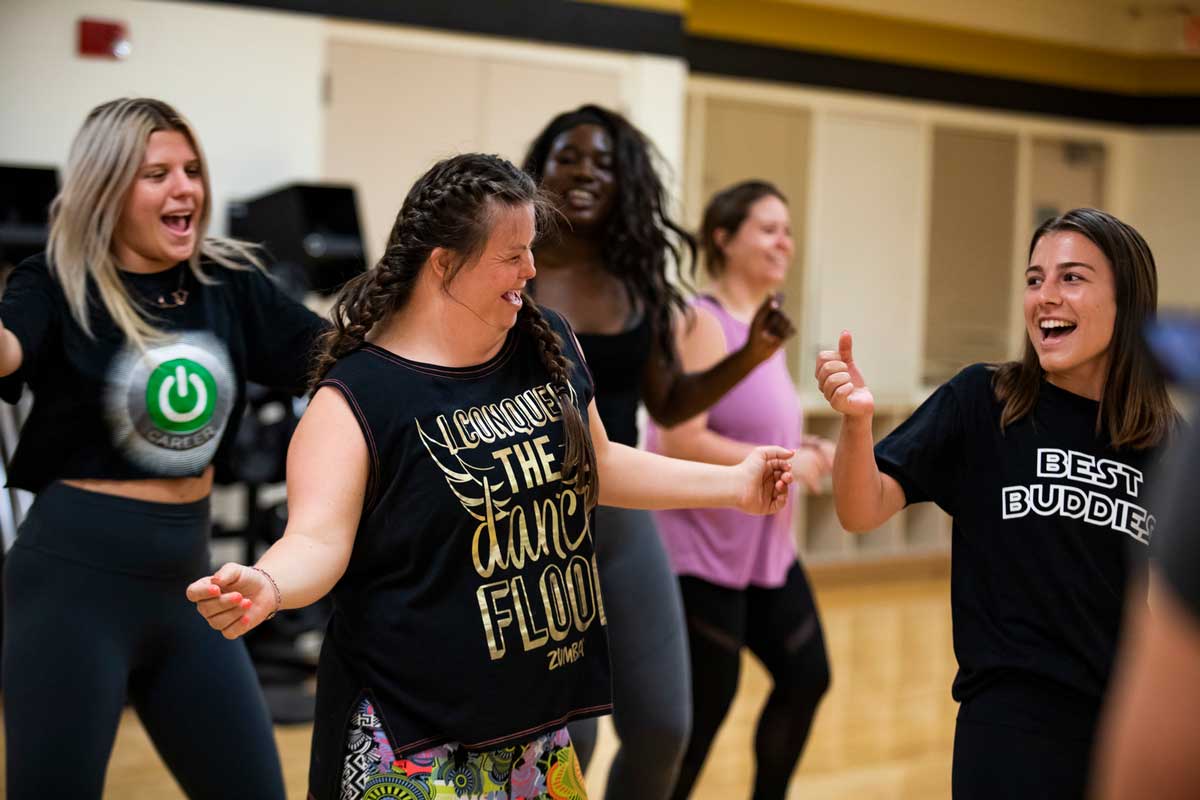 Reina Chehayeb, a Burnett Honors Scholar majoring in legal studies and finance, says it's been a joy to work with Mundelein because of the energy and enthusiasm she brings to their group.
"I've had a lot of stressful days, especially when it gets closer to voting periods, and just having her next to me and encouraging me puts a smile on my face," she says. "SGA is going to miss having someone who is so focused on helping the students. So focused on her job. So focused on excelling in everything she does."
As Mundelein reflects on all she has accomplished at UCF, she says she is most proud of her involvement in the Best Buddies and Access clubs, two student organizations that promote inclusion for individuals with intellectual and developmental disabilities.
Like many of the 8,300 students in UCF's spring graduating class, she expresses conflicting feelings of both excitement and sadness about starting the next chapter of her life.
"I just don't want to leave. I like to be a Knight. It's my dream," she says.
Eight of the 13 IES students currently have post-graduate employment opportunities lined up and another will be continuing an internship.
Kimetta says it gives her such joy to know that Matt has found a passion in working with children and that he will start his position as a full-time teacher assistant at the UCP East Orange/Bailes Campus, a nearby K-5 charter school. Matt says he also plans to stay involved with the IES program.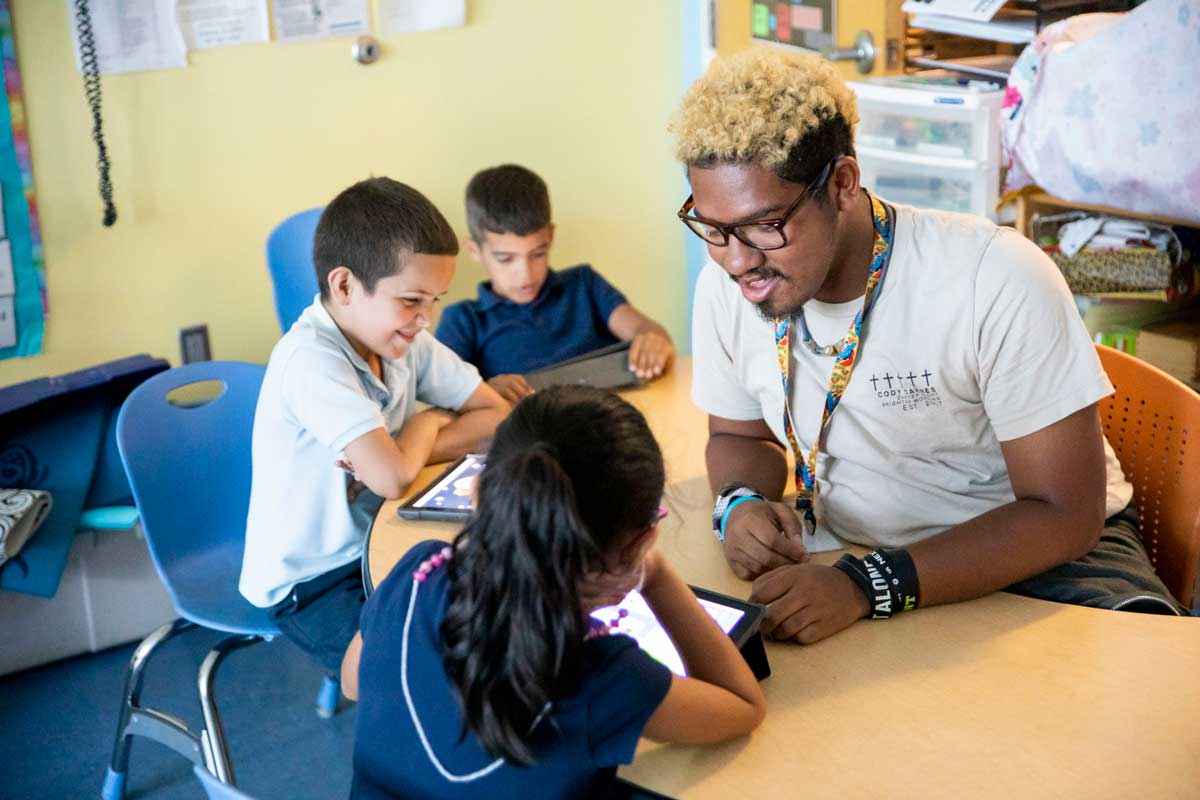 "I'm looking forward to working at my dream job — the kids make my day," he says. "After graduation I would like to come back and help the IES program. To talk to some new kids and show them around campus and get to know them."
She says she is grateful every day that she opened that email four years ago that led them to the IES program.
"What if I wouldn't have done that? What if he never would have had [this experience]? He would be living in my house, maybe with a job, maybe not. But feeling like his life was dependent on my life," she says. "He would never know what it's like to leave his home, to go into an environment that he's not familiar with and do well and succeed and learn something that he could use for his future to make him a better person.
"Now as he's finishing, he's still on his journey. There's still much more to do, and I feel like I could never take him back. He's seen too much. I can't put him back in the box that he was before he left. He's grown. He's too independent. There's more to do."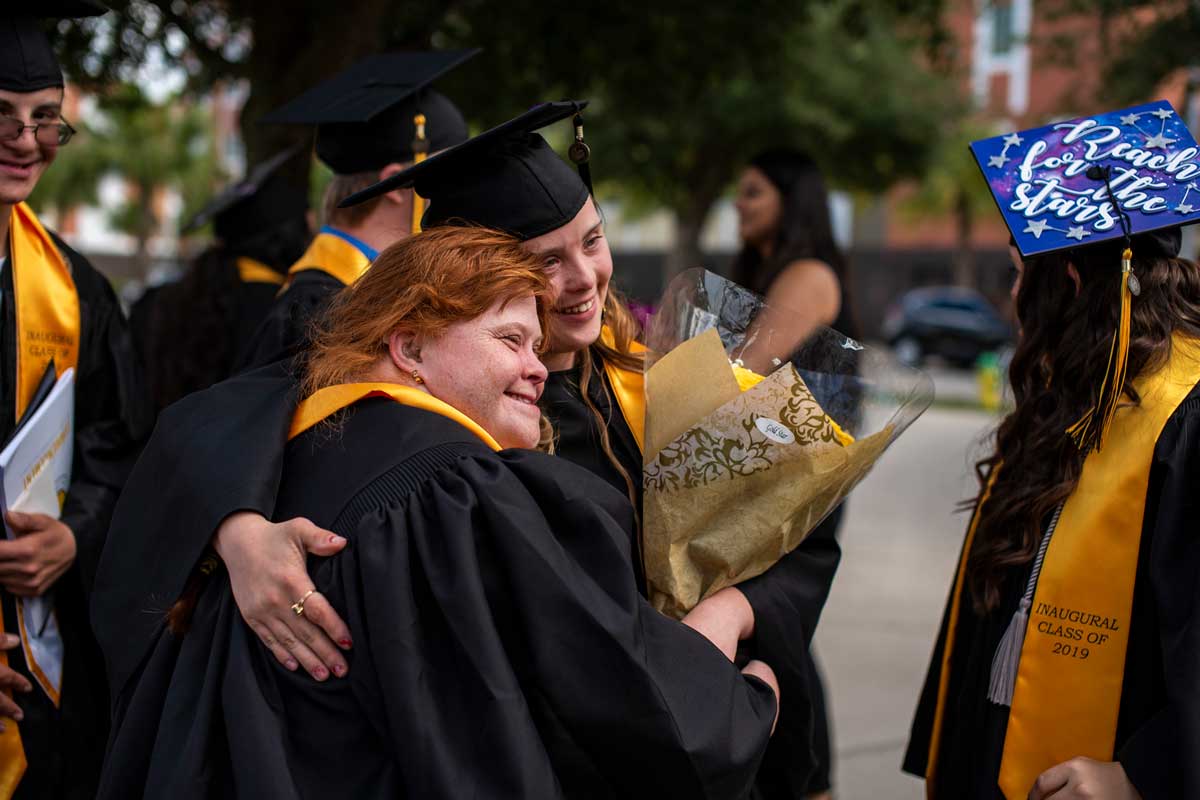 The Next Chapter
Indeed there is more to do. Meyer says the IES program's long-term goal is to become a national model and leader for IES programs.
Meyer says this group of graduating students has taught him that the possibilities are endless, and he is excited to see where life after graduation is going to take each of them. He says evaluating how these 13 students transition into their life after college will help the IES program continue to learn and evolve its programming to better prepare future students.
"They want to make a difference in this world." — Adam Meyer
UCF will welcome eight new students in the fall and anticipates a total of 16 to 18 students in the program for the next academic year.
When he is asked to describe the graduating students he has come to know so well, Meyer easily rattles off a number of adjectives and attributes that makes the IES group so endearing.
"They are bold. They are trailblazers. They are passionate about finding their niche in this world. They are dedicated to finding a career that really aligns with their gifts, their skills and the abilities they've been given. They have an energy that is just something that can really resonate with other individuals," he says. "And they want to make a difference in this world."