Growing up with a single mother who suffered from drug abuse and mental health issues, Diamond Whitley was determined to change her trajectory and pursue a path to a better future. Her motivation to go to college started at a young age. Even though her mother wasn't always present, Whitley was surrounded by people who were like family and instilled in her the value of a college education. They explained how it would help break the cycle of intergenerational hardship within my family and provide an opportunity for upward social mobility.
"Throughout my childhood, I strived to do good and do better in school. I knew it was my key to a better life."
"Family and friends emphasized that education was the only way to get ahead in life, so I took that very seriously," she says. "Throughout my childhood, I strived to do good and do better in school. I knew it was my key to a better life."
Whitley was born and raised in the Catskills — an area in southeastern New York known for its scenery with picturesque mountains, lakes and trails. Even before she was in school, Whitley was eager to get in the classroom. She recalls waiting for her sister to get off the bus every day to hear all about class and what she was learning.
"I would just watch the school bus and think, 'I can't wait for that to be me,' " Whitley says.
Over the years, her love for learning continued to grow. She credits her education with helping her feel fulfilled — giving her the drive and motivation to succeed in anything she set out to do in life.
In her early teenage years, Whitley's mother moved the family to Florida. It was a tough adjustment as she didn't have family or friends nearby anymore to help her get acquainted with her new home. By 16, she faced another hurdle: being placed into the foster care system. It was a difficult period in her life, but one she says made her a better person.
"I had both ups and downs in foster care. But it's played a role in who I am today," Whitley says. "For instance, I used to be naive. Being in the system, though, has made me aware of who I surround myself with and the people I trust. It also allowed me to understand that you don't always know what other people are going through, which is why it's important to treat everyone with kindness and compassion."
Even through the highs and lows of her teenage years, she remained committed to doing well in school. She graduated high school with a 4.2 GPA and received a good SAT score, she says. It was just the first step to opening the door to her future and achieving her dream of a college degree.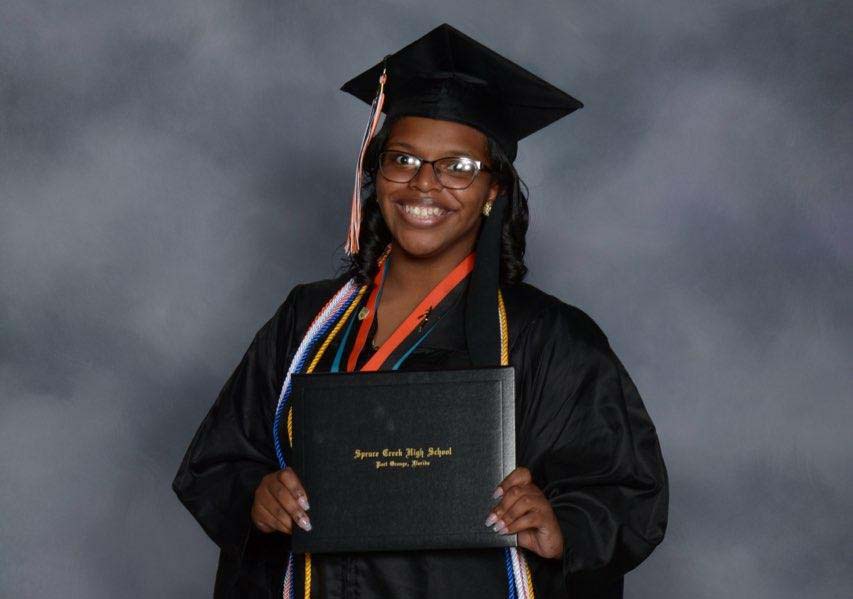 Forging a Path to a College Degree
While Whitley always knew she wanted to go to college, over time she became increasingly worried about how to make her dream a reality. As the first in her family to attend college, she started thinking about hurdles she would need to overcome — from the complexity of completing admissions applications to paying for tuition and living expenses.
"My mother wasn't in a state to help me with my college endeavors, so I was worried about what to do," Whitely says.
Upon arriving in foster care, she learned about the resources and tools available to help students like her succeed. A case manager at her foster home discussed tuition waiver options and a high school counselor helped with the college application process. The only thing left was to narrow down her college choices.
Whitley did extensive research on universities around Florida to determine what would be the best fit. She knew she wanted to pursue a path in psychology, so attending a school that provided her with an opportunity to excel in school and beyond was important in making her decision. Since many on-campus college tours were put on hold due to the pandemic, Whitley made the best of it by checking out videos, virtual tours and other materials online. After learning more about UCF, it became clear that becoming a Knight was the right fit for her.
"I knew this was the place for me," she says. "There's a good psychology program here and I love the diverse community around campus — everyone is so warm and welcoming. Plus, the access to mental health services was a big draw for me."
As a former foster youth, Whitley is now part of the Postsecondary Education Services and Support (PESS) state program. It provides her with financial and other support services while she focuses on school and works toward becoming independent. She credits the Florida foster care system with helping youths forge a better future even after they've turn 18.
"I'm so lucky to have assistance with paying for college. PESS helps with my tuition and has a monthly stipend so I don't have to worry about rent, utilities and other bills. I'm able to focus on completing my degree and doing something bigger with my life," she says.
Now in her second year at UCF, Whitley is majoring in psychology, with a focus on the clinical psychology track. She's most looking forward to getting more involved in things like theatre and chorus, among other organizations. Starting college in 2020 — in the middle of a pandemic — created a unique circumstance, but she's excited to start meeting more people. So far, she's connected with others through the First-Generation Program, Pride Student Association and the Black Student Union.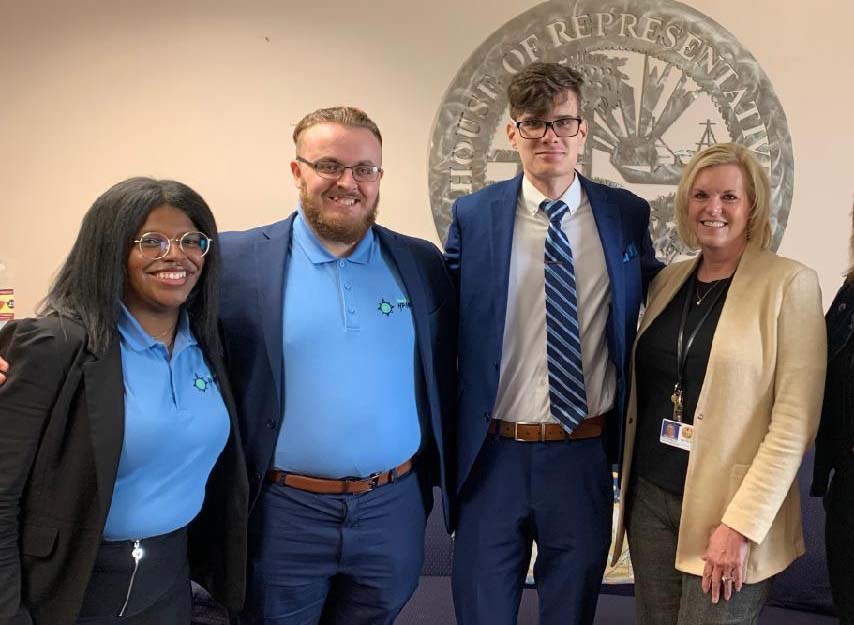 Taking a Stand to Help Others
While in school, Whitley also works for One Voice IMPAACT — an initiative that helps advocate for other youth in the foster system. She learned about the opportunity during a 2020 virtual graduation event for foster youth. After assisting with several activities, she moved into a communications intern role and now serves as the youth engagement specialist. Over the past year of working for the initiative, she says every day is something different — from handling social media to workshops and trainings. The goal is to motivate foster youth to use the system and advocate for themselves and their peers.
"I learn new things every day," she says. "I like the opportunity to look at the current system and find ways to improve it and offer suggestions. It's truly a full-circle moment. I can take a stand for youth that are experiencing the same challenges that I did and try to find better solutions."
Whitley credits her mentors with helping motivate her and push her to succeed. She is grateful for individuals like Tammie Nadeau, UCF's assistant director of Multicultural Academic and Support Services, who help students like her transition from the foster care system to life in college.
"I've met a lot of great people along the way. I wouldn't be where I am today without the people who believed in me. They have been a key to my success," she says.
Support first-generation students like Whitley. Florida matches each dollar given 2-to-1 — tripling your impact.

Give Now
Once Whitley graduates with her bachelor's degree, she plans to continue on to earn her master's and Ph.D. Her goal is to one day work for state or local government helping underprivileged youth and those in extenuating circumstances. Success to her is measured by the impact you can make in other people's lives.
"I just want to have a normal life — something I never thought I would have. I'd like to get a townhouse, adopt another cat to keep my cat Gracie company and get a car," she says. "My goal is to be happy, content and help change people's lives. That would be fulfilling to me."