Bryan Medina '21 is deeply intrigued by memories — both capturing them and understanding what triggers us to relive them.
"UCF gave me the ability to learn how to learn and taught me how to be more empathetic."
— Bryan Medina '21
The computer science major who earned his bachelor's from UCF this semester was born and raised in Miami, where music and dancing play a huge role in the community.
"I noticed that music kind of supports or brings back memories of those times," he says. "Music also helps me remember not only the good times, but some of the bad times, and a wide range of experiences. I wondered, what is it about music, or at least sounds in general, that give rise to this ability to remember or be nostalgic about past experiences?"
This question fuels his current research at the Laboratory for Computational Audition at the Massachusetts Institute of Technology. He will pursue a Ph.D. in brain and cognitive sciences at the Cambridge school beginning this fall, as both a National Science Foundation Graduate Research Fellow and MIT's Dean of Science Fellow. Medina has spent the past year working remotely at the lab under MIT Associate Professor Josh McDermott, using artificial intelligence to better understand how humans process sounds.
"Bryan is an excellent student, and so came in with strong quantitative training and professional work habits," McDermott says. "He completed one of the most successful undergraduate summer projects we've had and was able to give a very clear presentation at the end of the summer on his work. … Less than a year after I met him, he is now quite fluent in cutting-edge research in our field, which is impressive."
Transformational Moments
While Medina's future in neuroscience has recently become more cemented, it certainly isn't what he predicted he'd be doing even a few years ago.
Through his junior year in high school, he planned to pursue music. He plays both the saxophone and the guitar, and played in his school band and took lessons at the University of Miami. Then his senior year, he signed up for two courses — one in computer science and one in robotics — that would alter the course of his life. Through those classes, he discovered a love of programming and figuring out how to make things work.
Growing up in what he describes as a financially insecure environment, Medina also figured a career in the computer science industry would mean more security for him and his family.
"That's the main reason why I pursued computer science at UCF," he says. "I wasn't thinking about neuroscience at that point in time. I was just making a conscious decision for my future."
The next big shift would come during his junior year at UCF, when he was doing an internship at Carnegie Mellon and discovered a love of neuroscience that would prompt him to add a minor and take an extra year to graduate.
"That was my first exposure ever to neuroscience," Medina says. "At the end of that experience, I realized that neuroscience was for me, but I needed a little bit more time to sort of learn neuroscience and be competitive for graduate programs. As a result of pushing my graduation by a year, I was able to do so many things, including working at MIT."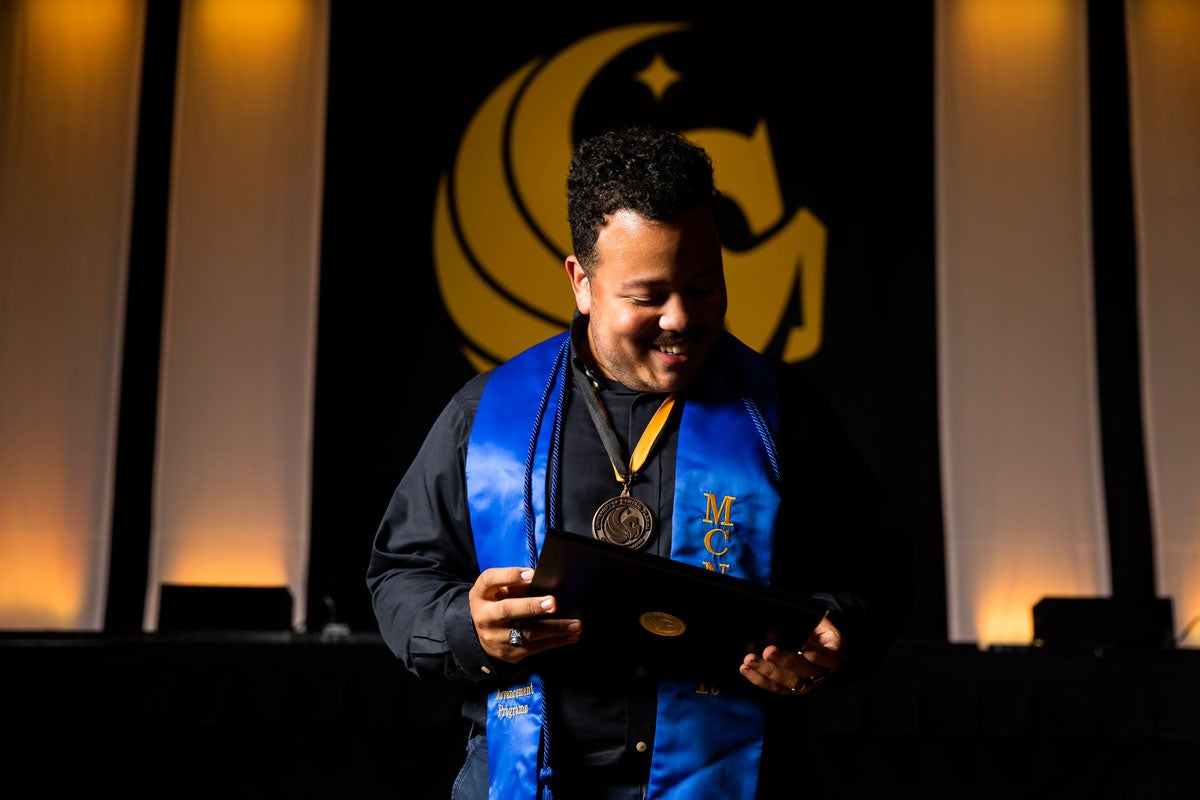 Finding a Community at UCF
Medina admits that though his family is supportive of him, they still don't fully understand the work he's doing now.
His parents immigrated to the United States before Medina was born, and while both had attended college, they both also had to drop out to move to Florida — his mom from the Dominican Republic and his dad from Nicaragua. Medina is the youngest of three children and his parents were too busy raising them and trying to make ends meet to ever go back to school. This semester, he became the first in his family to earn a bachelor's degree, and he's aware of the sacrifices his family has made to get him here and how proud they are of him.
"My family has definitely been supportive, even though they don't understand completely what I'm doing," he says. "They have always supported me, regardless of the endeavor, all throughout my life. When I knew I wanted to do music, they were the ones that took me to University of Miami to take lessons every Saturday and dropped me off at the train station on Mondays to go to band rehearsals. I'm indebted to them."
Medina is quick to realize that though the accomplishments are his own, he wouldn't be where he is today without the support of and guidance from so many people along the way, beginning with his family.
"At UCF, there's a huge laundry list of people who I am forever indebted to," he says.
There's Associate Professor of Mathematics Brian Moore, who taught two of the math courses Medina took early on at UCF. The two still catch up every other week over coffee. There's Melissa Dagley '09EdD, executive director of iSTEMS and the Excel program that he participated in, and the entire Academic Advancement team, including Director Michael Aldarondo-Jeffries and Assistant Director Natalia Toro '17EdD, who oversees the McNair program that he's also part of. "They really pushed me to pursue higher education and showed me how and what is needed in order to apply and be successful," he says. There's Assistant Professor of Philosophy Luis Favela, who is the advisor of the Cognitive Sciences club that Medina co-founded, and Katherine Rahill, now a senior scientist at the NASA Johnson Space Center, who Medina met while she was completing her postdoc work at UCF and who wrote him a letter of recommendation.
"Everyone who I've mentioned has in some way either supported me or given me a chance to succeed in some major way, and I feel forever grateful for that," he says. "UCF gave me the ability to learn how to learn and taught me how to be more empathetic — how to really talk to people, understand where they're coming from, and how to relate to people."
All of these the transformational moments and influences in his life are perhaps one reason why Medina is curious about the inner workings of our brain — and by helping others.
"I think being able to really understand the human experience — how is it that we understand the world around us and experience and form these memories? — in and of itself, is also worth investigating, even if it never led to any clinical advances," he says. "But ultimately, after earning my PhD, I want to work in industry and implement artificial intelligence models in the real world, so that they're available to whoever may need them. The idea of helping to improve the world in real-time is something I want to continue to pursue."