In her final semester at UCF, Alex Dixon was finally able to complete a task that most college students take for granted: reading a textbook on her own. For the graduating early childhood development and education major, walking across the stage for commencement with her peers this summer seemed like it would take a miracle a decade ago, instead of her consistent hard work.
When Dixon was 10 she caught pneumonia, which triggered a rare malfunction that caused her brain to start attacking her body. She recovered from the infection, but continued to battle pain, muscle spasms, contortions and loss of function for two years as she visited specialists around the country who could not figure out what was wrong. By the time she entered sixth grade she started to use a wheelchair. At 12, she underwent a deep brain stimulation procedure as a last hope to find a solution, but while she was anesthetized she had a stroke.
"It was incredibly frightening," says Juli, Dixon's mother and a professor of mathematics education at UCF since 2000. "The stroke damaged the part of her brain that was killing her, but there was quite a bit of collateral damage as well. As she was coming out of her coma, we were told she might be in a vegetative state. It's been very slow progress over time, but she returned."
That collateral damage includes being partially paralyzed on her right side and legally blind — able to see only half of anything straight on. Before Dixon became ill, she was a happy, healthy child who took gifted classes, played piano, loved art and wanted to be a veterinarian when she grew up. After her stroke, she had to relearn every aspect of her life, from normal bodily functions and academics to who she even was. It was in that relearning process that Dixon found an interest in teaching.
"I want to work in a preschool setting with students with and without disabilities and special needs, hopefully in an inclusive setting," Dixon says. "The first few years of life are so valuable to build a base of the education and play so kids are excited about learning and develop the positive mindset toward it that will help them persevere later on."
"[Student Accessibility Services] helped me be as independent as possible. [They] gave me the opportunity to show what I knew because I had the resources." — Alex Dixon, UCF student.
With the support of her family and her own determination to improve, she slowly regained functions such as walking, talking, and completing schoolwork. Throughout middle school and high school she had an aide help her get to and from classes and help her complete her assignments. When Dixon came to UCF in 2016, she no longer needed an aide, but throughout her time here she's used Student Accessibly Services for support.
"They helped me be as independent as possible," Dixon says. "I still had trouble reading in the beginning and even now sometimes, so they gave me different technology, like reading software on my computer. They helped me get a notetaker and smart pen to capture what my professors were saying, a reader for tests and extra time if I needed it. It gave me the opportunity to show what I knew because I had the resources."
Gaining independence through daily tasks, such as getting to and around a large campus like UCF, grocery shopping, doing laundry and maintaining relationships, has been just as important for her development as her studies. Her parents, who lived 15 minutes from campus before she enrolled at UCF, even moved further away so she would have to do these things on her own.
"If we hadn't moved, she would have just kept coming home and we wanted to push the limits of her independence," her mother says. "I think that any parent has those tensions of how much do we support and how much do we use a bit of tough love to push our children to reach their full potential. With a child with special needs, I think the choices are more difficult and the potential outcomes are greater. It was terrifying to drop her off and set her up in the dorm. I recall very clearly having those thoughts of, 'What have we done?' But then I tell myself, 'What we've done is to give Alex the opportunity to be independent.'"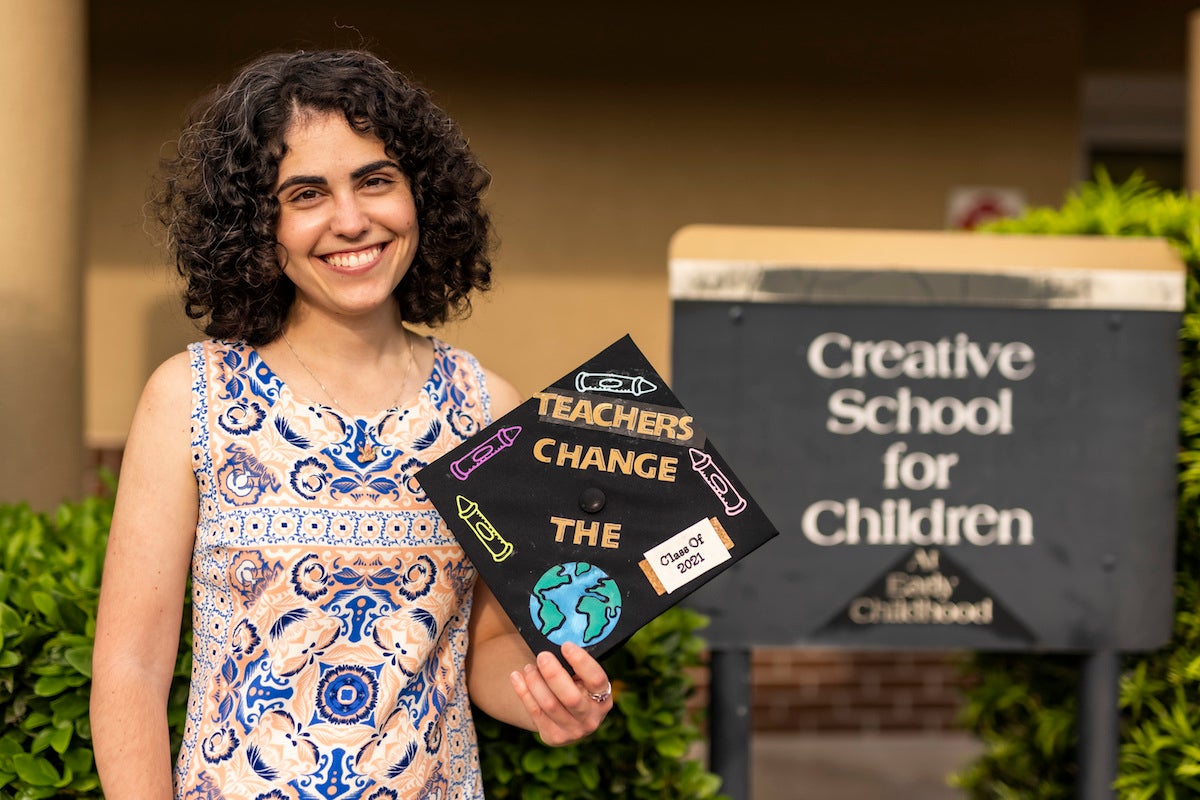 Dixon has also been involved with UCF's chapter of the Student Council for Exceptional Children, an international organization dedicated to improving educational outcomes for students with disabilities and/or are gifted. As a part of her academic program, she's completed internship with the Conductive Education Center of Orlando, which works with children who have motor impairments and disabilities. She's completed volunteer experiences at local schools as well, including UCF's Creative School for Children, which she attended when she was a child.
"Alex was always a polite, bright child who was able to do really simple things that other children could not do," says Giatry Bacchus, an administrative assistant at CSC who taught Dixon when she was younger and has witnessed her volunteer work. "Her family was always very involved with her and what was going on at school. As a volunteer, she was able to assist in everything we needed and she improved throughout her time here. Seeing where she's come from to now is amazing, and the support she's had shows a family that did not let go of Alex or give up hope — and that is a blessing."
Although Dixon's recovery has been challenging, it's strengthened her familial bonds and given them a chance to help others. Using insight from each family member, Juli and Dixon's sister Jessica — a senior at FSU who was inspired to study neuroscience because of her — have even published a book, A Stroke of Luck, to share their experiences with others going through similar circumstances. Dixon has also traveled the country as a motivational speaker with her mother and sister. This pursuit was sparked by her first talk in 2013, which was given at UCF.
"UCF is a big place, and people can get lost in big places. … Even though it's huge, it offered the community and support for Alex — for one person to succeed — and I think that's special." — Juli Dixon, Alex's mother and a UCF professor
"UCF is a big place, and people can get lost in big places," Juli says. "It was tough to make the choice. But the combination of what Alex brought to her experience at UCF and what UCF provided to Alex has been a great match. Alex has learned and grown so much over the last five years. Even though it's huge, it offered the community and support for Alex — for one person to succeed — and I think that's special."
With graduation approaching, Dixon has already been accepted into the master's program for early childhood development and education at UCF. She's also been interviewing for teaching positions at local public and private schools. And the day after she graduates, Dixon and her family will drive to North Carolina to pick up her service dog, a goldendoodle named Dunkin — a cross between a golden retriever and a poodle — which will help her in the classroom, at work and safely access public transportation.
"It's a relief to be graduating, and I'm especially proud of myself for doing it on time with my peers," she says. "I'm still figuring out my future and improving, but everyone is improving."