Sanjeev Gurshaney is caught in a crossroads of enthusiasm at 9 a.m. The UCF junior would like to take time to explain his research on immunotherapy-based medical treatments. But he really would like to start his daily 30-minute commute to the Burnett School of Biomedical Sciences in Lake Nona.
"If I'm awake," Gurshaney says, "then I'm thinking about progress."
This visionary mindset is why he's among three UCF students who have been chosen for the 2022 Goldwater Scholarship, widely considered the most prestigious award for undergraduates studying natural sciences, mathematics and engineering. Gurshaney, Camila Acevedo Carrillo and Angela Shar were selected from more than 5,000 nominees representing 433 colleges and universities.
When you know what drives these three, you understand the real importance of the Goldwater honor.
"This is a steppingstone," Gurshaney says, "and makes me want to work harder to make lives better."
Sanjeev Gurshaney
Studying: Biomedical sciences, mathematics (minor)
On Track to Graduate: May 2023
Goldwater Mentors: Assistant Professor Hung Nguyen (immunotherapy) and Assistant Professor Alicia Hawthorne (neurobiology)
Ultimate Goal: "To earn an MD Ph.D. and use my lab research in immunotherapy to directly help patients in the clinic."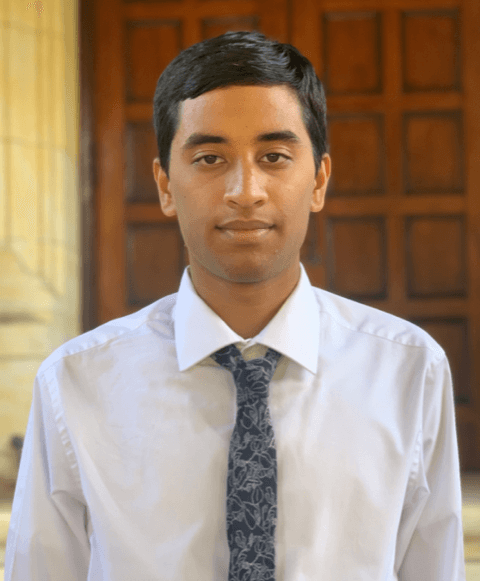 You might wonder which of Gurshaney's classes requires him to be in the lab 30-plus hours a week. He already has a heavy academic load in science and math.
"It isn't a requirement," Gurshaney says. "I do it because I want to."
Holiday weeks and summer breaks excite him because then he can spend 40-50 hours a week in the lab. It's been this way since he arrived for his first semester at UCF from Montgomery, Alabama, and became attached to the tiny trials and errors with enormous implications.
"I saw an environment where people are trying to improve lives around the world on a micro-scale," Gurshaney says. The Goldwater Scholarship suggests he's on the right track.
Professor Hung Nguyen provided Gurshaney's initial entry into a UCF lab where they studied how the metabolism of cells can be leveraged to improve the responsiveness of blood cancer patients to immunotherapy. Gurshaney says, "We were making progress, but then …"
COVID-19 closed everything, including the lab. Instead of shutting down with it, Gurshaney dug into whatever data he could find on COVID patients.
"We found a clear mechanistic link between the metabolism of patients and a dysregulated immune response during severe COVID-19 disease," Gurshaney says.
The findings helped solidify his existing plans: to earn a Ph.D. and an MD so he can use his lab findings to treat patients. In the same way he wants to apply his research to the bedside, he applies his affinity for tennis to teaching special-needs children.
"I've always been inspired by how excited they are to be on the court," he says. "It motivates me to improve people's lives. That's what makes me want to get back into the lab."
Camila Acevedo Carrillo
Studying: Computer science
On Track to Graduate: May 2023
Goldwater Mentor: Associate Professor Pamela Wisniewski (computer science)
Ultimate Goal: "To make assistive devices more affordable, more durable, and more advanced for people with disabilities."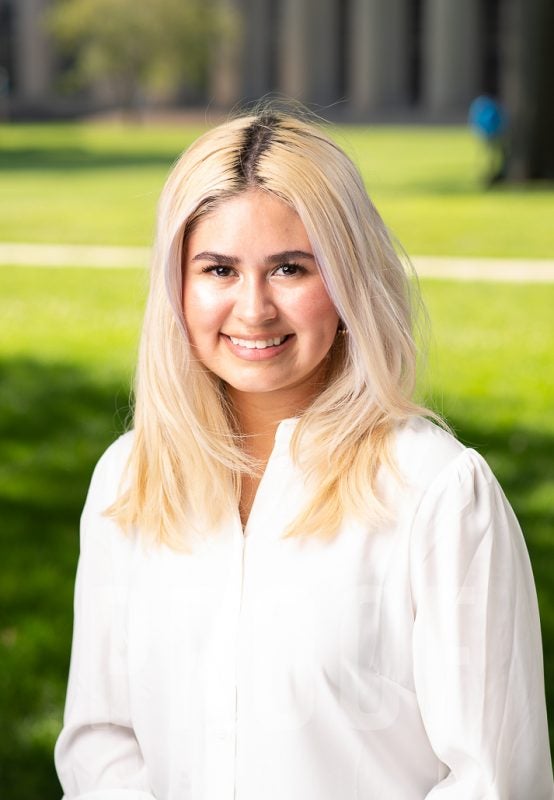 It took six years for Camila Acevedo Carrillo to find her academic footing. She dabbled in STEM during high school in Puerto Rico, but only as a school subject.
"I didn't know it could lead into a career," she says.
So, during her freshman year of college on the island she defaulted to political science.
"But it would be relevant only if I went to law school … and I didn't have the interest or resources," she says.
After moving to Orlando and enrolling at Valencia College, Acevedo Carrillo started on an engineering track.
"It wasn't right for me. I began to question if I'd find the right fit," Acevedo Carrillo says.
It turns out, the answer had always been in her life.
When Acevedo Carrillo changed her major to computer science, everything clicked. She thrives in the structure of coding. She likes setting an example for young Latin American women who might question if they have a place in a male-dominant field. And she found encouragement from her mentor in computer science, Associate Professor Pamela Wisniewski.
"She's a phenomenal educator," Acevedo Carrillo says. "I've been inspired with her work-life balance as a mother and wife, and her commitment to making a social impact in a field that often glorifies the opposite."
Acevedo Carrillo has another inspiration. She remembers eating ice cream in a town square around along Puerto Rico's south coast on Sundays. Her mom or dad would struggle to make sure their youngest daughter, Gabriela, could join them. Gabriela was born with numerous conditions, including cerebral palsy.
"Most assistive devices are poorly made and expensive. It makes every day a challenge. I know we can use data and clinical trials to develop better equipment."
Acevedo Carrillo didn't have publications or conference presentations for her Goldwater application, but her research has a distinct purpose.
"The scholarship assures me that my vision is viable," she says. "I'd say this to anyone trying to find direction: Whatever you think about every day that could help people, pursue it. You could be on a track to leave a legacy."
Angela Shar
Studying: Biomedical sciences
On Track to Graduate: Fall 2022
Goldwater Mentors: Assistant Professor Mehdi Razavi (materials science), Assistant Professor David Flory (physiology), Professor Jessica Wilson (microbiology)
Ultimate Goal: "To take translational research from the lab to the bedside with patients."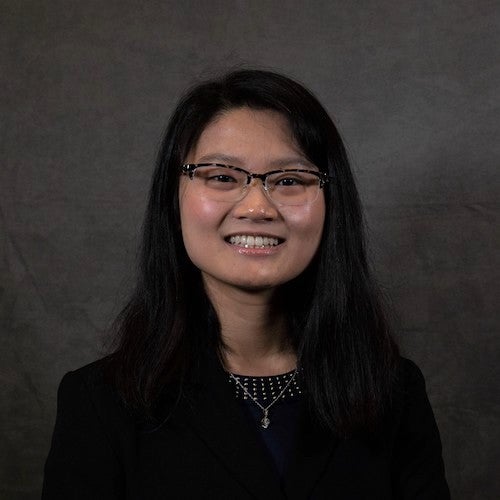 Angela Shar understands the nano-world more clearly than most of us understand the world in front of our faces. But when asked what drives her to excellence, the Goldwater recipient gives a surprising answer.
"Failure. That's the result from 99% of research. The one time you have success is rare. That's why I love it so much," she says.
Shar has had different research projects underway since she was 11 years old, so she's built quite an affection for failure. During the past three years at UCF, she's been developing a platform to use nanobubbles under the control of ultrasound to help target osteoporosis in specific areas of the body. She once went 8-9 months with no solid results.
"When I finally saw nanobubbles targeting a pelvis, it was like an out of body experience," she says. "This is what I appreciate about UCF. Students are allowed to try new ideas. When I'm in the lab, anything is possible"
Shar's parents immigrated to the U.S. from Myanmar. They would take Angela and her brother on family trips back to Southeast Asia, in part to show them why they're so appreciative of America. When she was seven years old, Shar went to an elementary school for children who were deaf and/or blind.
"In that moment I saw how resilient those kids were. It always stayed with me," she says.
Resilience guides her in the lab, failures and all. She also tapped into that resilience a year ago when she applied for and didn't receive a Goldwater Scholarship.
"I'm glad that I grew from it and tried again. The real prize is the community of scholars across the country," Shar says. "We all understand the late nights in labs and the importance of failures. Without them, there would be no groundbreaking successes."
Students interested in applying for the Goldwater Scholarship or other major national awards should contact the Office of Prestigious Awards at opa@ucf.edu.