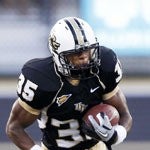 Ronnie Weaver was just a biology major with a high SAT score when he first came to Central Florida, undersized even for a science whiz. All he wanted was another chance at football. He got way more than that.
Try starting running back.
A lot of heartbreaks and headaches along the way, Weaver leads the Knights in touchdowns and yards rushing heading into Saturday's big Conference USA showdown against East Carolina. Not bad for a former walk-on.
"It's an inspirational thing to others, guys who may just love the game, who may think they're not big enough, not fast enough," senior defensive back Reggie Weams said. "Well, Ronnie Weaver, he did it."
Not without some bumps.
There wasn't a Division I program that offered Weaver a scholarship after a solid senior season at Vero Beach High School, about 90 minutes southeast of Orlando. He was too small and too slow.
At least that's what he was told.
Weaver was a smart student – "always good in math and science," he says – and came to UCF in 2007 because of the educational programs and family in the area. Plus, it was close to home and there was an outside shot at major college football.
His mother, Patricia, practically begged UCF coach George O'Leary to give her son a look. Weaver, listed at a generous 6-feet and 209 pounds these days, was invited to fall camp.
His presence was felt immediately.
"I saw him a little bit that first summer, working out in the gym, running on campus. I didn't realize he was trying out," senior linebacker Lawrence Young said. "Then all of the sudden he's getting some special teams play in practice. This small guy was just blowing people up, lighting up punt returners. It was crazy, man."
Weaver worked his way into almost every special teams phase, often picking up penalties before learning how to control his hard-hitting instincts. The aggressive play and tireless work ethic didn't go unnoticed.
After a strong fall camp, O'Leary called Weaver into his office one day after practice. Weaver wasn't sure if he was getting cut or getting a promotion.
"I really didn't know what was happening. As a player, you try to do your best to stay out of coach's office," Weaver said, chuckling. "But when he called me in, I really didn't know what to expect. I was like, 'Oh, man. What did I do?' I went into his office and it was the best news ever."
Indeed, a scholarship to call his own.
The first thing Weaver did was call his mother.
"She was actually at the grocery store shopping and she started jumping around, acting crazy, acting a fool in public because she heard I had got a scholarship," he said. "I still can't show my face there."
That's only the beginning of Weaver's journey.
All-American running back Kevin Smith left for the NFL in 2008 and Weaver moved to the top of the depth chart. At first, Weaver struggled to learn the playbook and was slow to adapt to his new role. He quickly lost the starting gig to Brynn Harvey and went back to special times. But he studied the offensive playbook feverishly.
Then Harvey tore a ligament in his knee last year, forcing him to redshirt this season. This time, Weaver was ready. He took advantage of the opportunity and became the clear choice to start at running back.
Weaver has a team-leading 458 yards rushing and eight touchdowns through seven games, leading UCF (5-2, 3-0) to its best start since 1998 – Daunte Culpepper's senior season. And a win against East Carolina (5-2, 4-0) on Saturday would make the Knights the frontrunner to secure a spot in the Conference USA title game out of the East Divison.
"I'm sure there are better running backs around. But what you do is judge a person on their abilities," O'Leary said. "What we're getting out of Ronnie Weaver is way above what I thought we'd be getting. I think he's learned how to be a running back. Just a great kid. He earned the right to have a scholarship and he's sure utilizing it very well."
Weaver is also a little different from his teammates.
He originally wanted to be an optometrist but became more interested in the business side, so he changed his major to health services administration. He regularly practices Yoga to expand his flexibility and breathing, even trying to recruit teammates to do the stretches before games.
His family is clearly noticeable and audible at home and away games – "The Weaver Clan," as O'Leary calls them – and are big supporters of the program. He's given them plenty to cheer about.
Even for him, sometimes that's hard to imagine.
"It's been a journey. A lot of hard work. A lot of dedication. A lot of studying. A lot of praying. A lot of understanding the ups and downs, bumps and bruises, blood, sweat and tears to get to this point," Weaver said. "And it ain't over yet."
Source: Miami Herald, UCF's Weaver goes from walk-on to starting RB, by ANTONIO GONZALEZ, Associated Press