As UCF approaches its inaugural season as the youngest member of a Power 5 conference, the athletics department is taking a look back to commemorate this special moment in history. The following feature is a part of UCF's 12 for XII series — 12 stories that define UCF and the meteoric rise of the Knights in their journey to the Big 12 Conference.

---
I will be the first to admit that I do not get attached to my teams the way some people do.
But the 2019 men's basketball team and its story were too compelling, even for a cynic like me.
It was UCF head coach Johnny Dawkins against his mentor in Duke's Coach K. It was a pair of seemingly superhuman sports figures in our beloved 7-foot-6 Tacko Fall '19 and the Blue Devils' future No. 1 NBA Draft pick, Zion Williamson. It was UCF's quickly rising brand against arguably the biggest brand in college basketball. It was the most watched sporting event in UCF history. And it turned out to be an instant March Madness classic.
But it was more than that.
For those of us who were alongside Coach Dawkins every day in practice, with BJ Taylor getting ready for every game in the locker room, laughing with Chad Brown '19 on all the road trips, that loss was heartbreaking, devastating – the truest definition of the agony of defeat.
And, yes, every school that loses in a tournament and has its season end says that.
But this group was truly special.
To fully understand and appreciate the impact of that March Madness team, you've got to look back four years prior. As someone who was there for nearly all of working as the primary communications contact for the team during that era, let me take you back to where it started for me.
***
I remember when I first saw Tacko Fall on the court. I went to the Amway Arena for the Hardwoord Classic All-Star game in April 2015 to scope out and score some social media content of UCF's recently signed 7-foot-6 recruit who would be joining the Knights in the fall.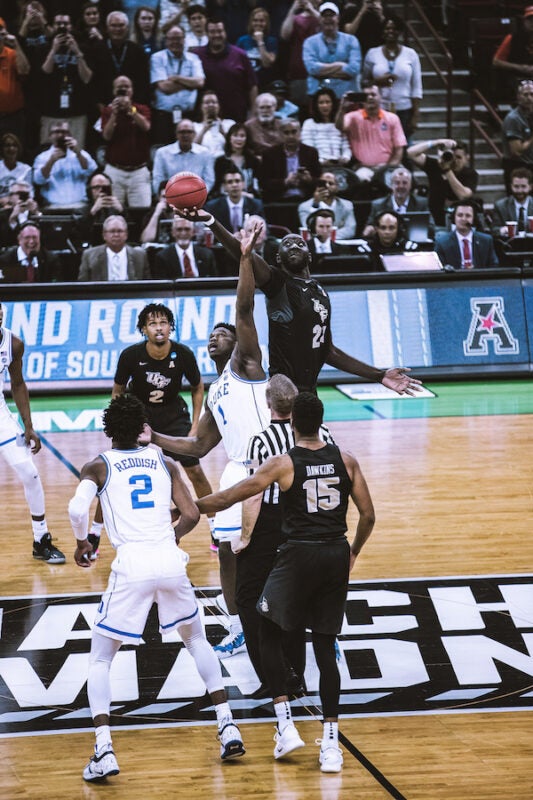 Tacko scored 10 points in that game, and I walked away thinking to myself, "This is going to be cool, but is this really going to work out?"
You could see his lack of true coordination. He struggled running up and down the court. Given that he had only picked up a basketball for the first time a couple years prior and grew to giant heights in a short amount of time, his awkwardness wasn't surprising.
That day I wasn't witnessing the kid that would turn into UCF's all-time leader in blocked shots, and a future leader for NCAA career field-goal percentage. This was not the 2017 American Athletic Conference Defensive Player of the Year. I wasn't witnessing some phenom who was going to take UCF to new heights and eventually suit up for the Boston Celtics.
And it's what makes the journey that transpired so much more special.
***
I've heard Johnny Dawkins say on more than one occasion the best recruiting job he ever did was convince shooting guard Matt Williams '16 to stay for the 2016-17 season.
Williams was an Orlando native and had been with the Knights since his freshman year in 2012, but he was committed to transferring to Wake Forest at the time coach Dawkins took over UCF's program.
As the story goes, Dawkins invited Williams to continue training at UCF's facilities while he waited to move to North Carolina. Every day Williams showed up, he saw Dawkins in the basketball offices hard at work. He quickly had a change of heart and decided to stay for one last ride.
I could tell immediately with the first tournament that season in South Carolina things were going to be different. Tacko had made great strides. You could see the way the coaching staff was working with him that it knew the lovable center was going to be the key in taking the program a step forward.
The Knights blew out Mississippi State and beat Charleston on its home floor. They took Villanova to the wire. That first weekend was big for UCF and hinted at what was to come.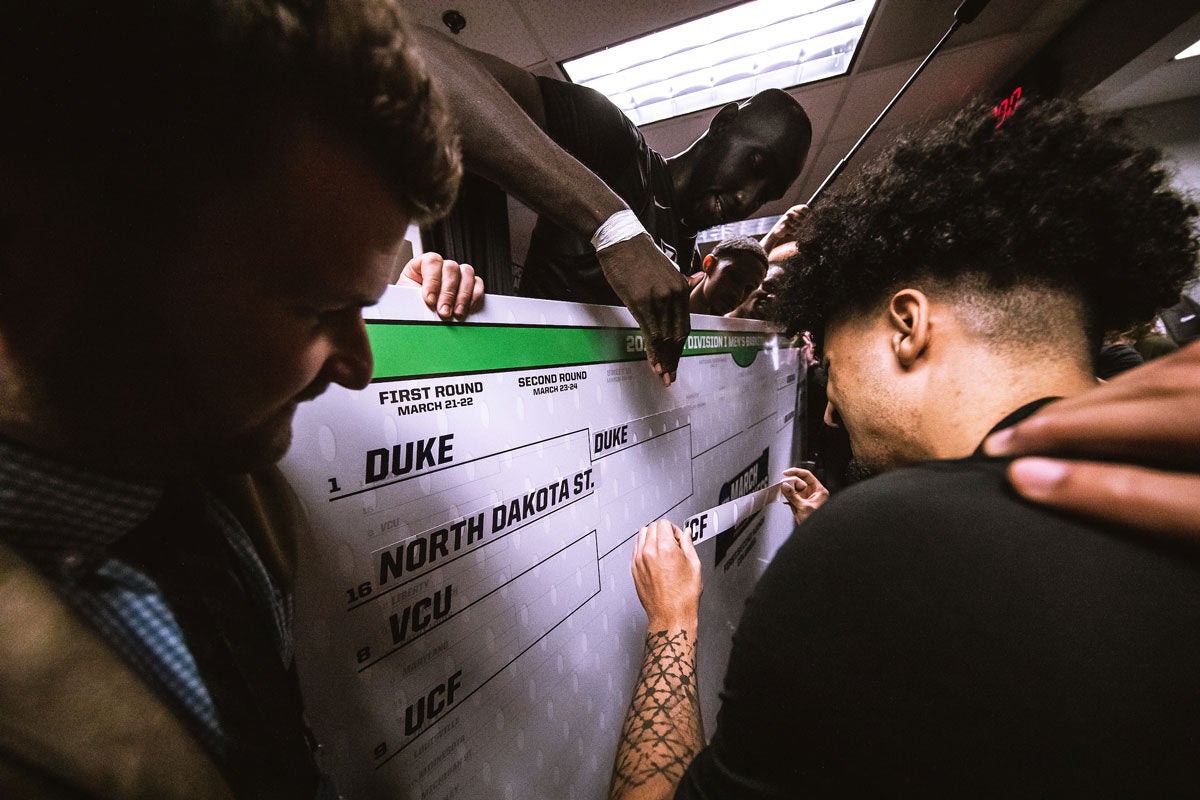 UCF's run to NIT semifinals at Madison Square Garden in 2017 was significant for the program, which hadn't been to the postseason since the 2012 NIT. That season holds some of the best memories of my career.
A.J. Davis '17's free throws that clinched the win against Colorado. Knocking out top-seeded Illinois State on the road, and less than 48 hours later suiting up for the first sold-out matchup at Addition Financial Arena against Illinois.
Electric atmosphere. Court rush. Coach Dawkins bites the apple. Tacko larger than life in Times Square. Marching Knights atop an open-air double decker bus serenading the city. The MSG (Madison Square Garden) freight elevator ride with coach Dawkins, BJ and everyone.
Most of all, Matt Williams' impassioned speech in the locker room after UCF lost to TCU; how he was so fulfilled by his decision to stay. His love for coach Dawkins and his teammates. How excited he was for the future.
I truly believe that whole experience was the reason two years later the Knights were able to do what they did.
***
After a 2017 campaign plagued by injuries to our key players, saw a walk-on starting the majority of the season and still somehow managing to pull out 19 wins, UCF's 2018-19 season was finally going to be the year.
Only it did not start out auspiciously.
In the second game of the year, UCF lost to Florida Atlantic. At home.
All due respect to the Owls, that was not the same team that just made the 2023 Final Four.
Our locker room was dejected. The goal from the jump was NCAA Tournament or bust.
It's really something to watch the ups and downs of young adults. And I always found it interesting to watch when coach Dawkins chose between chewing them out or building them back up. It's an art form for a coach to have a pulse on what's needed in the moment.
Credit to the team, they never gave up on their goal.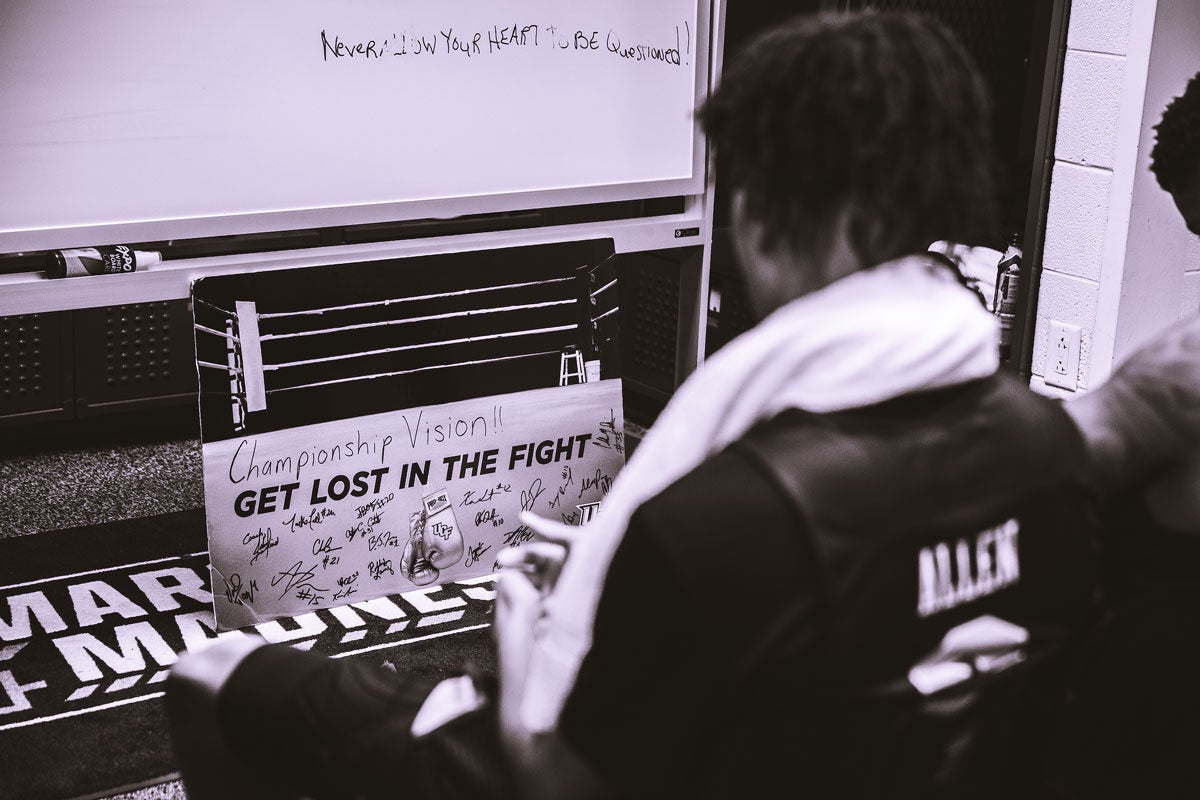 That season, coach Dawkins continually preached the message, "Get lost in the fight."
The Knights did that in their win at top-10 Houston. And again in their top-20 win over Cincinnati. And UCF used its disappointing AAC conference tournament first-round loss to Memphis as fuel to get lost in that fight once again heading into the Big Dance for the first time since 2005.
I've never seen a team more dialed in. We had CBS following us around for all-access content and it was as if they weren't even there. BJ Taylor sat down to talk to the A-crew of Grant Hill, Jim Nantz and Bill Raftery and it was as if he was conducting an interview ahead of a regular season Tuesday night matchup at home.
UCF's win over VCU in the first round was the program's first NCAA Tourney victory in history. And that was big.
What happened next was bigger.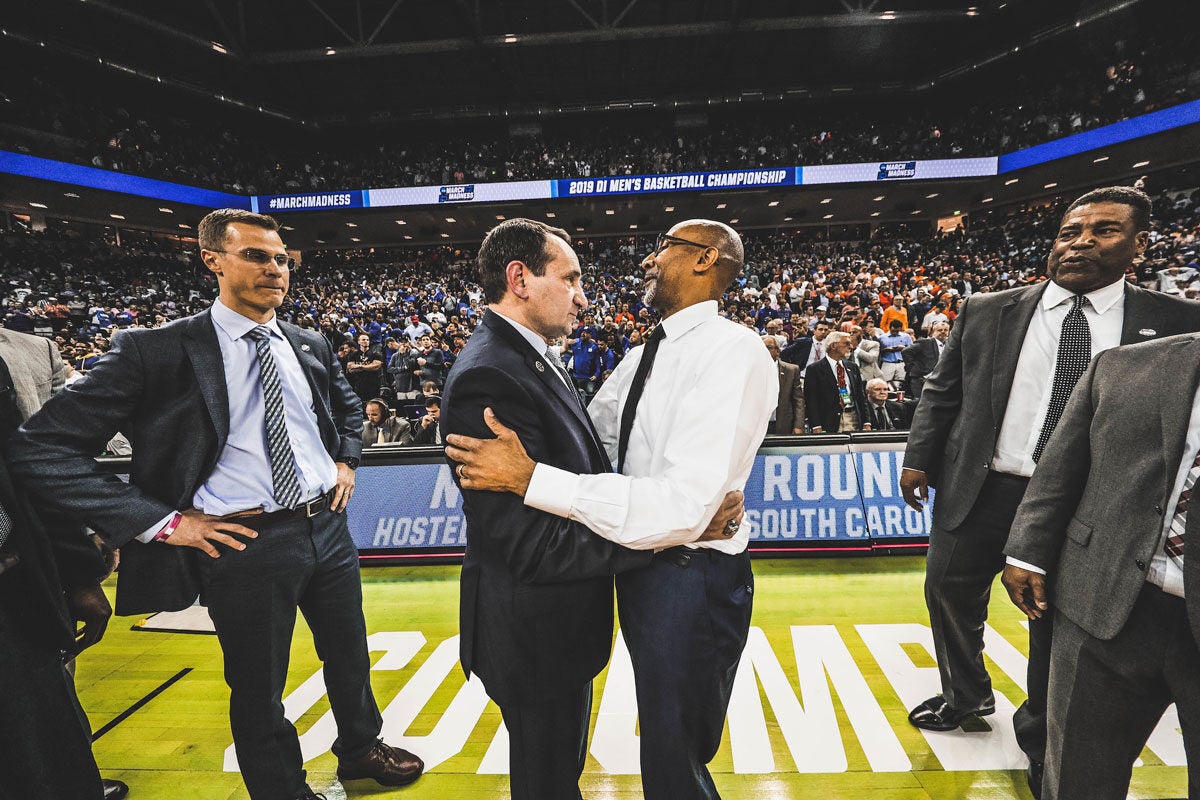 We felt every inch of this moment. In the pre-game press conferences. In Tacko Fall's "I won't allow (Zion) to put me on one of his highlight tapes" viral quote. In the courtside handshake between coach Dawkins and coach K before tipoff. In Aubrey Dawkins '18 wanting to help his dad do something at UCF no one else had.
We all know the game. At the buzzer: Duke 77. UCF 76.
The things that don't get talked about enough are the tactics and the strategy the staff put in to defend the Blue Devils. It was unbelievable.
UCF's fans were there and loud, and I remember noticing that from my courtside seat.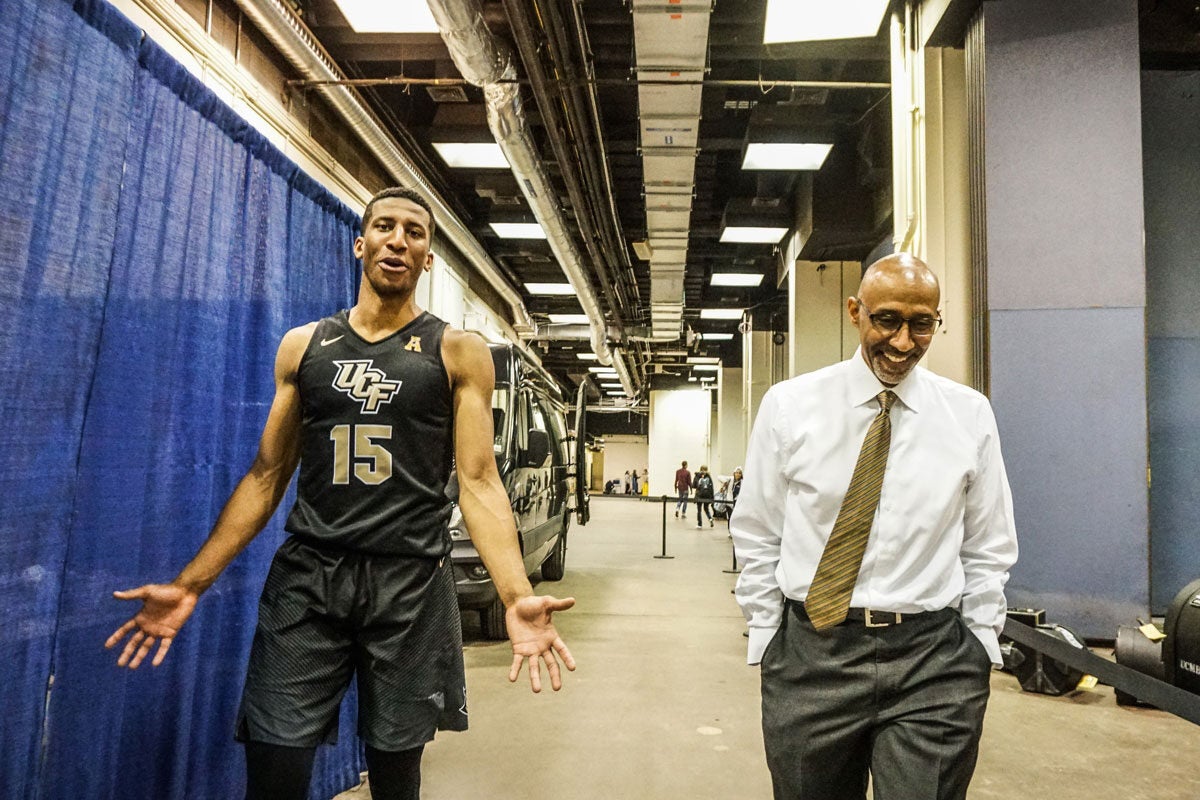 To this day, I'll see on my social media timelines when some random account poses the question, "What's the most heartbreaking sports moment?" and people will still say Aubrey rimming out the tip-in.
Nearly everyone in the world saw the postgame locker room scene because it had millions of views on Twitter and YouTube. The tears and the sobs. The heartbreak. How real and true and honest coach Dawkins was in that moment.
I felt for them. I felt for the kids. They were so geared in and ready to shock the world.
I use that phrase only because Duke was the top-ranked team in the country and we had never advanced to that moment before.
But this wasn't a Cinderella story.
I honestly think if UCF plays that game 10 times, the Knights are winning four of the 10. We would have had a legit shot to make it to the Final Four if that tip-in goes in — that's the kind of team UCF had become over those last four years.
It was quite a journey to watch it all happen.
The fact that it came on the heels of the football team's 25-0 run was the perfect ante up.
We doubled down and it made the nation wonder, what can't UCF do?
Between Shaquem Griffin '16, McKenzie Milton '19, Tacko, BJ — you had some of the most loveable characters in UCF history on campus at the same time. And on top of that, there was crossover appeal.
McKenzie Milton was going to basketball games to cheer on his friend, BJ Taylor. Guys were shouting each other out in press conferences. There was a lot of UCF synergy at that time. And it wasn't just because of the success. It was the people.
I will be the first to admit, as I said at the beginning, that I do not get attached to my teams the way some people do.
With those guys, I did.
They were so invested. They were so in love with UCF and with Central Florida and Orlando and that group just loved what it was doing. They loved being around the fans.
Chad Brown is just a big, loveable teddy bear. I respect Aubrey's integrity and the bond he and his dad share.
I can honestly say Tacko Fall is the kindest, most genuine student-athlete I've ever encountered. I saw him charm every reporter, every random stranger who stopped him in the airport for a photo, every person he interacted with. It was because of how likeable he was.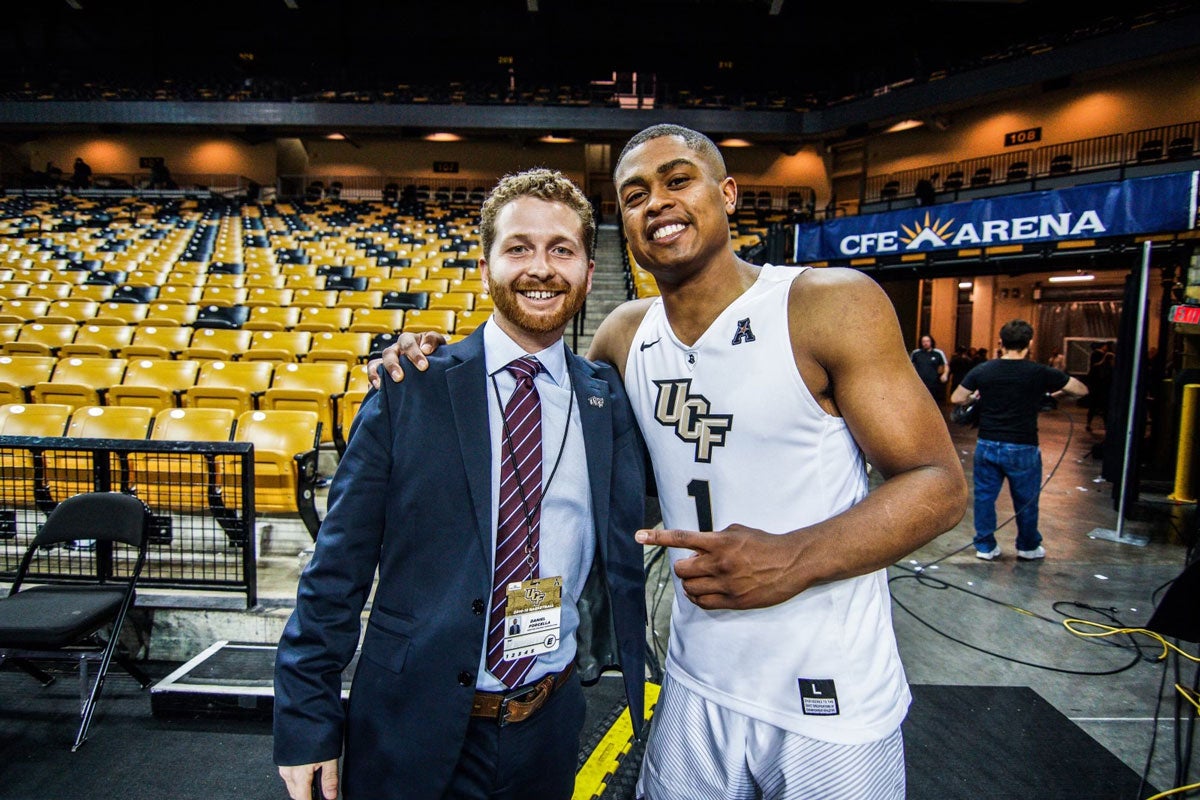 To this day, BJ Taylor asks me about my family every time we talk. He wants to see photos of my kids. I've been in this industry a long time. I haven't come across another young person like BJ.
Those guys had such an impact on my life. I think prior to that I didn't really allow it to happen. And that's the joy of what we do — we get to work with these young people who are so full of life and I don't know if I was taking advantage of it enough.
I think these guys gave me the gift of seeing how powerful it can be to let myself get lost in the fight. I got lost in the fight with them.
I think that run and that team gave UCF fans the hope for the future. I really do. The Knights can have success in anything they want.
And I can't wait to watch it happen.