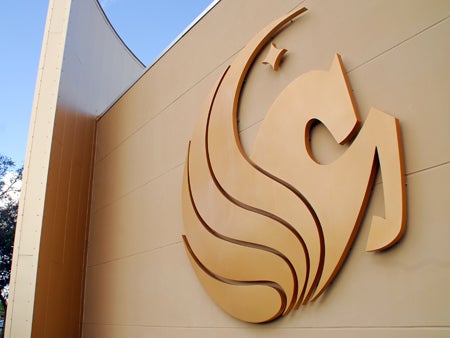 Orange County's former mayor, two returning trustees and a theme park resort executive have been appointed to the UCF Board of Trustees.
Gov. Rick Scott on Wednesday announced the appointments of Richard T. Crotty, Alan S. Florez and John R. Sprouls and the reappointment of Olga Calvet, who is a charter member of the UCF Board of Trustees. All of the appointments are subject to confirmation by the Florida Senate.
The new trustees will serve four- or five-year terms beginning today.
Crotty, 62, is among the first graduates of UCF, then known as Florida Technological University. He served for 14 years in the Florida Legislature, where he was the prime sponsor of a bill creating the first Prepaid College Tuition program in the United States. He also placed in the state budget the original funding for UCF's Institute for Simulation and Training.
Crotty served as Orange County's chairman and mayor for eight years. He is currently executive vice president for Crossman and Company. He will succeed trustee Joe Mantilla, who has served on the board since April 2010.
Florez will return as a UCF trustee. The 1998 UCF graduate previously served on the board for nearly four years until January 2010. Florez, 34, of Flagler Beach, is the executive vice president of Brown & Brown Insurance. Prior to joining Brown & Brown, Florez served as former Gov. Jeb Bush's deputy director of Legislative Affairs and special assistant.
Florez will succeed Phyllis Klock, a charter member of the Board of Trustees and a retired president and chief operating officer of CompBenefits Corp. She previously served as graduate program coordinator for UCF's College of Business Administration. Klock also is a former member of the UCF Foundation Board of Directors.
Sprouls is the executive vice president and chief executive officer of Universal Parks and Resorts. Sprouls, 52, of Windermere, joined Universal Orlando in 1996 as vice president of Human Resources after having spent 15 years in various senior level roles for The Seagram Company. Before that, he was a practicing attorney in New York and New Jersey.
Sprouls will succeed Judy Albertson, a Winter Park art consultant and active supporter of UCF's arts programs. A charter member of the UCF Board of Trustees, Albertson helped to establish the Friends of UCF for the Flying Horse Press. She also has served on an advisory committee for UCF's Judaic Studies program since its inception, and she is a member of the UCF Foundation Board.
Calvet, 61, of Orlando is a senior vice president and chief financial officer of Palmas Inc. She received an Accounting degree from UCF in 1971, and she has previously served as a Florida Supreme Court Judicial Nominating Commission member and as chair of the UCF Foundation.
The other members of the Board of Trustees are Chair Rick Walsh, Vice Chair Tom Yochum, Jim Atchison, Faculty Senate Chair Ida Cook, Ray Gilley, Michael J. Grindstaff, Harris Rosen and Student Body President Michael Kilbride.
More information about the Board of Trustees is available at https://bot.ucf.edu/.