The educational and career journey often looks different for those who chose military service. Meet three student veterans — Bryce Frase, Margarita Figueroa and Craig Plummer — who all served our country and are now preparing to graduate from UCF. Despite their different ages, careers, service branches and learning modalities, they've found a home and another path to success through UCF. The trio are among the more than 1,400 student veterans who call UCF home, leveraging the services offered by the Veterans Academic Resource Center and finding support and a sense of community with fellow student, faculty and staff veterans on campus.
Supporting Space Missions – Bryce Frase, U.S. Army
Bryce Frase can remember the exact moment he got the call from NASA.
Walking across campus in the spring of 2019 his mind was on his calculus exam when the phone rang.
Then came the news he had been selected for the Pathways Program, which provides students with the opportunity to explore federal careers while being paid for the work being performed. His assignment: Assist with the design and build of electrical equipment at the Kennedy Space Center's Advanced Concepts Lab.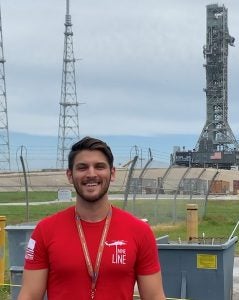 "I had to stop, sit down and cry for a little bit," Frase says.
For the last two-and-half-years, Bryce has been working full-time as an electrical engineer while being a full-time student at UCF and a KSC Pathways intern. NASA's highly selective Pathways Program has employed 47 UCF interns at KSC over the last five years.
The opportunity marked a turning point for the young Army veteran, who had dreamed of a career in space exploration ever since his grandmother surprised him with a telescope in elementary school. "It was the greatest thing in the world to see the moon, and the seas and craters," recalls Frase.
But after high school, Frase wasn't ready to follow his dreams of a career in outer space. The World Trade Center attacks had left a lasting impact on him as a child, and he knew his course would be to serve his country first.
He joined the U.S. Army in 2014, serving two years active duty and then four years in the reserves. A military police and correctional officer, he was deployed abroad for 14 months leading a team who handled high value detainees for U.S. government as part of Operation Enduring Freedom.
Starting as a student at UCF, Frase tapped the Veterans Academic Resource Center for support, receiving guidance on how to use the GI Bill and its benefits and spending hours at the center studying and doing homework.
Today, in his role at NASA, Frase supports the 3D Printing Center at KSC, aiding many space missions, including NASA's Space Launch System, by printing and testing new parts and tools for the mission.
This month, he'll receive an aerospace engineering degree at UCF. His courses have helped him become more proficient at his job, says Frase, who after graduation plans to stay on with NASA and continue his career in the space industry.
Developing Data for Decision-makers – Margarita Figueroa, U.S. Air Force
Margarita Figueroa finds herself in a new country every eight months. And that's exactly what she signed up for when she joined the U.S. Air Force three years ago.
Figueroa selected UCF Online in part because of the university's reputation for serving veterans, and in part because she wanted a degree in anthropology and she found UCF to be one of few schools to offer the program exclusively through remote learning.
The degree appealed to her desire to help with cross-cultural coordination.
"If we have ambassadors who have better understanding of one another's cultures we'll have better understanding between the U.S. and other countries," says Figueroa.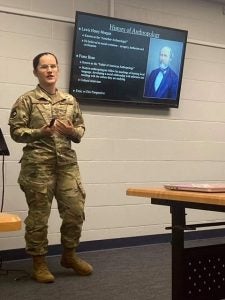 The ability to learn remotely was a necessity for Figueroa. As an active-duty intelligence analyst who compiles critical information about mission logistics for commanding officers, her work schedule can be unpredictable, and her days can be long — sometimes up to 15 hours. Attaining her education meant she needed the ability to take classes despite the time zone or continent of her deployment.
Figueroa is grateful that her professors were flexible and she easily connected with classmates through video conferences and discussion boards.
"UCF has been that dream school that has enabled me to do so much. UCF worked with me and my schedule and allowed me to do three or four classes at a time," she says. "It gave me the strength to keep going."
During most of her time at UCF, Figueroa was stationed in England at the Royal Air Force Lakenheath. Military duties took her on regular flights to Europe. During her final fall semester she was stationed at Tinker Air Force Base in Oklahoma City. She won't walk at graduation; she'll be deployed then to a training assignment at Nellis Air Force Base in Las Vegas.
The first in her family to attend college, graduation marks the opening of many more doors for Figueroa, who plans to spend her career with the Air Force. With a bachelor's degree she can now apply for officer school and pilot school, two options she's considering, along with the possibility of returning to UCF Online for a master's degree.
"I did something that no one thought I could do," she says. "I'm doing things I didn't even think I was able to do."
Safeguarding the Fleet – Craig Plummer, U.S. Navy
Craig Plummer's grandfather served in the U.S. Army and was taken prisoner in World War II during the Battle of the Bulge. His two older brothers served in the U.S. Navy and the third was in the U.S. Air Force.
"I felt I owed some sort of service to country and to show my grandfather [he could do it]," says Plummer. "My grandfather was very proud that all four of us siblings had gone into the service. I could see the twinkle in his eyes when we would visit him in uniform."
Growing up in a small town in Ohio, Plummer wasn't destined to take a traditional educational path. He found himself struggling in school and dropped out at 16. Two years later, he followed the family tradition by enlisting in the Navy. He would later take his GED to attain his high school diploma.
Plummer's military service would span more than two decades, with most of it providing technical and maintenance support to the aircraft carriers that became his home away from home. During his early years, he serviced the ship's boilers. Later, he advanced to aviation electrician where he specialized in testing, troubleshooting and repairing aircraft gauges.
In 2014, Plummer was diagnosed with Hodgkin's Lymphoma, news that would change the course of his life. Despite the toll of undergoing chemotherapy, Plummer was determined to meet both his academic and professional goals. During the next two years, he finished his bachelor's degree in business administration from Columbia College of Missouri, taking most of his classes on the base. During the same time, he completed his final years of military service, retiring after 25 years at the rank of Senior Chief Petty Officer, the second highest enlisted rank.
In 2016, Plummer and his wife moved to Florida where he took a job with Disney working in the internet help desk and call center. He knew he wanted to continue his career in the hospitality industry, and after learning about the programs offered nearby through UCF's Rosen College of Hospitality Management, he applied.
He enrolled in the spring of 2020, just months before the pandemic hit. Even with the shift to distance learning and as a non-traditional student at UCF, Plummer has felt closely connected to the university.
"I was always made to feel part of the family and included at UCF," he says.
Like Frase, Plummer tapped the assistance of the VARC each semester to help him secure the benefits of the GI Bill. He also followed a veterans peer group, Veterans Knights, and was able to meet other student veterans in his classes.
Commencement will be special moment for Plummer. He'll be receiving a master's in hospitality and tourism management. He'll be taking stock in the completion of a successful military career. He will be celebrating his victories in the battle against his cancer. And, this time — for what will be the first time — he'll be walking across the graduation stage.