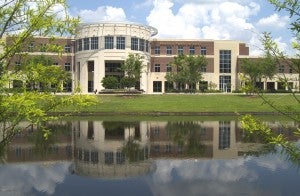 Students in the College of Health and Public Affairs who face economic hardship may be eligible to receive scholarship support thanks to federal funding that aims to increase the number of health professionals working in underserved areas.
The U.S. Department of Health and Human Services has awarded the college $636,147 to provide scholarships for full-time students in several health-related programs during the 2010-2011 academic year.
Full-time undergraduates in radiologic sciences and communication sciences and disorders along with graduate students in communication sciences and disorders, health services administration, and social work are eligible to apply for the financial support.
Applications for the scholarship will be distributed by Knights E-Mail to students in these programs during the first week of the fall semester. Applicants must meet federal poverty guidelines.
This is the second year the college has received a grant through the federal government's Health Resources and Services Administration Scholarship program. The program helps students from disadvantaged backgrounds complete a health or allied health professions program. In many cases, graduates of these programs return to their home communities to work.
Last year's grant provided scholarship assistance for 102 students in the college, said Dean Michael Frumkin.