Griffith Parks is the College of Medicine's new associate dean for research.
In announcing his promotion, Deborah German, vice president for health affairs and dean, praised the work Parks has done during his two years as interim associate dean.
"I don't think anyone has earned this role more," she says. "During the past two years, Parks has reorganized the College of Medicine's Office of Research, increased investment in new research equipment and programs, and led great successes by our faculty in obtaining extramural funding for their research programs."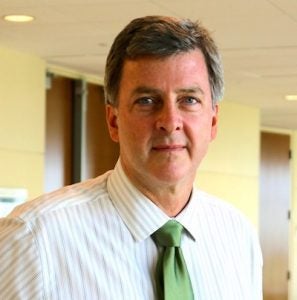 In his new role, Parks will have responsibility for overseeing the College of Medicine's research mission, including prioritizing scientific areas and investments, optimizing research space and guiding the development of a new research strategic plan. He will continue to develop scientific collaborations across UCF and with the college's external partners to grow and diversify the medical school's research portfolio. This is an especially important initiative as UCF continues developing its new Academic Health Sciences Center to increase interdisciplinary medical research, education and patient care.
Parks will continue to serve as director of the Burnett School of Biomedical Sciences to provide consistent strategic leadership to the medical school's entire research enterprise.
"I am excited for this opportunity to help lead the research mission of the College of Medicine," Parks says. "We have terrific researchers doing high impact research, and I see my role as providing resources and infrastructure to support their current research programs as well as develop new initiatives."
One of Park's duties will be fostering a greater College of Medicine-wide approach to research. In that effort, he will continue to be supported by the COM Research Council that includes chairs or designated representatives from the college's five academic departments – the Burnett School, Population Health Sciences, Clinical Sciences, Internal Medicine and Medical Education. The council will be led by Edward Ross, in his capacity as assistant dean for research and chair of Internal Medicine. The council will provide input into new areas of clinical research and translational opportunities between basic scientists and clinicians.
Parks received his Ph.D. in Biochemistry from the University of Wisconsin-Madison at the Institute for Molecular Virology. At Northwestern University, he was an American Cancer Society postdoctoral fellow and an associate with the Howard Hughes Institute. He was on the faculty at Wake Forest Medical Center for 22 years, with nine years as professor and chairman of the Department of Microbiology and Immunology. He joined UCF in 2014 as director of the Burnett School of Biomedical Sciences. He has served as permanent chair on two separate NIH Study Sections, as well as serving on the editorial boards of both Journal of Virology and Virology for the past 15 years.
His research focuses on the molecular and cell biology of human pathogenic viruses and engineering viruses as novel therapeutic agents for conditions such as cancer.