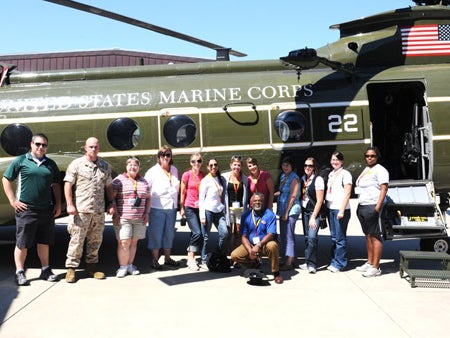 Staff from UCF Career Services and the Recreation and Wellness Center participated in the Marine Corps Officer Educators' Workshop at the Marine Corps Base, Quantico, Virginia from June 27-July 1. Kitty Boynton and Laura Crouch participated from Career Services, along with Catherine Garland and Andrea Snead from the Recreation and Wellness Center.
The workshop was designed to provide educators with an opportunity to see firsthand how highly qualified college students are recruited, screened and developed into Marine officers. Participants were able to observe and even participate in several hands on activities at the Officer Candidates School, Basic School and Marine Corps University. This enabled UCF staff to have a better understanding of the entire recruitment and training process that a Marine officer candidate would go through, in order to better be able to advise students who may be interested in this career option.
The trip highlights included a flight in a CH-46 Sea Knight helicopter from Marine Helicopter Squadron One (HMX-1). HMX-1 is the unit responsible for the transportation of the United States president. In addition, the group attended a Marine Corps Sunset Parade at Arlington National Cemetery and viewed performances by the Commandant's Own Drum and Bugle Corps and the Marine Corps Silent Drill Platoon.
Career Services and RWC is an office in the Division of Student Development and Enrollment Services.