Sonia Cox didn't feel right. There was pressure in her chest.
She asked her husband, Robert, to pull the car over in a parking lot. She vomited due to the pain.
Robert wasted no time and drove his wife of 26 years straight to Viera Hospital in Brevard County. Doctors told her she was having a heart attack.
"I just started crying," she says. "I'm only 48. How can this be?"
"We found out it was congenital," Robert adds. "She's lucky it didn't happen sooner."
Fast forward 369 days, and Sonia will suit up in her cap and gown Dec. 15 as one of UCF's 5,700 fall semester graduates.
"I was just thinking about this the other day: A year ago, I was in a hospital, and now a year later I'm getting my degree. I can't believe it," she says. "I'm excited, happy and emotional because it's been a long road."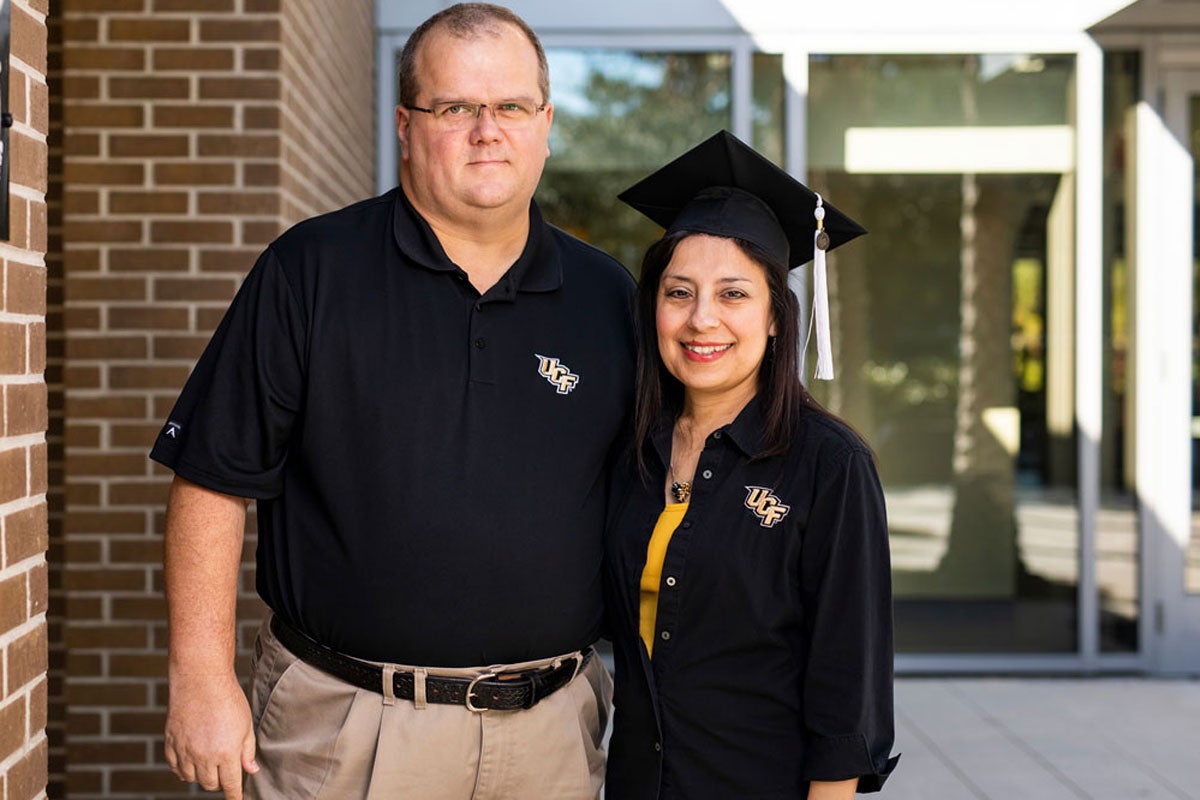 In Sickness and In Health
Sonia and Robert met in 1988 as employees at a Walmart in east Orlando. Robert was attending UCF at the time, and Sonia had just moved to the area from California.
Weeks later, Robert asked her on a date to Olive Garden and a short road trip to visit his sister, who was a student at Stetson.
"I'm excited, happy and emotional because it's been a long road." — Sonia Cox, UCF graduate
"We have been inseparable ever since," Robert says.
In May 1991, they were married on UCF's campus near Ferrell Commons and had their reception at Wild Pizza, a dining spot that has since closed.
Robert left school before graduating to accept a full-time position in retail management. Through the years, his job moved their family 16 times before they relocated to Titusville in 2011.
It was around this time that Robert was diagnosed with young onset Parkinson's disease, a neurodegenerative disorder that has no known cure.
"She's incredibly supportive and encouraging, but it's been difficult," Robert says. "Being best friends and the love we have — that's just what makes it work."
"Do Not Ever Give Up on Your Dreams and Goals"
For as much as Sonia has supported her husband through his health issues, Robert has been there to encourage her through her journey in returning to school.
"It's always been a goal of mine," she says. "When I first graduated high school, I went to college. Things changed. I met [Robert], got married, had the kids and put my life on hold. Once our kids got older, that's when I decided to go back. I was determined to follow my dream."
She started at Eastern Florida State College in 2013. After earning her associate's degree, she enrolled in UCF Online's interdisciplinary studies degree program, with focuses on public administration and education and a minor in Latin America studies.
"It's always been a goal of mine." — Sonia Cox
After her heart attack, she spent a week in the hospital before returning to her job at the Brevard County Property Appraiser's office. The next month, she enrolled for the spring semester to stay on track to graduate.
On Dec. 7, 2018 — her 49th birthday — she picked up her cap and gown at UCF FAIRWINDS Alumni Center. Her other big birthday plans: go shopping for a new dress to wear to the commencement ceremony, where Robert and their three children will be in the stands to watch her cross the stage.
"I'm very, very proud of her. After all these years, she never thought she would be able to accomplish this goal," Robert says. "She's grown so much through this process, not just through the education part, but personally as well."
Sonia says she would like to pursue a career where she feels like she's helping the community, whether that's in the government, education or nonprofit sector.
Wherever this degree takes her, she knows UCF will always remain a part of their lives.
"It truly is like family to us," she says.
As she reflects on the experience that has brought her to this point, she shares some of the life lessons she has learned and the advice she would give to those still in school:
"Be honest to yourself and others. This starts by being yourself."
"Do not be afraid to make mistakes and admit them when you do."
"Live in the moment. Plan for the future. But most of all have fun."
"Fall in love. And that can mean a lot of different things."
"Do not ever give up on your dreams and goals."