About 45 percent of college students face food insecurity, according to a report earlier this year from The Hope Center for College, Community, and Justice. The United States Department of Agriculture defines the issue as a lack of consistent access to food for an active, healthy lifestyle.
While the struggle can be very real when you're on a college budget, UCF has resources on campus to help. Knights Pantry is a free clothing closet and food pantry on campus that allows students to take five items of their choosing during the week. UCF Cares can also provide micro-loans for students in need.
Whether you're using items from Knights Pantry or ones you purchased while grocery shopping, Robb Seltzer, instructor and director of food and beverage operations at Rosen College of Hospitality Management, has some tips for creating tasty meals on a budget.
Which pieces of kitchen equipment are most useful to have?
You can do more with a knife than anything else. Don't buy a grocery store knife for $5, invest some money in a good one because it will go a long way. This is something you may want to ask for for your birthday or Christmas.
You should also get some good pots. Don't get the real thin stuff. Get something with a little weight on the bottom so things don't burn.
What are some tips for cooking on a budget?
I have a saying, "Cook once, eat twice — or three times if you can." So try to make dishes or cook things that you can use to make other dishes. Typically the most expensive part of a meal is animal protein, so one of the best ways to save money is to shop vegetarian or vegan.
Another way to save money is to consider store brands instead of national brands. I'm a big fan of store brands because I was in the distribution business for a long time and know what goes into them. It's not just a matter of a store slapping their name on a can and selling it. They actually have quality control and specification that oftentimes require higher qualification than national brands.
One of the most popular dishes with students on a budget is ramen. It's really versatile and there are ways we can make it into multiple meals, whether it's a soup, you use just the noodles, use leftover ramen for new dishes, or take leftovers and use them with ramen to make a new meal as well.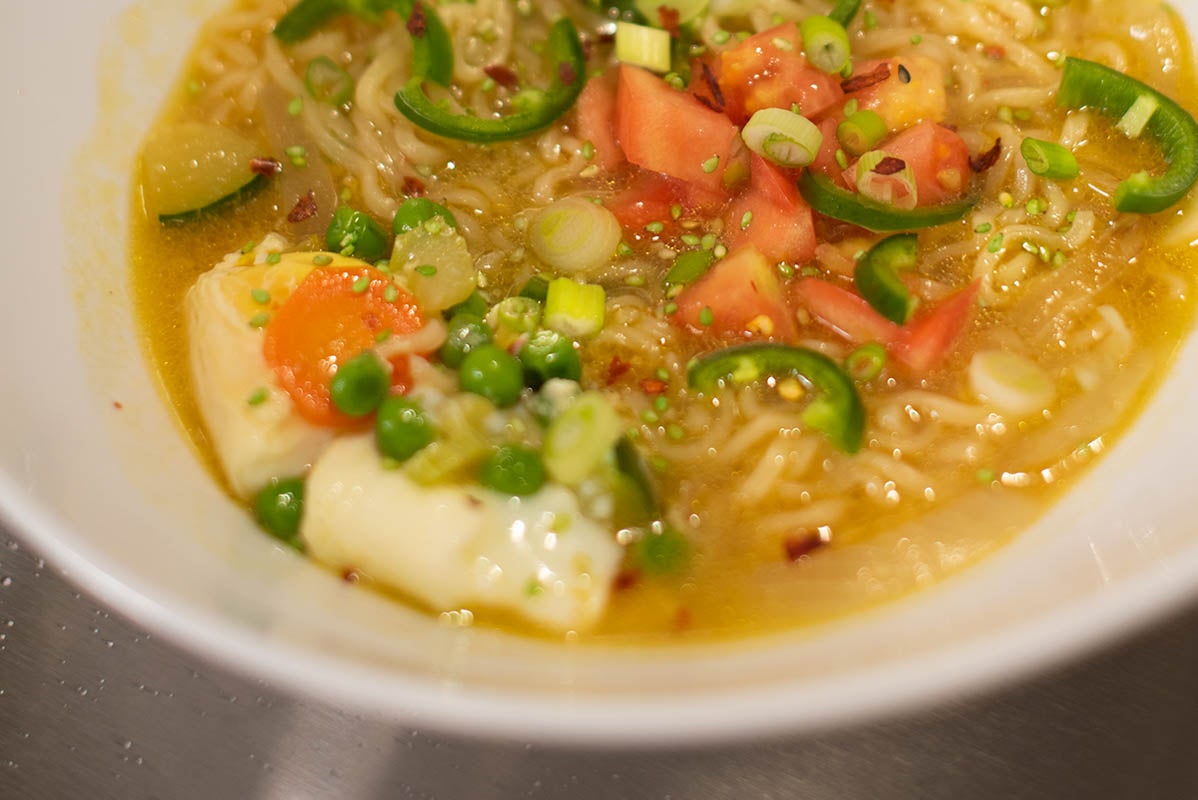 What are some misconceptions about food quality?
It's a really confusing world of food out there, so it's important to understand what you are buying. Some terms on labels are controlled and some are not. For example, there are about 100 different designations for the term organic. There is no organization that controls all of them, but probably the best one is "USDA Organic" because it's accepted worldwide.
The best thing you can do is read your labels, read the ingredient labels so you know what is in the food and read the nutrition labels. Pay attention to the order of ingredients when reading ingredient labels because these lists are written in descending order of amount. So, if the first thing on an ingredient list is water then you're buying something that is mostly water.
What are some ingredients you should have in the pantry?
When you cook you really need to keep in mind the flavors you want to use or create and those are based on taste.
There are four major tastes that most people are familiar with: sweet, sour, salty and bitter. There is also umami, which relates to savory flavors, and also capsicum, which can be in the form of cayenne pepper, hot sauce or other spicy things.
I try to have items that embody each one of those in the kitchen. Salt and pepper are good starts. For sweet you need things such as white or brown sugar and honey. On the bitter side, I look for mustard. Acids such as vinegars or something fresh like limes provide that sour flavor. You create that umami flavor in the pan as you cook [meats], but foods like mushrooms have that flavor as well.
Once you learn to work with those and master some basic techniques, then you can pretty much create anything.