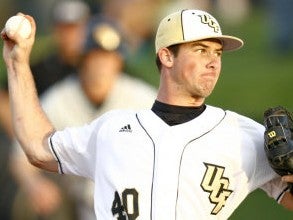 UCF produced an amazing turnaround from 2009 to 2010. Backed by some of the most talented returning players in Division I as well as head coach Terry Rooney's first recruiting class, the Knights finished the 2010 campaign with a 33-22 record and a 10-14 mark in Conference USA (UCF was 22-35 and 9-15 in 2009).
2010 In the Books
The 33 wins were the most by the Black and Gold since 2005, while the 10 league victories set the UCF record for the most wins since joining C-USA in 2006.
To prove how close UCF was at finishing near the top of the C-USA standings, it completed the year just two games back of third place.
Those 10 wins included its first C-USA road sweep (second-place Southern Miss) and its first series win at Tulane.
Even More Comparisons from 2009 to 2010
The Knights finished 2009 with a RPI from No. 146-150. After the 2010 regular season, they were No. 77 according to WarrenNolan.com and No. 78 by BoydsWorld.com.
That RPI was also the fourth-highest in C-USA at the conclusion of the `10 regular season.
UCF's batting average swelled 46 points from .297 to .343.
Its team ERA dropped from 7.47 to 6.01.
The 2010 freshmen alone stole more bases (47) than UCF attempted as an entire team in 2009 (45).
The fielding percentage rose from .958 to .963.
That .963 mark is the second-highest in the last five years.
UCF turned 61 double plays in 55 games, tying the school record set in 1985, and that season it played 87 games.
A good chunk of those numbers came from freshmen infielders Austin Johnston (2B), Darnell Sweeney (SS) and Chris Taladay (3B), along with a sophomore behind the plate in Beau Taylor. Add in one of the best defensive first baseman in the game, junior Jonathan Griffin, and UCF's infield looks very strong for 2011.
UCF's Single-Season Record Book
In a nutshell, several of UCF's offensive records were shattered in 2010.
The 2010 Knights set the school record for:
Batting Average – .343
Home Runs – 78
Slugging Percentage – .538
Hit By Pitch – 96
Individually, Chris Duffy broke the school records with a .447 batting average, 21 homers, 81 RBI and .850 slugging percentage. He also finished in the top-10 with 92 hits, 175 total bases and a .539 OBP.
And looking at Shane Brown, he set a school mark with 22 HBP, and completed his senior year in the top-10 with a .428 batting average, 89 hits, 25 doubles, 144 total bases, .692 slugging percentage and a .541 OBP.
Freshman Austin Johnston placed fourth with 12 sacrifice bunts and ninth with 15 HBP.
Freshman Joe Rogers collected eight saves, moving him into a tie for third.
UCF's Career Record Book
The Chris Duffy and Shane Brown show ended in 2010, but not before they destroyed the old UCF career record charts.
Duffy finished: first in homers (43), fourth in slugging (.585), fifth in RBI (182) and total bases (416) and ninth in hits (235).
Brown ranked: first in HBP (55), second in doubles (63), third in OBP (.464) and sac flies (14), sixth in batting average (.363) and total bases (391), seventh in hits (251), eighth in slugging (.565) and RBI (148) and ninth in runs (152) and homers (25).
And amazingly a freshman made his way onto the career register as well, as Joe Rogers notched eight saves, good for seventh already on the all-time saves list.
C-USA's Record Book
Shane Brown (.428) and Chris Duffy (.447) became the first teammates to both finish with at least a .400 batting average in C-USA history.
In fact, Duffy's average was the highest ever in the league, while Brown's mark placed him fourth on the single-season chart.
Duffy's .850 slugging also gave him the C-USA record.
Brown's .541 on-base percentage, along with Duffy's OBP of .539, were both a little shy of Kevin Youkillis' (Cincinnati, 2001) all-time record of .549. The next highest OBP in C-USA history is below .520.
As a team, UCF's .343 batting average also set a C-USA record, and it became just the second team all-time to post an average of at least .340 (Tulane, .340, 1998).
Not satisfied with the batting average title, UCF's .435 on-base percentage also gave it first place.
Duffy's 182 career RBI, 43 homers rank among the top-20 players in C-USA.
Meanwhile, Brown's 63 2B also placed him in the top-20.
Always Room for More Home Run Notes
Last year, the Knights set the single-season home run mark with 68 homers. One year later in 2010, they shattered it again by blasting 78 out of the park, all in 55 games.
Chris Duffy (21), Shane Brown (10) and Jonathan Griffin (13) became the first UCF trio since 1998 to each hit at least 10 homers. It marked just the third time in school history the Knights had three hitters with 10 dingers or more.
The Knights hit four long balls in a game four different times in 2010, and went back-to-back on four different occasions.
Three Knights also hit grand slams: Derek Luciano vs. Hartford March 14, Ronnie Richardson vs. Memphis April 30 and Chris Duffy at Tulane May 22.
A total of six players hammered out at least five homers.
On March 17 at Stetson, Duffy recorded his 10th homer in game No. 18, becoming the fastest UCF player in history to reach that plateau.
The Top C-USA Freshmen are Right Here at UCF
The following notes only include C-USA freshmen and their stats at the conclusion of the regular season:
UCF boasted the top three freshmen hitters in C-USA, as Darnell Sweeney (.358), Chris Taladay (.352) and Ryan Breen (.348) finished 1-2-3 in the league's freshman batting average race.
In other categories, Sweeney led all C-USA freshmen in at-bats (232), hits (83) and stolen bases (17).
Taladay paced the league in doubles (19), total bases (117), slugging (.557) and OPS (.960).
Johnston had the most sac bunts with 12 and HBP with 15.
Richardson posted the highest on-base percentage at .441.
Larger Than Life
The 2010 Seniors
Shane Brown: One of the purest hitters UCF has ever seen…Lifetime .363 hitter with 25 homers and 63 doubles.
Chris Duffy: A sweet swing with exceptional power who finished his UCF career as the top home run hitter of all-time.
Matt Goodyear: The vocal leader appeared in 23 games in four seasons, including his career-long 4.2-inning outing last week vs. JU.
Matt Manning: Left his mark in just two years on the mound with his passion for the game and sidearm delivery…Appeared in 22 games with four saves this year.
Cory Weech: After joining UCF as a sophomore, appeared in 27 games last year which was the fifth most in school history…He is 4-1 lifetime as a Knight.
2010 C-USA Postseason Awards
UCF placed two players on the All-C-USA First Team for the first time since joining the league in 2006.
Chris Taladay, meanwhile, was selected as the Freshman of the Year, becoming the first Knight since Dee Brown in 2002 when he played in the Atlantic Sun to earn a league's freshman of the year award.
UCF's Awards
Fr. 3B Chris Taladay – Freshman of the Year, All-Freshman Team
Sr. OF Chris Duffy – All-C-USA First Team
Sr. OF Shane Brown – All-C-USA First Team
Fr. SS Darnell Sweeney – All-Freshman Team
Fr. LHP Joe Rogers – All-Freshman Team
Top UCF Hitting Streaks
26 – Mike Myers – 4/3/01-5/19/01
22 – Shane Brown – 3/4/09-4/7/09
21 – Beau Taylor – 4/13/10-5/22/10
20 – Chris Duffy – 3/5/10-4/3/10 & Colin Arnold – 3/17/09-4/15/09
MMMBop
Not only did Shane Brown and Chris Duffy become the first UCF and C-USA duo to hit at least .400 in the same season, they also enabled the Knights to serve as the only team in the country in 2010 to have two players with averages of at least .420.
U Can't Touch This
UCF ended the season with a 14-game non-conference winning streak. That was the longest since a 14-game spurt in 2001 (the 1995 club had an 18-game streak). In 2010, the 14-game stretch included wins against seven different Florida programs (Miami, FAU, Jacksonville, South Florida, Stetson, Bethune-Cookman, North Florida).
UCF went 23-8 in non-league tilts. In those 31 games, Chris Duffy was 57-for-115 for a .496 average along with posting 14 homers, 50 RBI and 14 doubles.
As a team, the Knights had a .566 slugging percentage and a .443 on-base percentage for a 1.009 OPS.
Freshman Joe Rogers was 4-0 with a 1.33 ERA and four saves outside of C-USA, as opposing teams had a combined 8.47 ERA against the Knights offense.
Shine
The UCF pen combined for 15 saves this year. That was the second most in school history.
Joe Rogers, who made three starts as well, owned eight of those saves, while senior Matt Manning had four.
Can't Go Higher Than That
There are 301 teams at the D-I level. That means there are 903 starting outfielders in the nation, at the minimum. And according to Yahoo! Sports, UCF has one of the best of the bunch.
Throughout the year Kendall Rogers has moved Chris Duffy up his top-10, but on April 14 the senior finally secured the No. 1 position and remained in that spot up to the end of 2010.
The national recognition continued when on May 20 Duffy was named one of 25 semifinalists for the Dick Howser Trophy, given annually to the nation's top player.
UCF's Best Season in C-USA Play
2006: .264 BA, 108 R, 15 HR, .383 SLG, .353 OBP
2007: .278 BA, 108 R, 14 HR, .383 SLG, .344 OBP
2008: .294 BA, 144 R, 17 HR, .418 SLG, .380 OBP
2009: .302 BA, 158 R, 27 HR, .468 SLG, .386 OBP
2010: .325 BA, 174 R, 29 HR, .499 SLG, .424 OBP