Fifty years after Apollo 8 became NASA's first mission to circle the moon, UCF invites the community to explore this celestial body from right here on Earth.
UCF's Robinson Observatory will host International Observe the Moon Night on Saturday, Oct. 20, in front of the Reflecting Pond. Started in 2010 by NASA's Lunar Reconnaissance Orbiter mission office, this annual event invites communities to celebrate lunar science and exploration.
Adrienne Dove, an assistant professor in the physics department, hosted the event as a graduate student at her previous institution before bringing it to the UCF campus.
"Part of it is getting people to recognize that we have this big celestial neighbor that is commonly seen in the day and night sky, but many people don't know much about the science behind it," she says. "So we are trying to both engage the public in looking at the moon as part of our lives and our history, but also thinking about the cool science that's being done."
Telescopes and volunteers will be at the ready to help the public find the best view of the moon. In addition, there will be one telescope set up with a camera feed that will be projected on a screen so experts can share specific features of the moon with the public. With a little luck, Mars and Saturn will be visible as well.
At UCF, International Observe the Moon Night is just one of many Knights Under the Stars events hosted by Robinson Observatory and the student-run Astronomy Society.
"We couldn't run public events without the Astronomy Society's students. They're super helpful and very enthusiastic. Plus it's a great learning opportunity for them," says Yan Fernandez, the director of Robinson Observatory.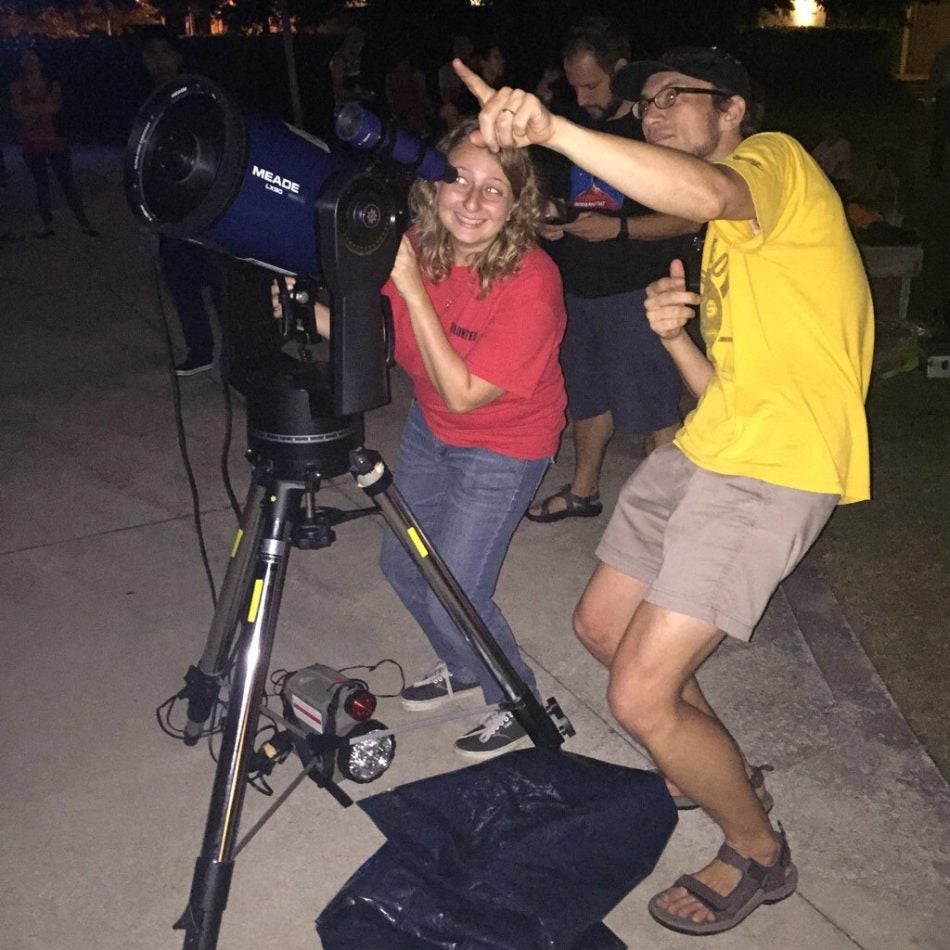 Students and the community can watch the moon through powerful telescopes this Saturday at UCF.
The event serves as an opportunity for student-volunteers to develop public engagement and science communications skills.
Beyond having experts on hand to guide the public to the best lunar views, the library and a number of clubs will be on hand hosting booths and activities to engage audiences of all ages. From meteorites to water rockets to exploring moon craters, there will be lots of opportunities for visitors to learn more about astronomy and physics.
Dove and Fernandez are excited to bring this event to UCF for the fifth year, expressing that it is a great way to not only highlight the planetary sciences group and the observatory, but to also bring families and students of all ages to campus to see the research that is being done.
The event will take place from 6:30-9:30 p.m., weather permitting. For weather updates, follow the observatory on Facebook or Twitter.
It is free and open to the public. If you're unable to make it to this event, keep an eye on the Robinson Observatory website for more upcoming events, including the UCF football team's Space Game on Nov. 1, and a lunar eclipse next semester.