Few of us, if we're honest, paid full attention to the actions of task forces or crisis and emergency managers — until mid-March. Now, the world practically turns on their every move. At a most coincidental time, UCF is about to graduate its first three students from the Masters of Emergency and Crisis Management (MECM) program. They happen to be at the leading edge of an oncoming wave.
"Because the program is so young, we can adjust the lessons to reflect whatever is going on in real time." – Claire Connolly Knox, director of the program.
"Students are attracted to the program because they've been directly impacted by recent disasters — hurricanes, the BP oil spill, the Pulse Nightclub massacre, and now the pandemic," says Claire Connolly Knox, director of the program. "Interest has taken off almost exponentially."
Both the bachelor's and master's programs in emergency management launched in Fall 2018. Initial projections of 20 students taking up the major by 2020 has been raised to 150 for the coming fall. And U.S. News and World Report ranked UCF's MECM program No. 2 in the nation.
The first three graduates, and Knox, provide a wide-lens picture of who is at the heart of emergency and crisis management.
The Director
It takes only a few seconds before Knox's passion for the environment can be heard clearly. A minute later, the Louisiana Cajun accent also sneaks in.
"Growing up in the coastal wetlands, I understood how fragile our relationship is with nature, and the impact it can have when it breaks down. The wetlands are the first line of defense against hurricanes."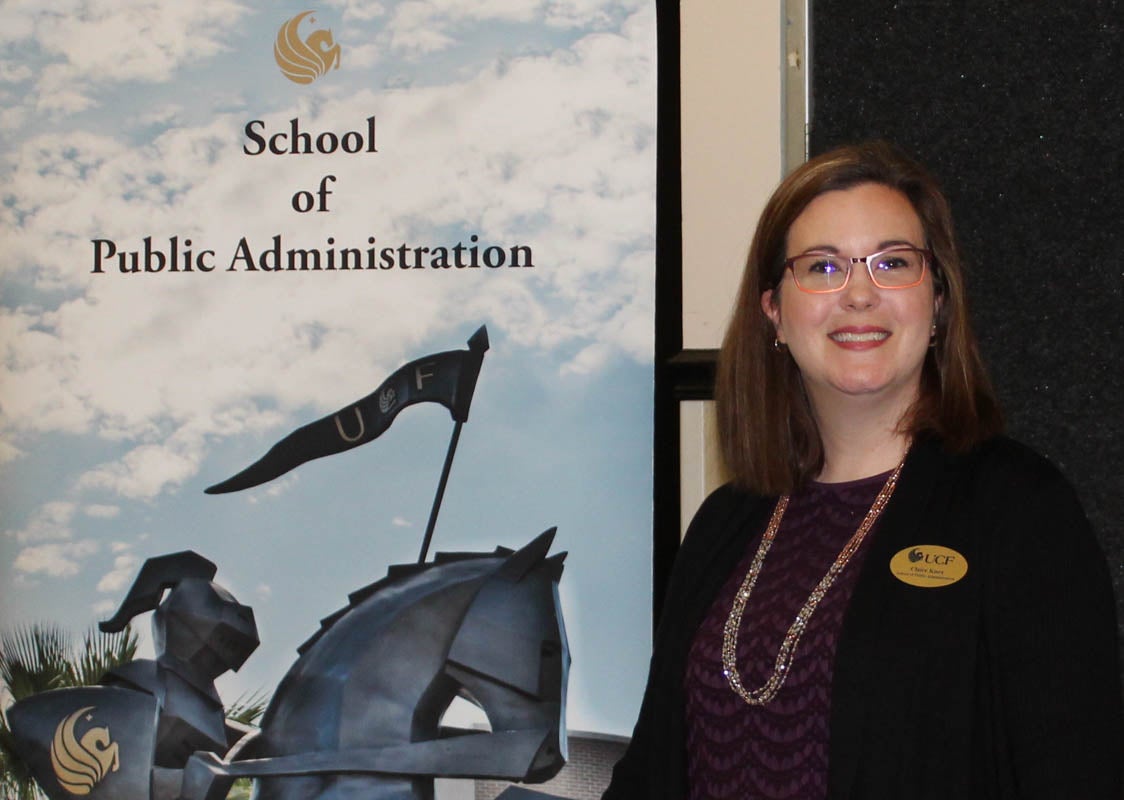 Still, she had no idea how bad it could be. While studying for her master's in public administration at Florida State University in 2005, Hurricane Katrina devastated her beloved Bayou State. The scrambled response became a series of tragic lessons learned — communication, collaboration, basic preparedness. The aftermath also kick-started Knox on a path that drew her to UCF, in a region with more than its share of crises and at a school willing to adopt new ideas.
"Because the program is so young, we can adjust the lessons to reflect whatever is going on in real time. That's essential in this dynamic and complex profession," she says.
At the moment, she and other program faculty are literally creating new teaching modules derived from the ongoing COVID-19 experience. The team in the MECM curriculum includes some of the most published and cited scholars in this discipline, as well as an advisory board of practitioners from every sector. Knox also points to a group just as valuable: the students.
"Something other than fancy titles and hats is driving them," she says. "It's their hearts. They make the program real because of their own experiences."
The Security Specialist
Jaime Garcia first recognized a whole new world opening in his field of expertise, ironically the same day he had to close himself off.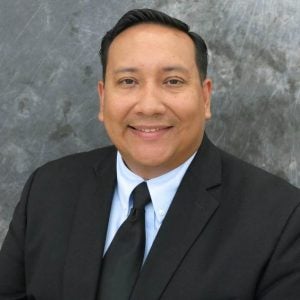 On March 16, Garcia was thinking about graduation, job prospects, and finishing up his internship with the Osceola County Office of Emergency Management. At the door of the county building, he was asked if he'd been in any crowds the previous weekend. As a then part-time security guard at the Magic Kingdom, Garcia had. He spent the next 14 days in quarantine watching the news. What he saw and heard from Ecuador, where he was born and raised, only emboldened his reasons for pursuing his MECM.
"People were dying, the morgues were full, and they didn't know what to do because there had been no planning," says Garcia. "Here, even though I didn't like being quarantined, I knew there was a good reason. The contrast proves why we need good people making decisions before and during a crisis."
Garcia's first lessons came from his father, a doctor. While many people in authority, including doctors, used their positions in Ecuador to hoard essentials and profit from them, Garcia's father would drive into rural areas and distribute vaccines and treatments for free.
"He said helping people was always the right thing to do."
As a teenager, Garcia coordinated a group of classmates to collect food and clothes for families following a mudslide. After moving to Charlotte, North Carolina, he took a group of security colleagues to deliver water to evacuees in the Superdome following Hurricane Katrina.
"We have so many blessings in the U.S., but that made me realize we can never take them for granted."
All of these experiences led Garcia to enter the MECM program when it launched in 2018. "It's a continuation of what I love doing," he says. "We discuss how things are always changing and how to prepare for anything."
At work he's been in discussions about crises like water contamination or a second outbreak of COVID-19.
"We're also preparing for the possibility of severe weather later this week."
The Meteorologist
It's 8:30 a.m. and Maureen McCann is in full stride. A meteorologist for Spectrum News 13, she's already been on the air 20 times this morning to give weather updates. In the midst of Central Florida's singular focus on COVID-19, McCann needs to find a way to alert us that, yes, a severe storm is a distinct possibility in the next 72 hours. Weather events pay no attention to lockdown orders.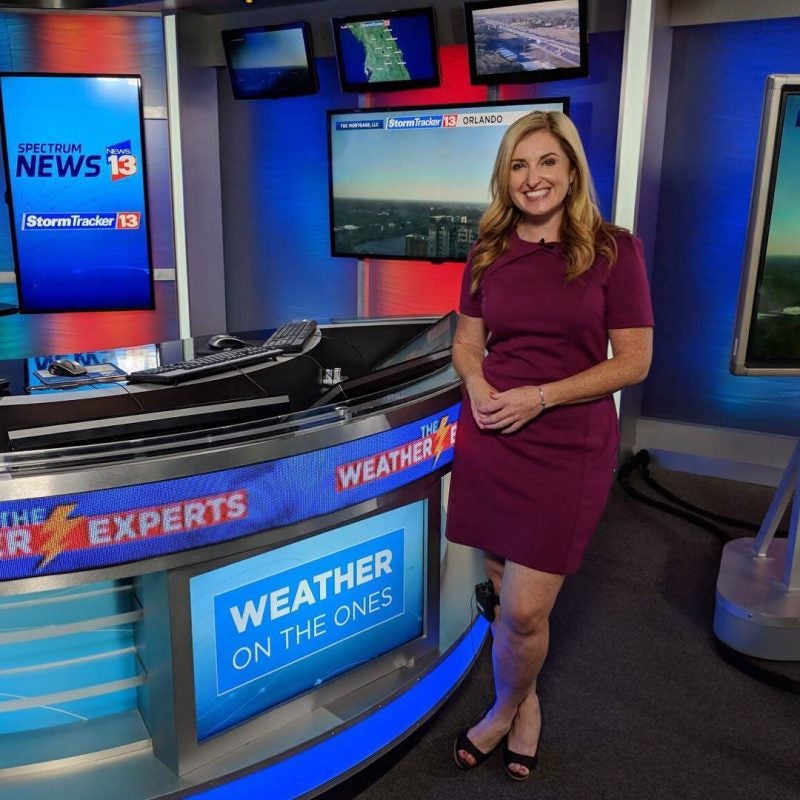 "Our motto is, 'Don't be scared, be prepared,' " she says. "That's true in any emergency situation — the virus, the weather, a severe storm. The more I know about crisis management, the better I can communicate preparedness to viewers."
"Watching the meteorologists on TV made me less scared," she says. "I decided that's what I wanted to do — warn people and calm them at the same time."
After earning a bachelor's degree from Cornell University, McCann's television career led her around the country. Whether she was in Austin or Denver, something about Central Florida intrigued her. Specifically, the storms. When she moved here in 2013, she also had an unfinished master's degree. The launch of UCF's MECM in 2018 seemed fortuitous.
"I liked that it's a fresh program and the instructors are willing to adjust so we can collaborate on real-time events."
She and her cohorts have gleaned lessons from hurricanes Irma, Maria, Michael and Dorian. Even the meteorologist has had her light-bulb moments.
"I'm a scientist with an opportunity to communicate directly with people who will be impacted by an event. That's a form of emergency management in itself.
"Another big takeaway is the need to network before a disaster, not during. My network has expanded through the program to include security, conservation, a first responder. The boots on the ground … that's an interesting perspective."
The Paramedic
Chris Goodson is catching his breath. He's just finished a workout near his neighborhood on the south side of Chicago, and now he's foraging for what we've all come to know in recent weeks as a PPE kit. A risk and safety specialist for Superior Ambulance, he's waiting to find out where he's needed next.
"I like to be on the move," Goodson says.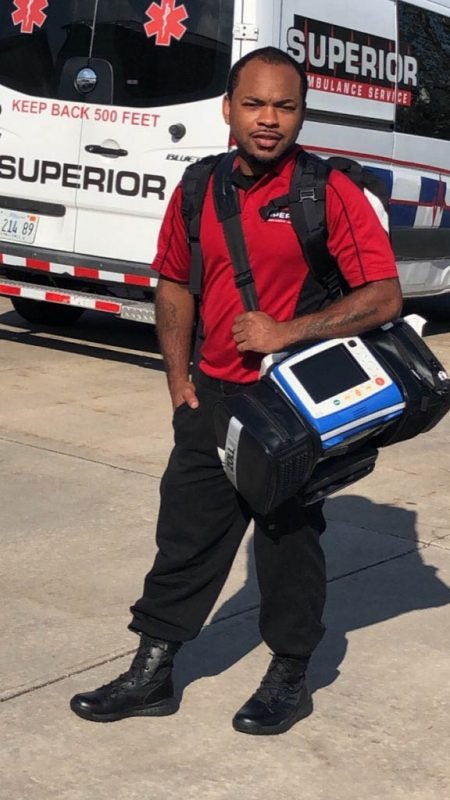 He'll transfer COVID-19 patients to rehab facilities or to McCormick Place, which FEMA has set up as a field hospital downtown. "The situation we're facing isn't one that I enjoy, but the chaos is putting my education into practice."
His winding route involved uprooting from his home to enter a brand-new graduate program 1,200 miles away at UCF. "I'm glad I took the chance," he says. "Leaders in Central Florida have been at the forefront of disasters in terms of coordination, action, protocols, leadership. I'd like to use those lessons here at home."
Goodson grew up in "The Hole," the most oppressive section of Chicago's notorious Robert Taylor Homes public housing project. Gunshots became everyday noise. "Police might come or they might not. At some point I thought, 'Chris, you could provide the help.' "
After high school, he completed two years at Eastern Illinois University before enlisting in the Army, spent time in Afghanistan, delivered aid to Haiti, helped the recovery following Hurricane Sandy, and eventually moved to Roseland in the south-side of Chicago as a paramedic. At UCF he learned about cultural competency as a central concept in crisis management. Back home, it's more than a concept.
"Hospitals near my neighborhood are underfunded and understaffed. More black people are dying because of underlying health conditions, a lack of resources, and slow response. You have to know how things work at the local level to effectively help."
Goodson plans to take a grant writing class to round out his credentials. In five years, he sees himself in a role with FEMA or a local governing body. But for now, he's checking his gloves and mask. He doesn't know where he'll be 20 minutes from now. And that's just fine with Goodson. He's ready for anything.