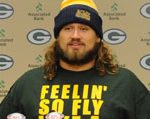 Josh Sitton would like to have a chip on his shoulder. He'd have the right to say I told you so.
But he'd be lying.
The Pensacola native and Catholic High graduate has been undervalued at every football stop. Out of high school, he had no major Division I-A scholarship offers. After college, most NFL draft experts didn't even consider him draftable.
The Green Bay Packers' starting right guard would like to rub it in that after all of those bad guesses, he's considered one of the best linemen in the NFL. That he'll stand front and center on the biggest stage in sports tonight — Super Bowl XLV.
While so many players will realize Super Bowl dreams tonight that began before kindergarten, even Sitton — who didn't put on shoulder pads until age 12 — never was sure things would come together like this.
"It's funny how it's worked out at every stage of my career," Sitton said this week as the Packers (13-6) prepared for today's 5:30 p.m. kickoff against the Pittsburgh Steelers (14-4) at Cowboys Stadium. "I've come in and been able to perform at the level of the competition and play well.
"I kind of like being the underdog. People never really knew me coming out of high school; I wasn't highly touted coming out of college. Heck, I never knew how good I could be coming into college. I never knew how good I could be coming into the league. Those were all questions marks to me as well."
In three NFL seasons, he has answered those questions for himself and others. Finishing off his second full season as a starter, Sitton, who measures a stout 6-foot-3, 318 pounds, was named the Lineman of the Year by the NFL Alumni Association on Friday night.
"There's a sense of pride in that," Sitton said. "Since going into college and into the pros, there's always been that unknown. Even from me, I've outperformed what I thought I could do. It's been gratifying to take those steps, to go into college and go into the pros and outplay what I even thought."
Late start in football
Sitton broke into sports at age 6 as an oversized soccer nut. He'd play basketball and baseball as a kid, too, but his size started to change his roles. His last year in baseball, he was moved to catcher. His last two years of youth soccer, he was so big, he moved to goalie.
"Nothing got by me," Sitton joked.
He finally picked up football at the behest of his middle school buddies in the seventh grade. With just three years of organized football under his belt, Sitton was thrust into a starting role as a sophomore at Catholic in 2001.
Playing offensive line, defensive line and even linebacker in his three varsity seasons, Sitton showed flashes of both talent and immaturity. While he quickly became the team's top lineman, he lacked motivation. When it wasn't Friday night, the coaching staff didn't get much from their promising young player.
Washington High head coach Michael Smith was Catholic's offensive coordinator during Sitton's freshman season, then returned as Catholic's head coach for Sitton's final two years in 2002 and 2003. Sitton's careless attitude and work ethic reached the point where Smith considered booting him off the team before his senior season.
"He was just so talented," Smith said. "To be as big as he was, he was very athletic. But Josh didn't get serious about it until his senior year. I talked about kicking him off to try and get him motivated. He had so much talent and I knew he would come around eventually."
Few major colleges took Sitton seriously as a recruit, either. Contact with big programs like Alabama, LSU and Florida was limited to mass-produced letters and no follow-up. Fittingly, most of those letters were addressed to a person named "Josh Sinton."
Sitton reciprocated, putting little effort into selling himself as a guy who wanted to play at the next level. In a large stack of letters that is now kept at his mother's home off Nine Mile Road, there are several from schools that invited Sitton to visit for a home game. Stapled behind those letters are blank forms that Sitton never returned.
And on the few visits Sitton did make to college campuses, he would go to the game, then blow off an invite to meet the coaching staff after the game.
"We would go to a game, and coaches would be like, 'Come into the locker room afterwards' and I never went in once," Sitton said. "I don't know why, I just never did. I didn't want to. I thought it was weird, I guess.
"If I reached out more, was a little more proactive, maybe it would have helped a little bit, I don't know. Maybe I thought whatever was going to happen was just going to happen. By the end of my senior year when the offers weren't coming in, I was saying maybe this won't happen."
In January 2004, Smith had an unknown but able 6-foot-3, 285-pound prospect on his hands with no college home. While most college-caliber players have their destinations penciled in after their senior season, Sitton made no verbal commitment and only had offers from UAB and Division I-AA Nicholls State. But as the college coaching carousel spun over the winter, a new situation at the University of Central Florida created the perfect storm.
Big man on campus
That's when Smith called an old friend.
Fifteen years earlier, Smith was a running back at Catholic, a star who was named the News Journal's Offensive Player of the Year in 1989. Smith turned that success into a scholarship to play baseball and football at Georgia Tech. During his time in Atlanta, Smith developed a strong relationship with head football coach George O'Leary, a guy widely known for his hard-nosed, no-nonsense style of coaching.
Days after O'Leary was hired at UCF in 2004, Smith called to tell him about Sitton. The lower level of competition at UCF — the Knights were in the Mid-American Conference at the time — coupled with Sitton's real need for structure and discipline made it an ideal fit.
"Really nobody was on him. There was very little interest," O'Leary said. "(Michael) Smith recommended him, so we had him down, liked what we saw on film and thought he had a bright future ahead of him."
Sitton signed with the Knights in February to play defensive tackle. It wasn't until preseason camp in August where a dire need on the other side of the ball prompted O'Leary to switch Sitton to the offensive line.
And what a move that was.
Sitton played in 50 games at UCF, making his mark as a versatile player who would start all four years — 43 total starts — at right tackle and both guard spots.
Before he earned all of that playing time, though, Sitton was rocked by a major culture change. O'Leary's practices were brutal. If he was 10 minutes early to a meeting, he was late. Sitton admits that he didn't enjoy the game much under the strict regime.
"There was definitely some growing up and maturing that happened at UCF because I did come in with a nonchalant attitude," Sitton said. "My first couple of years, I was like, 'God, I hate this.' Part of me wanted to leave because it was so hard. But by my junior or senior year, I was like, 'Alright, I know I'm here to work, there's a purpose and a reason. Maybe I'll play in the NFL one day.' I kind of grew up in that fact."
More accepting of the discipline, Sitton's senior year was his finest as he anchored a line that gained national notoriety. He blocked for running back Kevin Smith, who led the nation in rushing in 2007 with 2,567 yards, falling just 62 yards short of Barry Sanders' NCAA rushing record set in 1988.
"I think Josh was the leader of the offensive line that year and a lot of the yards that were made were run behind him," O'Leary said. "He was the glue of that front."
When his college career ended, Sitton hoped that his team's 2007 success — UCF went 10-4 and won the Conference USA title — would parlay into some NFL Draft hype.
There was little.
Undraftable to starter
NFLDraftScout.com listed Sitton as the No. 34 guard in the class, essentially labeling him as undraftable. Most other experts had similar grades.
Sitton and his mother, Loretto, would see the bad reviews and shrug them off.
"What do they know?" his mother said. "They don't know anything. They don't know anything about you."
His coming out party was a stellar Pro Day in Orlando, which piqued significant interest from three NFL teams: Cleveland, Kansas City and Green Bay. Sitton would make visits to all three, but he felt that he impressed the Green Bay coaches most with his work on the chalkboard, displaying a strong understanding of the Packers' blocking scheme.
For Day 2 of the 2008 Draft, Sitton had about 20 friends and family over to his house in Pensacola. He would laugh and joke and pace around impatiently, occasionally leaving the group for some time alone. Just after noon, at the end of the fourth round, the call came.
"I saw the 920 area code, and I kind of remembered it from being up there (in Green Bay)," Sitton told the News Journal that day. "Then I saw Green Bay was up, and it kind of clicked. It's unbelievable. I can't even describe the joy, the nervousness and the weight lifted off my back."
"Green Bay never entered my mind," Loretto said. "And when they called, I said, 'Oh my God, the Green Bay Packers. … What an organization. What history.' I was thrilled and I still am. I love where he is."
Going No. 135 overall, Sitton would be the 22nd offensive lineman picked.
And what a pick that was.
After an injury-riddled rookie year, Sitton nabbed the starting spot at right guard before the 2009 season and hasn't let go.
Now he's known for his excellent discipline and work ethic. He hasn't missed one practice in two years. He hasn't missed one offensive snap in the Packers' last 36 games and was named an alternate to the NFC Pro Bowl team this season. Finishing the third year of his original four-year rookie contract, he's severely outplayed that deal, setting himself up for a major pay raise in the coming months. He's primed to become one of the 10 highest-paid offensive guards in the NFL before the 2011 season kicks off.
Nothing explains Sitton's development better than Miami tackle Jake Long, who raked in $57.5 million as the No. 1 overall pick in the 2008 Draft. Sitton, taken 134 picks later in the same draft, beat out Long for the NFL Alumni Association Lineman of the Year Award on Friday night. The third nominee for the award, New Orleans' Jahri Evans, signed a seven-year, $56.7 million contract with the Saints last offseason, the biggest contract for a guard in NFL history.
"Josh is a Pro Bowl-caliber player," said Green Bay quarterback Aaron Rodgers. "I hope that he starts getting the type of respect he deserves. He's a talented player. He may be our most underrated offensive lineman. But year-in, year-out, game-in and game-out he plays his butt off.
"I really think, if not this year, definitely in the future he has got to be a guy who's going to go to many Pro Bowls."
And few people, Sitton included, saw all of this coming.
Source: Pensacola News Journal ( PNJ.com), Josh Sitton on top of world ahead of Super Bowl game, Catholic High grad rockets to fame in NFL, by D.C. Reeves • dcreeves@pnj.com • February 6, 2011