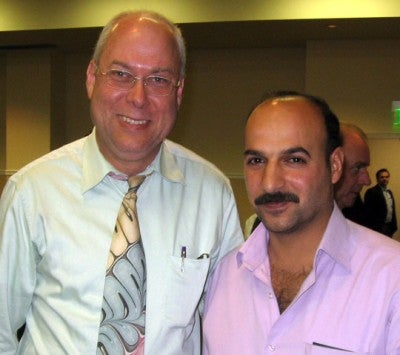 A delegation from the Nicholson School's Journalism program met with 11 visiting Iraqi reporters and editors for a roundtable discussion about the news media and press freedom in the war-torn Middle Eastern country.
Professors Rick Brunson and Rick Kenney, along with Journalism students Amanda Moore and Bianca Fortis, met with the Iraqi journalists. The meeting was arranged by the U.S. State Department's International Visitor Program and UCF's Global Perspectives Office.
The discussion, moderated by an interpreter, ranged from comparisons to journalism education in Iraq and the U.S. to the daily dangers of reporting the news in a country where 275 journalists have been killed since 2003.
Unlike their counterparts in the West, Iraqi journalists have no cars, laptops or cell phones. They usually take a cab to cover news stories and must negotiate their way through hostile areas where they are targeted for harassment by militias, Al Qaeda and sometimes the U.S. military – simply because they are journalists doing their jobs.
"We never know if we're going to make it back at the end of the day," said Mohammed Ismael Hussein, editor of the Al Sabbah newspaper.
When asked by UCF student Amanda Moore why they put themselves at such risk, one Iraqi journalist responded softly, through an interpreter, "It's my home."