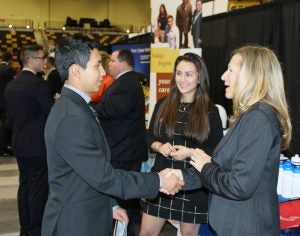 Jump-start your job search at the 2017 Spring Career Expo on January 31, 2017. This is an excellent opportunity to meet employers recruiting students and alumni for full-time and part-time professional opportunities.
The Career Expo will held on Tuesday, January 31 at 10 a.m. to 3 p.m. in the CFE Arena. The event is open to UCF students and alumni only.
Download the UCF Career Fair Plus app to learn more about the participating companies, navigate to your top employers with an event map and make a good impression with infomercial tips! Available for iPhone and Android.
Professional attire is required.
Professional suit, skirt or pant suit, dress shirt with tie, or blouse and dress shoes with socks or appropriate hosiery.
Please Note: Students wearing sneakers, sandals, flip flops, slides, slippers, house shoes, shorts, denims, T-shirts, or other attire deemed too casual or otherwise inappropriate will not be admitted into the expo event.
Bring up-to-date resumes.
Be prepared, visit Career Services to:
Learn how to Research Employers
Practice your Introduction
Update your Resume
Attend Workshops
This event is sponsored by Career Services which is located in the CSEL building room 140 on Memory Mall.
For more information, call 407.823.2361 or email career@mail.ucf.edu.