From an early age, Thomas Pring '20 loved video games — but he never thought he'd end up where he did.
"I was always the kid who would stay in his room playing video games growing up," he says. "A lot of those games left an impression on me and I thought 'What kind of video games could I make?' But, I always assumed I'd be an engineer."
At 12 years old, Pring attended a summer camp for coding and game development. He was immediately hooked. He worked for the camp every summer after that teaching kids programming, programming languages and software to make video games. He would later move to private lessons and online tutoring, where he started to appreciate how much kids like to learn.
"I realized this is something fun and is both a creative outlet and art form." – Thomas Pring '20
"I realized this is something fun and is both a creative outlet and art form," he says. When it was time to go to college, he told his parents he wanted to make video games. "Both of my parents work in incredibly different fields than anything I've ever been interested in. But they were quick to say 'Go for it! We'll help however we can to try to make sure you can do what you want to do.' "
Pring transferred to UCF his sophomore year and eventually settled on a game design major and computer science minor. Today, Pring is working at two research labs at UCF.
At Limbitless Solutions, Pring works on the Video Game Training Team and is advised by assistant professor of Game Design Peter Smith '05MS '12PhD. The team develops video games to assist bionic kids as they learn the mechanics of their new prosthetic arm. Unlike purely entertainment games, Pring says these games "help kids learn to react to the game and flex their hands or make gestures through video games. It's all about making their reactions natural or second nature."
"Thomas has been one of our most accomplished game design students and has been a big part of the new training games arriving in both Android and Apple app stores as well as our bluetooth flex controller for the phones," says Albert Manero '12 '14MS '16PhD, co-founder and chief executive officer of Limbitless Solutions. "We are really proud of his accomplishments."
"Thomas has been one of our most accomplished game design students." – Albert Manero '12 '14MS '16PhD
The second lab would fulfill Pring's interest in virtual reality — and would help push him professionally. He applied to participate in The Harrington Lab, which investigates Virtual Nature, using augmented reality and virtual reality as a technical artifact to better understand perceptual phenomenon as it relates to human-computing-environment interactions that cause emotional, learning and aesthetic outcomes. Pring's work hinged on discovering how people learn best, using a virtual recreation of the UCF Arboretum as the classroom. The idea is to understand how people can learn about nature and plants in a virtual environment.
"If you want to learn about plants, you could do a virtual walk and get information from a pop-up window," he says. "Or you could go out into the environment with a phone and get information on your device. Or you could be sitting in a classroom and watching the tour on a screen."
He and his fellow researchers started with a first-person version of the project to test how it worked. The team then moved on to VR to create a more immersive experience.
"In March, we developed a controller to work with a treadmill desk so you could literally take a walk through the Arboretum with a projector," he says.
Pring is complimentary of the artwork in the game, which was worked on by others before he joined the team. "I'm not an artist in any way, shape or form but that art is amazing. The plants are as real as you can get. The team went out and took photos of the leaves and what they look like up close — same for the water, sand, even tree bark — and they made those in game as real images. It's really impressive."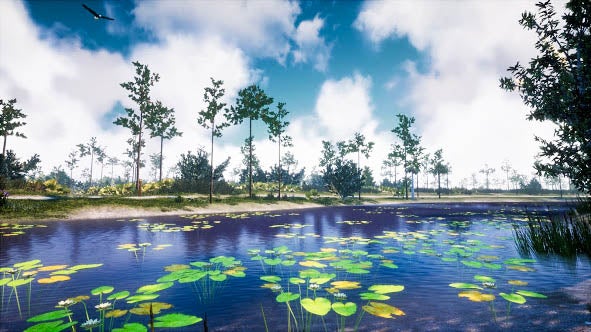 Pring says he could see VR experiences like Virtual Nature useful in a variety of formats.
"For people who live in northern areas where you can't go outside in the winter, imagine being able to go out and have a walk in nature," he says. "Or even on the International Space Station. Astronauts are sitting in metal all day and night. They could use this to be around plants again, which is good for emotional and mental health. It's also good for learning about plants and learning overall. I'm an experiential learner, so staring at a screen all day — I can't take that in. But if I can interact, I can learn a lot more about the subject, enjoy the experience and retain more detail."
Of all the projects he's worked on, Pring says he's most proud of his contributions to Virtual Nature, which both challenged him and allowed him to expand his skills among several disciplines. He credits Assistant Professor Maria Harrington, who directs the Harrington Lab, for mentoring him.
"She has guided me professionally, taught me, and gave me so many opportunities," he says. "I wouldn't be here today if it wasn't for her."
He says an important lesson he learned from Harrington was getting over Imposter Syndrome, which he says is prevalent among game-design majors. "She taught me to be proud of my own work, not to downplay myself and believe that I can program and make products" he says.
"I always wanted to help others — it's a lot of fun to teach people. At some point in my life, I'd like to be a professor." – Thomas Pring '20
"Thomas is an amazing undergraduate student whose work rivals what I have seen Ph.D. students do. He could easily make contributions to projects at NASA," says Harrington. "Thomas has taken advantage of opportunities at UCF to help advance his studies. I know he will go on to do great things in this field."
As for what's next, Pring says he hopes to land a job in the gaming industry.
"Working for a VR company would be ideal for me, but whoever has availability," he says. Ultimately, Pring says he wants to continue giving back and helping others learn. "I always wanted to help others — it's a lot of fun to teach people. At some point in my life, I'd like to be a professor."